Infections by Adsupply are very persistent and dangerous. This article covers all possible Adsupply removal instructions, and is tailored for all versions of Windows.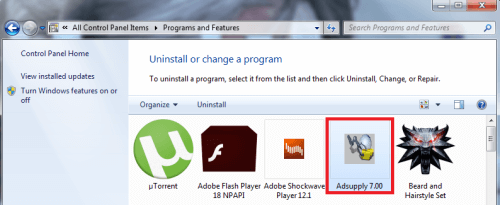 Adsupply is a virus which operates by creating a large quantity of unwated Ads in your internet browser. These can be a major pain in the ass to put up with, but at least they don't threaten your computer – at least not directly. In order to remove this virus manually you'll have to find all files associated with it and delete them, otherwise there is a good chance that it might re-download itself and greet you the next time you restart your computer. The aim of our article is to assist you with that, as well as provide guidance on the best ways to prevent your things from entering your computer in the first place.
Remember this – until you remove Adsupply your PC will be relatively safe, as long as you don't click on those Ads
The Ads will try to make you waste money on them by buying things that are useless fakes. The sites they link to are not actual sites that sell products, but copies of such sites made to look as real is possible to have the best chance of confusing you. Sometimes they even used the outlook of the real sites they rip off. So yeah, even if it looks real it's not.
Anything that you are offered to download – be it proportionally discounted or downright free will be a virus. Please note that Ads created by Adsupply will use every trick in the book to confuse you. They might even try to pose as system messages or as a pop-up to another program you have on your computer. For this reason the most targeted programs are those found virtually on any system – programs like Flash or Java. We'll list several examples below, but remember that this list is by means exhaustive.
One of your programs pops-up with the message that you need to install an update for it. Unfortunately if you click on the pop-up the only thing you will install is the virus.
You see a banner or a big pop-up which contains an error screen. It informs you that you are missing some plug-in and you need to install it before you can view what's written. In a really nasty variation this might create pop-up windows that cover the real media screens and make them completely unusable.
A pop-up tells you that an online scanner has detected a number of viruses on your computer. You are kindly offered to download the scanner for free so it can clean them for you.
Modern viruses can attack all kinds of messages to the windows of your OS. If anything is saying that it needs an update you should consider the possibility that this message has been created by the virus. If you want to install the update then you should look for that program manually and grab the update from the official site. Only way to be sure everything is safe and virus-free.
SUMMARY:
How to Remove Adsupply
Search Marquis is a high-profile hijacker – you might want to see if you're not infected with it as well.