This article was designed to help remove Adware Crossrider Virus from Chrome, Firefox, and Internet Explorer, as well as your computer.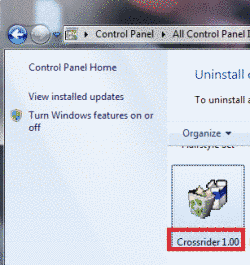 Adware Crossrider Virus is a type of virus called a browser hijacker. It's dubbed so because it creates advertisements (Ads) that appear as you browse the internet – usually when you start your internet browser or you load a new page/tab/link while using it. The Ads most commonly appear in the form of pop-up windows, banners or entire new pages that may mix useful content (local news, weather etc) with Ads. Adware Crossrider Virus has also been spotted to occasionally change different words into hyperlinks with pictures attached – which is just another form of Ads.
The Ads can advertise all kinds of goods – both physical and digital. Adware Crossrider Virus has been reported to be able to read the browsing history and past search queries of your browser. Adware Crossrider Virus could also send that data back to it's creator – a violation of your online privacy and yet another solid reason for the removal of Adware Crossrider Virus from your machine as soon as you are able.
How it got in?
The way viruses like Adware Crossrider Virus normally infect computers is through the use of deception and trickery as opposed to brute-forcing their way through your computer's defenses. The human user has the ultimate authority over any anti-virus system, thus most viruses will try to trick the user into installing the virus on their own. This is commonly done through masquerading the virus to appear as something different, which may not be an immediate target for removal
The golden rune to remember here is that viruses are nearly always installed via executable files (ending with .exe). Whenever you are searching for a file and that file is not a program or does not require an installation the executable should be different from .exe. If you are offered to download an .exe file then something is trying to install a virus on your computer. Usually the sources for these infected files are torrent sites or web pages for free virtual storage.
For this reasons we recommend that users avoid installing .exe files that are acquired through safe channels. Everything outside of the official site and affiliated mirrors should be considered unsafe in this regard.
Remove Adware Crossrider Virus
Search Marquis is a high-profile hijacker – you might want to see if you're not infected with it as well.