Hp.myway.com
If your browser has gotten "invaded" by a piece of software called Hp.myway.com, then it is understandable if you come to the conclusion that your machine has gotten attacked by some nasty infection the likes of a Trojan Horse, a Rootkit or maybe a Ransomware. There's actually a lot of misinformation regarding apps like Hp.myway.com and here we are going to set apart fact and fiction so that you have a better understanding about what Hp.myway.com is and what it is not. Of course, since it is a potentially unwanted app, we'll also help you remove it from your PC!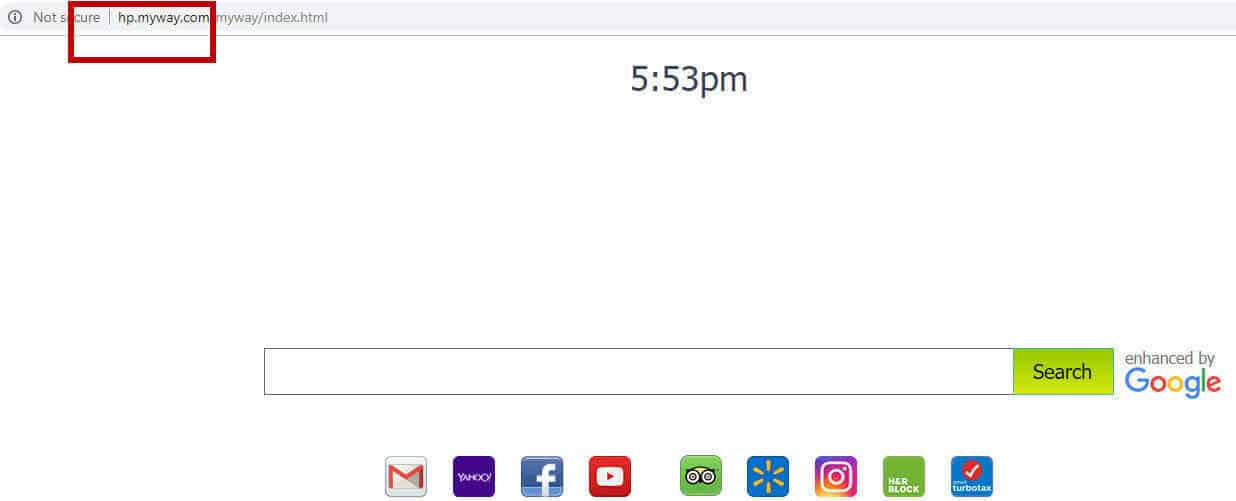 This particular app is a browser hijacker meaning it can get inside browsers like Chrome, IE, Firefox and so on and alter their search engine and homepage settings as well as flood their tabs with page-redirects, nagging pop-up and banners ads and even scan through the recent browsing history of the user as means of gaining valuable advertising-related info. There are, in fact, many applications out there that fall under this same category of intrusive software and a lot of users all over the world are struggling with browser hijackers on a daily basis. This is indeed one of the most widespread forms of unwanted software and it wouldn't be a surprise if you too are currently getting irritated by the ads, the page redirects and the browser changes that Hp.myway.com might be enforcing upon your browser. However, if that's your situation, we might have some good news for you – dealing with a hijacker is actually not at all that difficult and could be done in a matter of minutes if you know what and where to look inside your system. Of course, we will tell you what needs to be done in order to get rid of this unpleasant app so as to make your browser the way it used to be before the nagging software component latched onto it and started flooding it with different flashy and obnoxious advertising materials and before it replaced your usual search engine tool and starting page URL address. The guide for removing this hijacker is available right below so make sure you have a look at it and maybe give it a go.
Now, as far as what unwanted apps like that are not, we must clarify that these are not the same as threatening malware pieces the likes of Ransomware, Rootkits, Spyware, Trojans or any other highly-dangerous cyber-risks you might encounter on the Internet. Generally, the danger level of browser hijackers is somewhere between low to medium. And now we hear you asking:"Why is there a low to medium danger level of browser hijackers if they are not real viruses?". Well, the answer is simple – though the pieces of software that belong to this category are not normally supposed to cause any damage or harm to your computer and to your online security and privacy, they might actually make it more likely for real virus threats to reach your machine. You probably know that you aren't supposed to click on random online advertisements that could redirect you to all kinds of sketchy and obscure web locations. Well, it might be difficult to avoid the different online ads inside your browser if there's literally dozens of them showing on your screen every minute that you spend browsing while there's a hijacker attached to your browser. That's right, the more ads you seen getting put on your screen, the greater the chance of accidentally clicking on the one that will redirect you to some shady and possibly virus-infested site or page. Our advice for you – just remove the hijacker so as not to take any chances with your machine's safety and security. You will thank us later.
The techniques used to distribute unwanted apps such as browser hijackers
Understandably, the usual suspects here are methods such as spam messaging and spam e-mail distribution, malvertising, fake web requests for downloading some free piece of software, pirated apps, games and programs, low-quality software products and so on and so forth. Aside from keeping away from any obscure, suspicious or fishy type of web content or website, we can also advise you to remember to use the Advanced setup settings while trying to install a new program. This helps you see whether the developers behind the program you are trying to install have allowed some other app to get bundled with it. Oftentimes, such bundled bonus apps are hijackers or similar unwanted software and need to be manually left out of the installation and the only way to do that is through the use of those Advanced/Custom setup settings.
SUMMARY:
Hp.myway.com Virus Removal
You are dealing with a malware infection that can restore itself unless you remove its core files. We are sending you to another page with a removal guide that gets regularly updated. It covers in-depth instructions on how to:
1. Locate and scan malicious processes in your task manager.
2. Identify in your Control panel any programs installed with the malware, and how to remove them. Search Marquis is a high-profile hijacker that gets installed with a lot of malware.
3. How to clean up and reset your browser to its original settings without the malware returning.
You can find the removal guide here.
For mobile devices refer to these guides instead: Android, iPhone