Productivity Boss Overview
Productivity Boss is an ad-based virus that can display a variety of pop-ups, hyperlinks and banner-type threats. We are mentioning all of these, because Productivity Boss's practice to try and lure people into installing more of its kind is connected to them. Basically the virus is programmed to ensure that you will continue receiving advertisements, and in some cases – to open the door for much more dangerous viruses. With the last part I mean ransomware, an extremely dangerous virus-class that encrypts your personal data, while asking for real money (or bitcoins) to give you the key necessary to decrypt it, the data.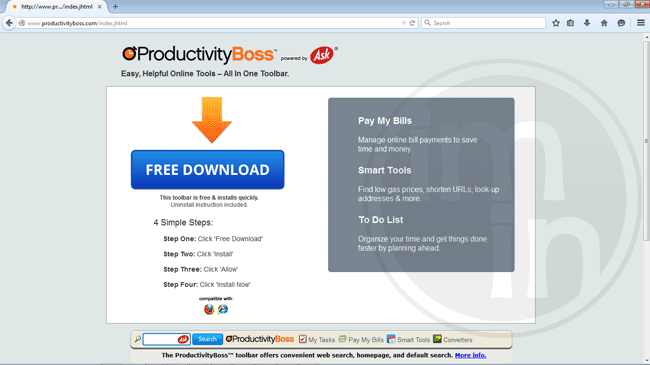 Remember: all these things can do is lie to your face and hope that you will comply and give them authority. We implore you to simply ignore everything, because that way you will make the virus powerless. We will next list all of the potential tricks up Productivity Boss's sleeve in order to take its weapons away and ensure that before you remove it, you will be 100% safe:
We've received reports that there are three predominant tricks. The first one is to fake updates for windows and several well-known application like Adobe Reader, Flash Player or Java. Some viruses (unknown if Productivity Boss is among them) also have the ability to read your program list from your Control Panel and imitate all sorts of stuff, mainly the most popular entries – winamp, for example.

The second primary trick is for the malware to pose as an anti-virus program. Typically it impersonates three famous AV programs, namely Kaspersky, Norton and Avira. It can either ask permission to scan your PC for a "scheduled check-up" or ask for an update of its virus data-base.

The third one is invariably used: the hyperlinks and advertisements will redirect you to select websites that may start downloading .exe files immediately. These downloads are very dangerous and are programmed to start installing once they are done, so make sure to stop the downloads immediately, or if you can not, bring out the Task Manager (CTRL+ALT+DEL) immediately and stop the setups from completing. And of course, exit the websites – we've confirmed that once every few minutes you remain there, the downloads restart.
Aside from these we've found two other "smaller" and lesser used tricks:
Youtube may get an overlay on the video screen. The ad will claim you need to install a newer version of the software to continue.

Banners at the beginning and end parts of web pages will want to install missing plugins.
SUMMARY:
How to Remove Productivity Boss
You are dealing with a malware infection that can restore itself unless you remove its core files. We are sending you to another page with a removal guide that gets regularly updated. It covers in-depth instructions on how to:
1. Locate and scan malicious processes in your task manager.
2. Identify in your Control panel any programs installed with the malware, and how to remove them. Search Marquis is a high-profile hijacker that gets installed with a lot of malware.
3. How to clean up and reset your browser to its original settings without the malware returning.
You can find the removal guide here.
For mobile devices refer to these guides instead: Android , iPhone