7-day Free Trial w/Credit card, no charge upfront or if you cancel up to 2 days before expiration; Subscription price varies per region w/ auto renewal unless you timely cancel; notification before you are billed; 30-day money-back guarantee; Read full terms and more information about free remover.
*Source of claim SH can remove it.
QSearch
QSearch is a browser hijacker app that affects the Safari, Chrome, and Firefox browsers on Mac computers. If QSearch gets attached to any of the browsers on your Mac, you will likely start to experience sudden page redirects to unknown and sometimes potentially hazardous sites.
QSearch isn't a highly-dangerous piece of malware that can directly cause damage to your Mac or the files you keep on it. However, it's also definitely not something that should be kept on your machine for long because the changes it tends to introduce to the browsers it is attached to can lead to a number of problems.
Initially, QSearch is presented to the users as an add-on for Chrome, Firefox, or Safari that would allow them to easily search through their Facebook Timeline – a feature that is famously lacking in Facebook as it is. However, the true goal of this potentially unwanted software is to shamelessly use your browser as a platform for its ads, page redirects, and banners. As soon as the rogue app gets attached to any of your browsers, it would begin to redirect your browsing traffic to the QSearch site or to other sites you most likely don't want to visit. The idea behind this is to earn Pay-Per-View revenue – for each user redirected to a website that the QSearch hijacker is supposed to promote, the creators of the intrusive app are rewarded small amounts of revenue. Over time, and with enough Mac browsers infected by the hijacker, the amount of income gained by QSearch could accumulate to surprisingly large amounts.
The QSearch virus on Mac
The QSearch virus on Mac is unwanted software that infects the browser and causes sudden ads and page redirects to appear on the screen. The QSearch virus must not be allowed to stay on your Mac, or the system may be exposed to various threats.
The problem for the users forced to pt up with the constant redirects is not only that their browsing experience would be severely affected negatively, but also that they could potentially get exposed to various types of online threats and hazards. A prime example of that would be if QSearch actually reroutes you to a fake page used for phishing purposes. If you end up on such a page and fail to recognize that it's actually used for phishing, you may end up sharing some personal details (such as credit/debit card numbers), which could subsequently lead to a lot of different problems. Another possibility is if you get sent to a site that promotes other rogue software in a misleading way, so that you may end up downloading that software, thinking it is a legitimate app.
What is QSearch?
QSearch is a Mac browser hijacker that installs in the browser, modifies its settings, and spams it with ads and web-traffic redirects. QSearch also installs helper files in the LaunchDaemons, LaunchAgents, and Application Support folders that allow it to stay in the system for longer.
Another thing browser hijackers like QSearch are known for doing is collecting data from the users' browsers without permission and distributing it to third parties. Of course, it's true that nowadays most sites and apps do collect some form of data from the users' browsers and devices, but if the site or app is legitimate, it would let you know about what types of data it collects and how said data may be used, and it would also request your permission to collect data from your device. On the other hand, QSearch doesn't provide you with any such information and even if it gains your permission to collect data, it would do it in an underhanded way, without you even realizing what's going on. Furthermore, whatever information this hijacker may get from your browser and Mac, it may send it to questionable third parties, including scammers and hackers, who could, in turn, use the obtained data to target you with their illegal scams and malware. With hijacker apps like QSearch, it's all about making the maximum amount of profit, so, as long as one is willing to pay enough money for the data extracted by the hijacker, that data would be sold to them.
With all of those considerations in mind, it really is best if you take action towards cleaning your Mac and the browsers installed on it from anything that may be related to QSearch. The guide we've provided below will help you with this task. Also, if you need extra help with the removal, be sure to check out the powerful malware-removal tool that we have linked on this page – it is perfect for getting rid of undesirable software such as QSearch.
Last but not least, remember that, in order to keep your Mac safe in the future and to avoid getting such unwanted apps, you should only download new software from reputable application platforms such as the Mac App Store and the Google Chrome Web Store. Even then, however, it is strongly recommended to read the reviews that other users shared about the apps you are interested in installing on your Mac. It may even be a good idea to check opinions about the specific app shared throughout the Internet, as it is not uncommon for app developers to create sham profiles on app stores and use them to post fake positive reviews of their products so that the latter would get a better ranking.
SUMMARY:
*Source of claim SH can remove it.
How remove QSearch from Mac
To remove QSearch from Mac, you can follow the manual removal steps shown below or use a specialized removal app to take care of the browser hijacker for you.
Clean the Applications folder from anything potentially unwanted and/or related to QSearch.
Check the processes shown in the Activity Monitor and quit the ones that may be linked to the hijacker app.
Delete hijacker files that may be stored in the /Library/LaunchAgents, ~/Library/Application Support, ~/Library/LaunchAgents, and /Library/LaunchDaemons folders.
Finally, to remove QSearch from your Mac, delete the browsing data of all your browsers and uninstall any potentially unwanted extensions.
If you want to attempt to get rid of this hijacker using the manual method, then we strongly recommend reading the detailed descriptions of each of those steps that you will find below, before you begin the removal process. On the other hand, if you want to try deleting QSearch using an automatic removal app, check out the anti-malware tool linked on this page – it's great at deleting hijackers and other unwanted software and malware and should allow you to quickly eliminate QSearch.
*Source of claim SH can remove it.
Detailed QSearch removal instructions
Step 1
Open a Finder window or click Go from the menu bar and then open your Mac's Applications folder.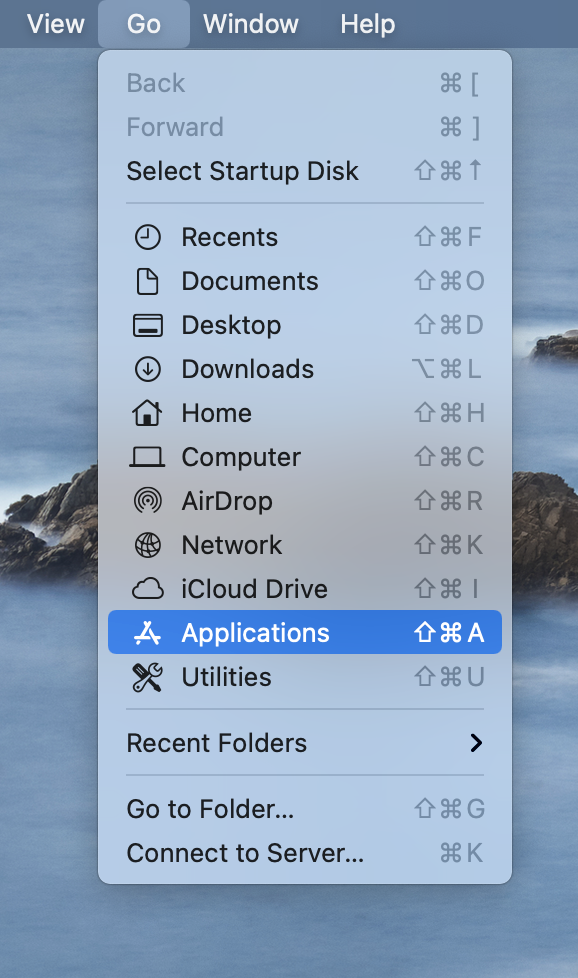 Find the Utilities sub-folder, open it, and start the Activity Manager app that is stored there.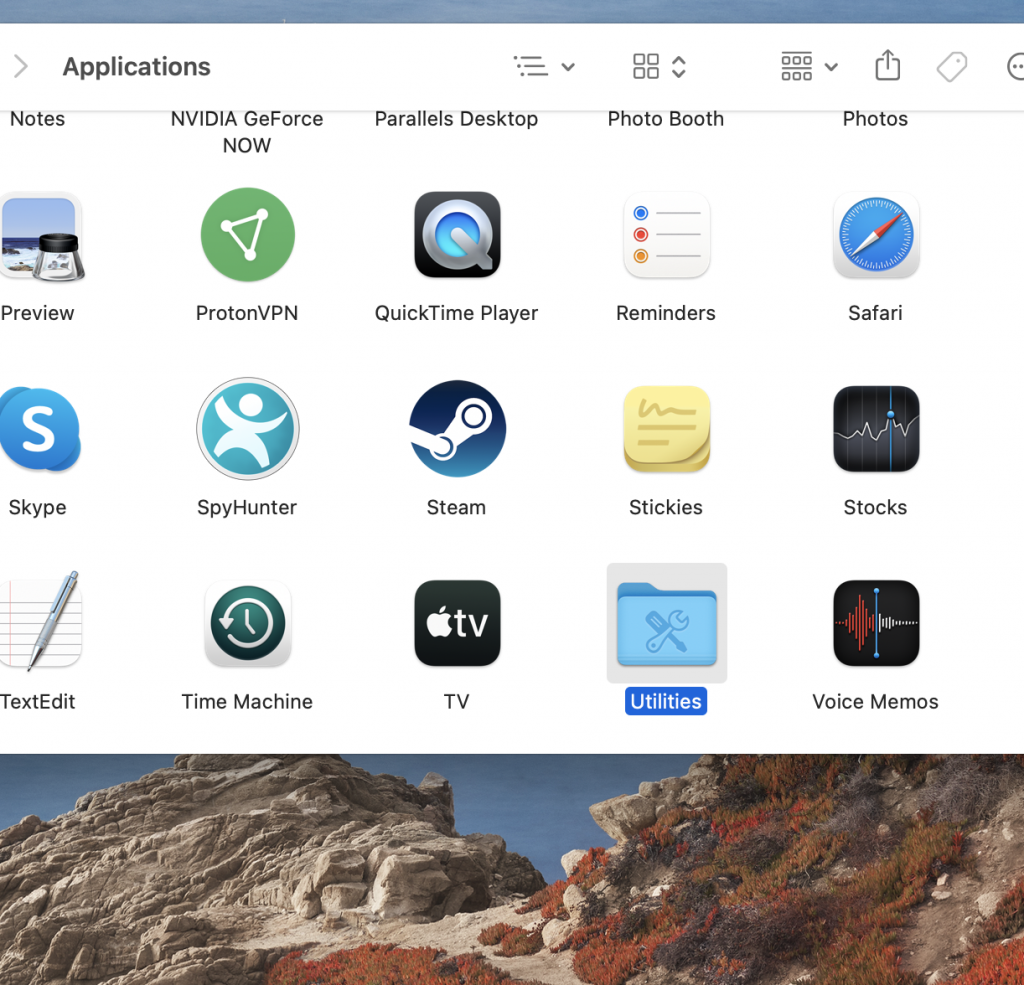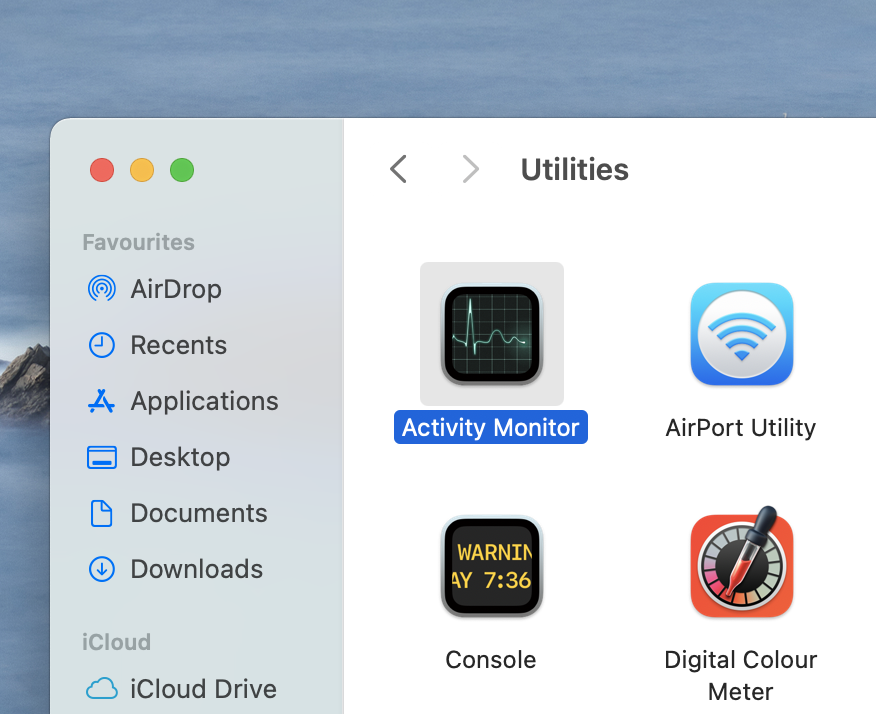 Look for any QSearch (or similarly-named) entries in the list of processes/apps shown in the Activity Monitor, and if you find anything, select it, click the X from the top, and click Quit to end the process.
Regardless of whether there were any processes named QSearch, you should also explore the items in the Activity Monitor for other suspicious entries – ones that are with unusual names and that use excessive amounts of memory, CPU, or battery energy, especially if those processes do not seem to be in any way linked to any legitimate app that you have on your Mac. Obviously, if you aren't sure if those processes are problematic, it's better to first look them up and/or ask us about them in the comments. If, however, you have strong reasons to believe they are rogue and/or lined to QSearch, you should definitely quit them as well.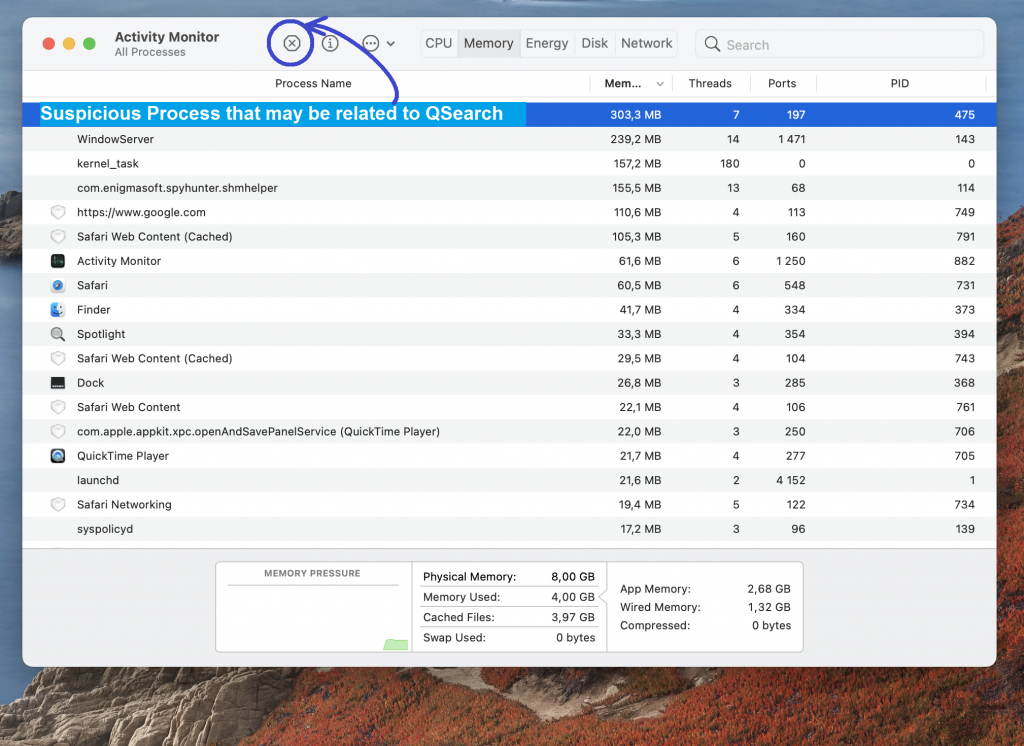 Step 2
Now, you must go back to the Applications folder, look through all the apps shown in it, and try to single out any applications that may be undesirable or rogue. If there are any potentially untrusted apps, especially ones downloaded from third-party sources and not from the Mac App Store, consider deleting them by dragging them (their icons) to the Trash/Bin or by right-clicking them and selecting the Move to Trash/Bin option. Of course, do not forget to empty the Trash/Bin afterward so that those apps are truly removed from your Mac. Obviously, if it turns out that any of the apps you deleted are legitimate, safe, and not problematic, you can always reinstall them at a later time.
Step 3
Next, open the Apple Menu (top-left), go to System Preferences, and click on Profiles. Now look at what profiles are shown in the left panel and if there are ones that seem suspicious and/or are unknown to you, select them, and click the Minus button shown at the bottom of the window to delete the questionable profile.
Note that it's likely that there won't be a profile named QSearch in the profiles list – the name of the rogue profile(s) may be different. Common examples of rogue Mac profiles created by unwanted software are TechSignalSearch AdminPrefs MainSearchPlatform, and even Chrome Settings. As you've probably noticed, those profile names don't seem suspicious at first, but if they are unknown to you, this almost certainly means that they shouldn't be on your Mac. Again, if you are in doubt about a given profile, you can always consult us through the comments section.
Step 4
Next, you must hunt down and delete whatever hijacker files may be left on your Mac. To do this, first, click on Go from the Menu Bar and select the Go to Folder option.
In the newly-opened search bar, type /Library/LaunchAgents and press the Enter key to go to that folder. Sort the files in the folder by their creation date and then make sure to delete anything and everything created since you've started having problems with QSearch.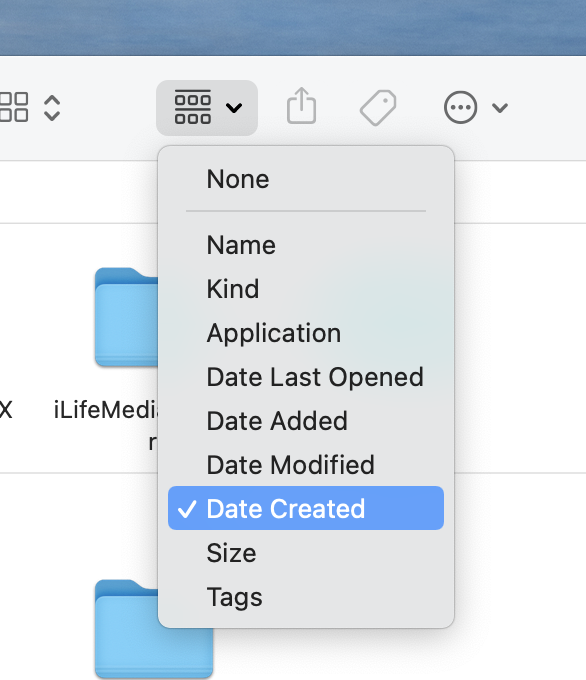 Keep an eye out for files with the following names, as those are common names for rogue files that unwanted and malware apps create in the LaunchAgents folder:
com.updater.mcy.plist
com.pcv.hlpramc.plist
com.msp.agent.plist
com.avickUpd.plist
If you see any of those files, do not hesitate to delete them.
Next, use the Go to Folder search bar to go to the following three folders and do the same thing in them – delete the files and folders created in them since QSearch got inside your Mac. Also, be on the lookout for the folder-specific rogue items that are likely to be found in each of those folders and delete them if you find them there: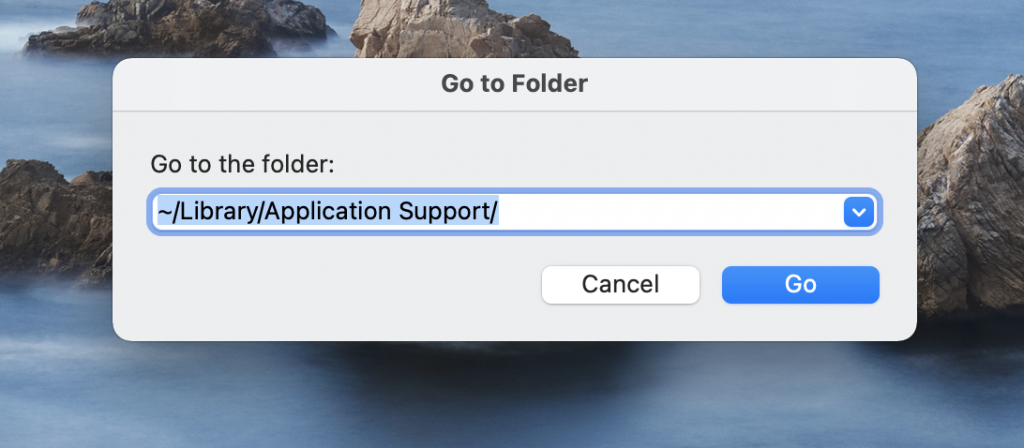 ~/Library/Application Support – you may find the following sub-folders here that need to be deleted:

Quick Mac Booster
IdeaShared
ProgressMatch

~/Library/LaunchAgents – if you see any of the next files in this folder, send them to the Trash/Bin (they are the same as the ones in the base LaunchAgents folder):

com.updater.mcy.plist
com.pcv.hlpramc.plist
com.msp.agent.plist
com.avickUpd.plist

/Library/LaunchDaemons – the files you may find and need to delete from this folder are:

com.pplauncher.plist
com.startup.plist
com.ExpertModuleSearchDaemon.plist.
Once you've deleted all potentially rogue data from those four folders, do not forget to empty the Trash/Bin before moving on to the next steps.
*Source of claim SH can remove it.
How to remove QSearch from Safari
To remove QSearch from Safari, you should try this:
Start the browser, click the Safari menu from the top, and open Preferences.
Access the General tab and if you see that QSearh or another questionable site is set as the Safari homepage, replace its address with the address of a trusted site.
Go to the Extensions sectio and delete any extensions that don't seem trusted.
Go to Advanced, enable the Develop menu, then select that menu from the top, select Empty Cache, and click Empty.
If QSearch still seems to be present in Safari and/or you are still experiencing browsing interruptions while using Safari, here's what else you should do:
Open the Safari History menu, click Clear History, and clear all Safari history.

Go to the Safari Preferences again, select the Privacy section, click the Manage Website Data, and then click the Remove All button to delete temporary Safari browsing data such as cookies and cached files.


Next, go to Websites in the Preferences bar, scroll down in the left panel, and select the Notifications item. Then see if any sites are shown in the right-panel and if there you see QSearch or other questionable sites, select them, and click Remove to prevent those sites from showing notifications in Safari. Also remove any sites that may get shown when you select the Pop-up Windows item from the left.

Lastly, check the other types of permissions in the Websites section and block any potentially rogue sites that may be given the specific permission. Finally, restart the browser so that the changes you've made to it would be applied.
How to remove QSearch from Chrome
To remove QSearch from Chrome, open the browser and click the icon with the three dots from the top-right.
Go to More Tools > Extensions and check what Extensions are present in the browser, and if there are ones that you do not trust or recognize, first click on their toggle button and then on the Remove button.
Next, to remove QSearch from Chrome, type this in the URL bar chrome://settings/onStartup, press Enter, and see if the Open a specific page or set of pages setting is used and if QSearch is placed under it – if it is, delete the QSearch address from that setting.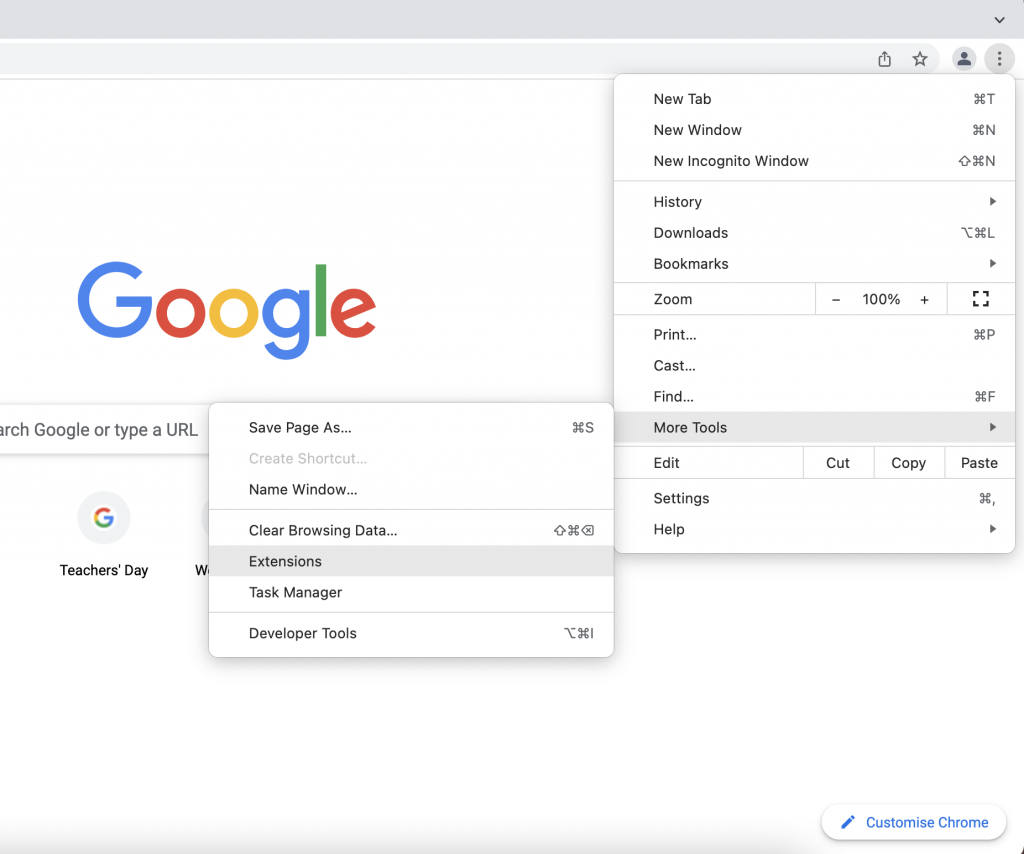 If QSearch continues to disrupt you while you are using the Chrome browser, this is what else you need to do:
Click the menu of Google Chrome, and open Settings.
Select Search Engine from the left, see what the current default search engine is, and change it if it's not the one you prefer.

Next, click on Manage Search Engines, look through the list of search engine tools, and if any of the listed items seem untrusted, click the three-dots next to them, and then click on delete.

Next, click Privacy and Security in the left panel, select the Clear browsing data option, check every box except the Passwords one, and click Clear Data.

After that, select the Site settings option in the Privacy and Security section, then scroll down, and select Notifications.

See what sites are listed in the Allow to send notifications section and if any of the entries shown there seem untrusted and/or related to QSearch, select the three dots next to that entry/site and click on Block.

How to remove QSearch from Firefox
To remove QSearch from Firefox, start the Firefox browser on your Mac and click the small icon with three horizontal lines in the top-right.
Open Add-ons and themes and then click the Extensions section from the left.
If you see a QSearch extension or another untrusted extension, first click its toggle button to disable it, then click the three dots next to it, and select Remove.


If the problem with QSearch in Firefox continues, you will also need to perform the next couple of steps:
Go to Settings from the Firefox menu and select Home from the left.
If either or both of the Homepage and new windows and New tabs addresses are set to QSearch or another potentially rogue site, change the address to that of a trusted site or to the default Firefox Home page.

Next, click Search from the left, see what the Firefox default engine is, and if it isn't the one you'd like it to be, change it to the search engine you prefer.

After that, visit the Privacy & Security section, scroll down, and click the Clear Data option under Cookies and Site Data.


Check both boxes in the newly-opened window, and then click Clear to clear the Firefox browsing data.
Next, scroll down to the Permissions section, and click on the Settings button that's next to Notifications.

See what sites are given permissions to show notifications in Firefox and if QSearch or another questionable site is listed there, click that site's entry, and select the Remove Website button to remove the site from the list.
If QSearch is still bothering you on your Mac
If even after completing everything we've shown you in this guide, the intrusive browser hijacker is still being a problem, then you may need the help of a specialized removal tool for unwanted software and malware that can help you clean your Mac from anything that may be left from QSearch. The tool linked on this page is a great option for anyone who needs to delete QSearch or another similar browser hijacker, which is why we strongly recommend it for those of you who have been unable to manually eliminate the undesirable software.