Some threats reinstall themselves if you don't delete their core files. We recommend downloading SpyHunter to remove harmful programs for you. This may save you hours and ensure you don't harm your system by deleting the wrong files.
Download SpyHunter (Free Remover)*
OFFER *Free Remover allows you, subject to a 48-hour waiting period, one remediation and removal for results found. SpyHunter's EULA, Privacy Policy, and more details about Free Remover.
Safari Redirect virus
Safari Redirect virus is a catch-all term that refers to rogue applications, application components, browser extensions, or even webpages that take over the Safari browser. Typical Safari Redirect virus traits are that such a hijacker would likely introduce undesired browser changes and trigger automatic page-redirects.
Although it is true that Mac computers, in general, are less likely to get infected by malware, in the past several years, the number of instances of rogue software that is capable of breaching the security features of a macOS system has gone up significantly. In most cases, the types of malware that are able to infect Mac computers aren't that threatening – such is the category of browser hijackers. The primary goal of such pages and software components is to target the browser, take over its settings, and make changes to them that allow the hijacker to aggressively show various ads in the browser, trigger sudden page redirects, or show pop-ups even when the browser is not being used. The purpose of this is to gain income from these promotional materials on the basis of Pay-Per-Click and Pay-Per-View. In other words, every time you get successfully redirected to a page promoted by the hijacker and every time you click on any of its ads, the creators of this software gain a small amount of money. Since Mac browser hijackers (also known as Safari Redirect viruses) are very widespread and get installed on thousands or even millions of machines, the income gained from them can get quite substantial.
For the end-user, obviously, there's nothing to be gained from this. Though a typical Safari Redirect virus will likely not cause direct harm to your Mac or MacBook, it would almost certainly make your experience with Safari quite unpleasant and may also create certain weaknesses in the system's security that more problematic forms of malware may be able to exploit.
What is a Safari redirect virus?
A Safari Redirect virus is less dangerous than a Trojan Horse virus or Ransomware, but it could potentially serve as a gateway to more serious threats such as the latter two. The main danger of the Safari Redirect virus comes from its aggressive page redirects.
Whether the Safari Redirect virus automatically redirects you or you get page-redirected after interacting with any of its ads is irrelevant – the result is still the same: you get sent to a webpage that you probably didn't intend to visit and that may not be safe. Though it's probably not the intention of the creators of such redirect viruses/hijackers to expose your Mac to harm, it's also true that most people who develop such software or sites don't care too much about the safety of the users, which is why they are okay with promoting all kinds of content, including low-quality software, fake online services, and unsafe pages. For this reason, you must do everything within your power to avoid getting your Safari browser rerouted to the content that a Safari Redirect virus/hijacker is trying to promote on your Mac. If you still do get redirected to some page that such a hijacker is advertising, immediately close it, while being careful not to touch anything that's on the actual page.
Rogue web pages are known for using an array of misleading tactics in order to get users to interact with their content and fall for whatever scam the creator of a specific page is trying to pull off. A rogue page may try to scare you into thinking there's malware on your Mac that can only be removed if you download a certain app (which is likely malware itself). In other cases, you may get told that you've won a certain prize, and all you need to do in order to collect it is click on a provided link (which link will probably infect you with malware). One particularly devious tactic is to make a rogue page look like a legitimate one from a popular site in order to trick the user into providing personal details (usually their credit/debit card numbers), after which the scammers can easily gain access to their victims' banking accounts and drain them in a matter of minutes. This last type of scam technique is known as phishing, and it is one of the most common and effective methods of scamming users.
How to protect your Mac from the Safari Redirect virus?
To protect your Mac from the Safari Redirect virus, the best advice we could give you is to trust the warnings of your macOS system. Your Mac can protect itself from almost any malware, so long as you don't override its protective features.
One of the main reasons Mac systems don't get malware as often as other systems have to do with their powerful built-in defenses that warn the user about any software that isn't notarized by Apple as a safe. In some cases, the user isn't even given the option to override the warning and install the app/program that's not been notarized. In other instances, however, you can ignore the warning from macOS and still install the unnotarized software. While not all apps that haven't been notarized by Apple are necessarily harmful or rogue, a lot of them are, and they carry malware components such as versions of the Safari Redirect virus. Therefore, unless you are absolutely certain that a given piece of software that macOS has warned you about is safe, you should probably not install that software. Human mistake is the main contributing factor that allows malware such as Safari Redirect virus variants to enter Mac systems, and so it's up to you and your decision-making to provide your Mac with the necessary protection.
SUMMARY:
How do I get rid of Redirect Virus on Safari?
To remove a Safari Redirect virus, perform the next manual steps:
Access the Activity Monitor utility and use it to find and quit any processes related to the Safari Redirect Virus.
Look in the Applications folder for apps that may be unsafe/rogue and move them to the Trash.
Search the following folders for rogue files and erase any such files: Application Support, LaunchAgents, and LaunchDaemons.
Finally, to remove the Safari Redirect virus, you must also delete from Safari and your other browsers any rogue extensions, and then clean the browsers' settings and data.
You must complete each of those steps (preferably in the order they are given) in order to delete everything related to the Safari Redirect virus. To perform the steps correctly, we strongly advise you to first read the detailed explanations that we've posted below.
Detailed removal steps for the Safari Redirect virus
Step 1
Click Go from the menu bar at the top, then open Applications > Utilities, and from there start the Activity Monitor app/utility.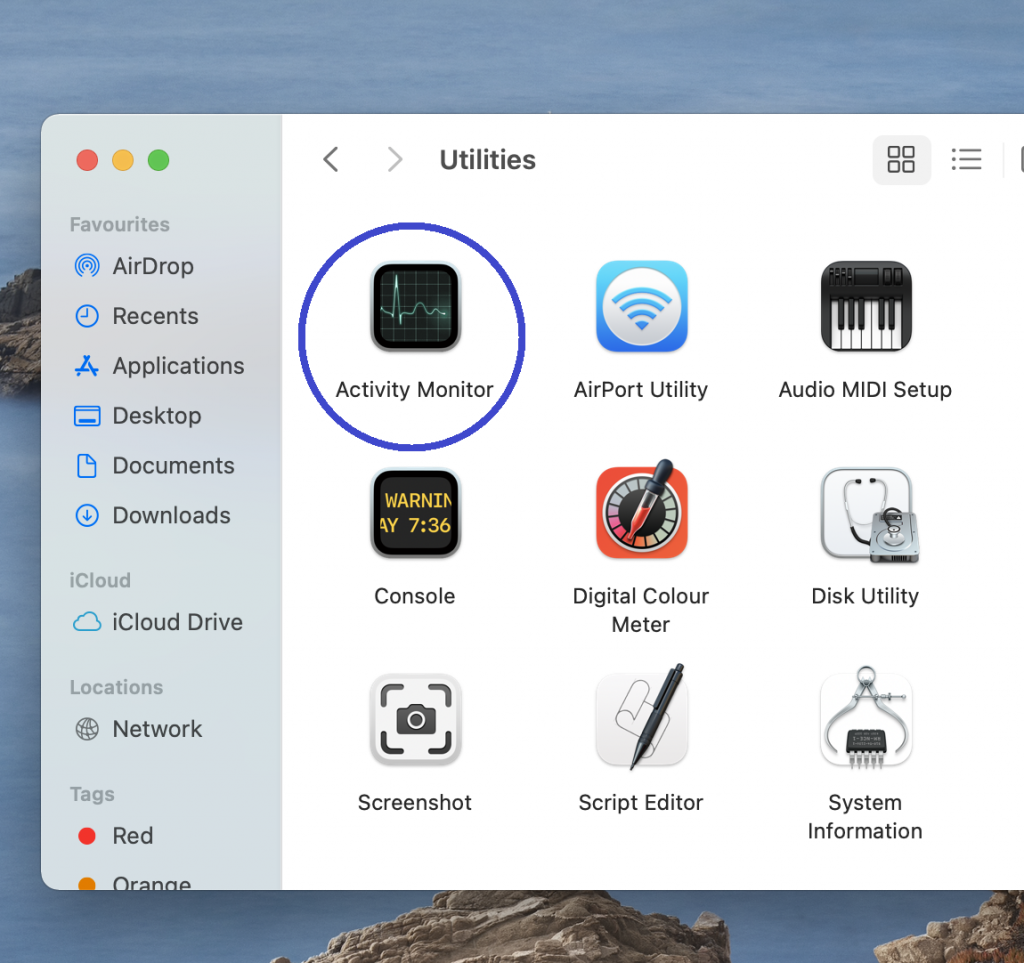 In it, look carefully for anything that seems to be consuming more resources than it probably should. Focus on CPU, Memory, and Energy consumption, and if there's a process with a strange name that is using too much of any of these resources, go to Google and look up that process. If you end up finding information that this process may be harmful and that information is posted on a reputable security site/forum, then you would know to quit the questionable process.
To quit a process in the Activity Monitor, first, select it then click the X that appears at the top, and click the Force Quit option. Do this for every process that you've determined is related to the virus/browser hijacker.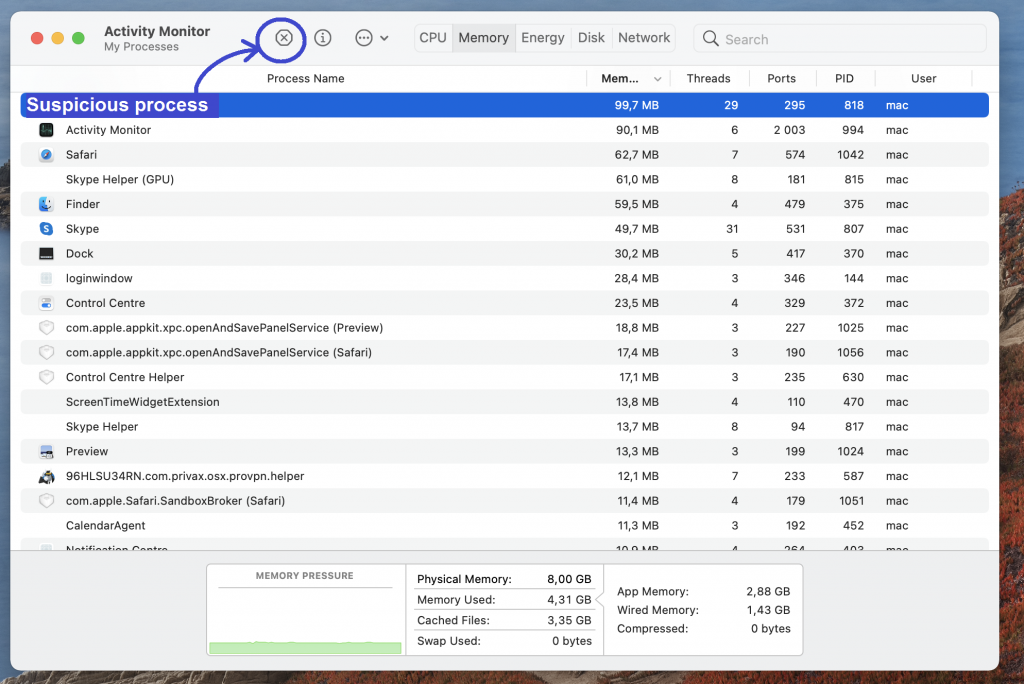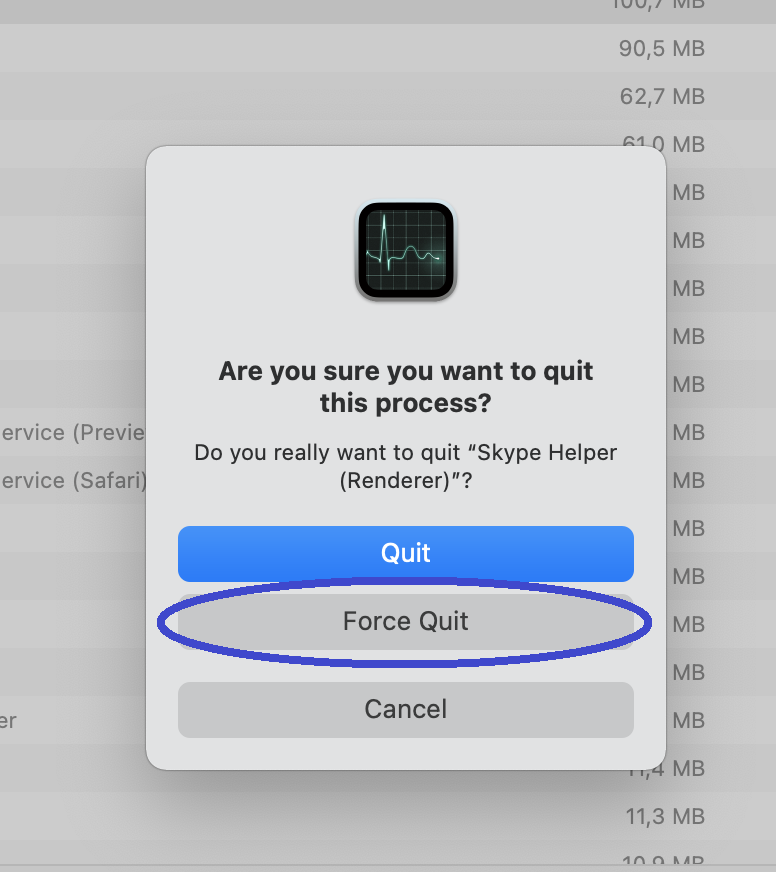 Step 2
Open the Applications folder again and search in it for any potentially unwanted app that may have been what has introduced the Safari Redirect virus into your Mac.
As we mentioned in the article, the most common source of Mac malware and browser hijackers is apps downloaded from questionable third-party sources, so you should primarily look for such apps. That's not to say it's impossible for an app downloaded from the Mac App Store to have a hijacker bundled with it, but this is highly unlikely.
If you come across a certain app that looks questionable, you should delete it by dragging it to the Trash (or right-clicking it and selecting the Move to Trash/Bin). If there are multiple suspicious apps in the Applications folder, do this with all of them.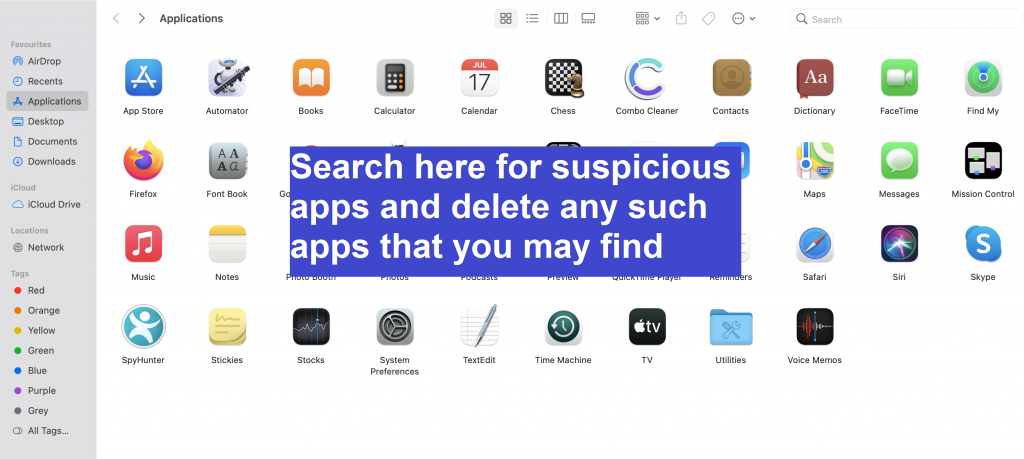 Step 3
Next, click Go again, click Go to Folder… copy-paste /Library/LaunchAgents into the search field, and select Go to open that folder.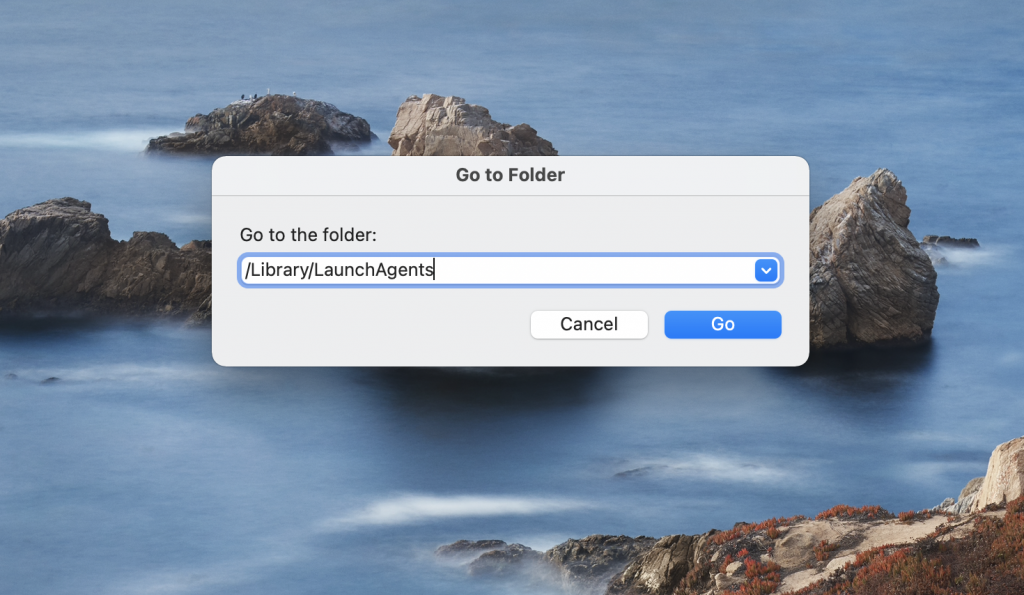 In the LaunchAgents folder, sort the files in it by Date Created – you should be looking for files that have been created around the date you started noticing Safari Redirect virus symptoms or after that date. If such files are present, scan them with the following free malware scanner and if the tool detects malicious code, delete the files that it has flagged as malware.
Each file will be scanned with up to 64 antivirus programs to ensure maximum accuracy
This scanner is free and will always remain free for our website's users.
This file is not matched with any known malware in the database. You can either do a full real-time scan of the file or skip it to upload a new file. Doing a full scan with 64 antivirus programs can take up to 3-4 minutes per file.
Drag and Drop File Here To Scan

Each file will be scanned with up to 64 antivirus programs to ensure maximum accuracy
This scanner is based on VirusTotal's API. By submitting data to it, you agree to their
Terms of Service
and
Privacy Policy
, and to the sharing of your sample submission with the security community. Please do not submit files with personal information if you do not want them to be shared.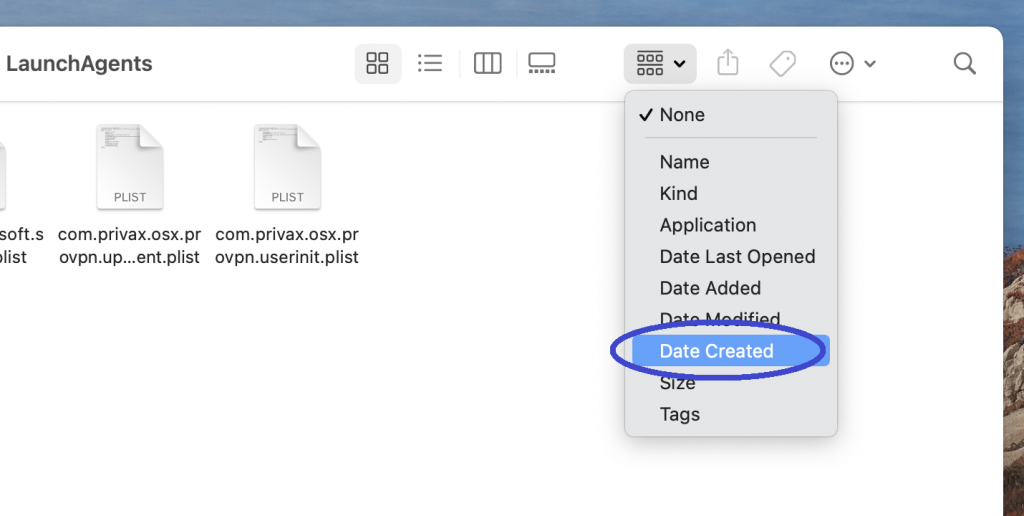 Next, repeat the same process with ~/Library/LaunchAgents and /Library/LaunchDaemons.
Finally, access the ~/Library/Application Support folder and check its recently created sub-folders for malicious files by scanning the files in those folders. If a given sub-folder is detected to contain malware files, erase that folder.
Step 4
Now that your Mac has been cleaned from rogue apps, processes, files, and folders, all that is left to do is to clean its Safari browser and any other browsers that you may have in the system.
First, go open the Safari browser, click the Safari menu that shows up at the top, and go to Preferences > Extensions. Look through what extensions are shown there and if there are ones that you don't recognize or trust, delete them.
After this, click Privacy in the Preferences bar, then click Manage Website Data, and click on Remove All, and then click it again when asked if you are certain you want to execute this action.


Next, click General, see what the URL in the Homepage field is, and if it is from an unknown site that you don't trust, change it to a safe and reliable site such as Apple's default Safari starting page (www.apple.com/startpage/) or Google.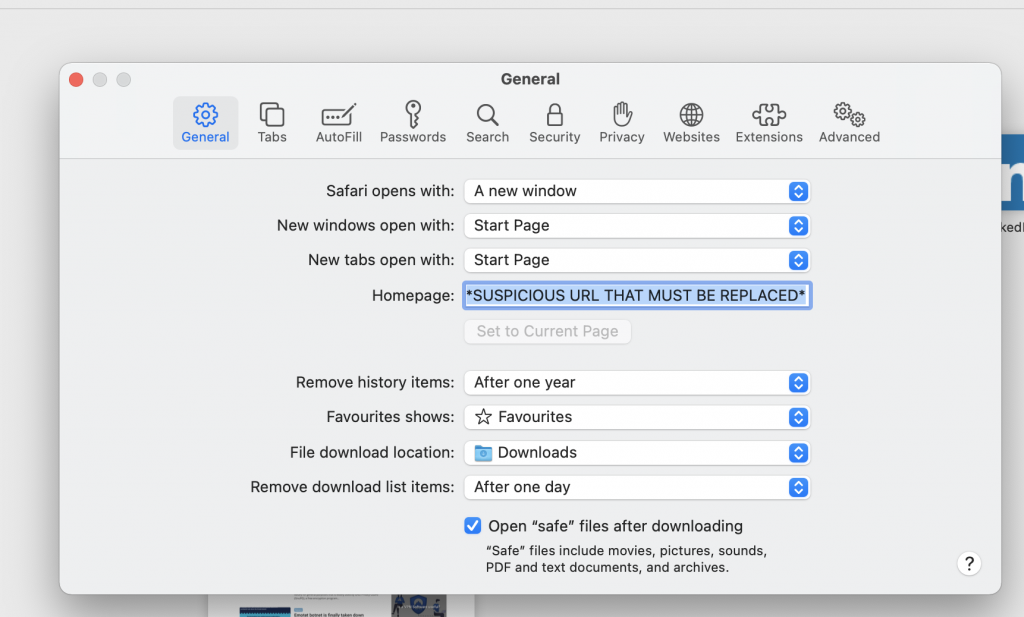 The last thing we recommend that you do to clean Safari is to go to its History menu, click Clear History, set the Clear setting to All History, and execute the command.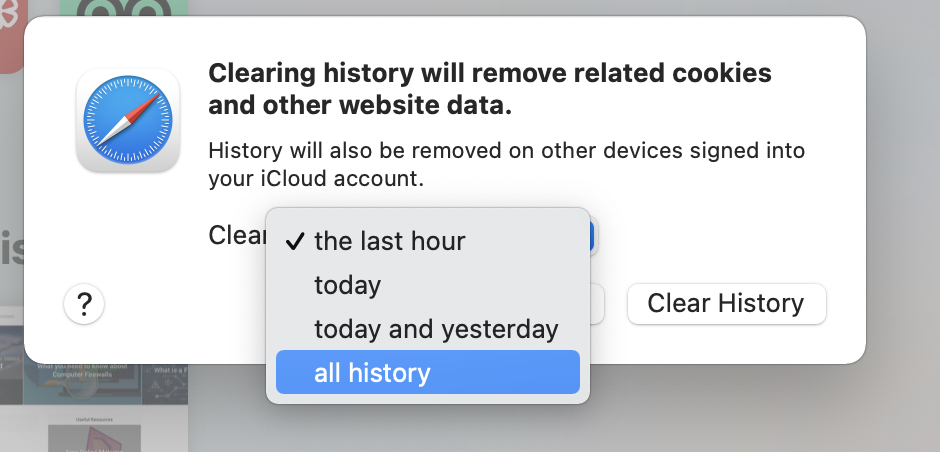 After you're done cleaning Mac, you should also do the same with your other browsers (if there are other browsers in the system). There are many different browsers that you could have on a Mac computer, and we can't cover them all. However, cleaning one browser is typically not too different from cleaning another. Below, we will show you how to clean Google Chrome and Mozilla Firefox – it's safe to assume that even if you have a different browser, cleaning it should be done in a similar way to either of these two.
How to clean Firefox
To clean Firefox, first select the browser's menu (an icon with three parallel lines in the top-right), click Add-ons, and, disable anything potentially unwanted or unneeded shown there by clicking the toggle button next to it and then remove it by selecting the three dots for that extension and clicking on Remove.
Finally, make sure that the changes of Firefox are brought back to their default state by refreshing the browser's settings – follow the link to learn how to do that.
How to clean Google Chrome
Start Google Chrome, click the icon with three dots below the X button in the top-right, go to More Tools > Extensions, and search the list of extensions for anything unusual/unfamiliar/suspicious.
Like with Safari, you should delete any extension/s that seem undesirable, but before you do that, we recommend first disabling the extension because otherwise, you may not be able to effectively delete it.
The next thing to do is to go to the browser menu and open Settings > Search Engine > Manage Search Engines. Now look through the list of search engine sites and if one or more of the entries are unknown to you and/or seem rogue, click on the three dots next to them, and select the Remove option.
The last thing you should do in Chrome is reset the settings of the browser to ensure that any unwanted changes made by the browser hijacker are revoked.
Alternative removal method
If for some reason, performing the steps from this guide didn't rid your Mac of the Safari Redirect virus, we recommend using a specialized tool for cleaning the computer of whatever has remained of the rogue software. Unfortunately, though unlikely, it's possible that a more dangerous program such as a Trojan virus or a Rootkit may be the reason behind your inability to manually remove the Safari browser hijacker, which is why it's advisable to clean your Mac with a tool that can simultaneously find and eradicate any malicious piece of data and rogue setting that could be in your Mac at the moment.
One tool we'd like to recommend for such situations is the one linked in the guide – with its help, you should be able to quickly clean your Mac and no malware is allowed to remain in it.
What is Redirect Virus on Safari?
The Redirect Virus on Safari is an intrusive software piece or a rogue webpage that would trigger automatic page redirects and show aggressive notifications, some of which may be unsafe. The Redirect Virus on Safari can also change the settings of the browser without your permission.
The Safari Redirect Virus is not as problematic as a Trojan Horse infection, a Spyware virus, or a Ransomware cryptovirus. The purpose of any Safari Redirect Virus is to control your browser and use it as a platform for ads and promotions. These ads and promotions, however, are one of the main problems associated with this piece of malware. If you are constantly getting redirected to random sites that the redirect virus is seeking to advertise, you could eventually end up landing on a site with unsafe content that is hosted by hackers or scammers. If this happens, your virtual privacy and the safety of your Mac could be seriously jeopardized. For this reason, even if such redirect viruses are usually not capable of inflicting direct damage, you should still make sure to delete the threat ASAP.
Can iPhones get Safari Redirect Virus?
iPhones can get the Safari Redirect virus if the user installs some free, low-quality app that has the redirect virus bundled with it. An iPhone can also get the Safari Redirect Virus if the user allows some rogue site to show notifications in the browser.
iPhone users, too, are not immune to getting their devices infected by a redirect virus. Like with Macs, the two most common ways one could get such a redirect virus on their iPhone is either by installing a rogue app downloaded from an unreliable third-party platform or by accidentally giving your permission to some rogue website to show notifications on your screen.
Note that not all apps that come from outside the official iPhone App Store are threatening. It's just that you need to be more careful with what you are downloading and where you are downloading it from, especially if the app seems too good to be true, such as a free app that offers way too advanced functions.
How do I get rid of Redirect Virus on Safari?
To get rid of the Redirect Virus on Safari, you must find and delete the rogue app that brought it. Then, you should quit any rogue processes and data, and finally, to get rid of the Redirect Virus on Safari, you should clean each browser.
The following four steps provide a brief summary of the removal process of the Safari Redirect Virus:
1. Start by using the Activity Monitor app (Applications > Utilities) to identify suspicious processes running in the system and to stop them.
2. Next, you have to check the Applications folder for apps that may not be safe, and especially ones downloaded from questionable sources. If such apps are found in the Applications folder, drag them to the Trash/Bin.
3. The next four folders must be searched for rogue data and sub-folders that contain such data, and anything detected as malware must be removed: Application Support, LaunchAgents, and LaunchDaemons.
4. Finally, Safari and any other browsers that may be in the system must be cleaned from rogue extensions, their data must be cleared, and their settings restored.