SafeInCloud is password-management software that has been around since 2012 and, according to its creators, has over one million customers at the moment. It comes with versions for all the major operating systems, including Windows, Mac, Android, and iOS. Its desktop versions are free whereas its mobile counterparts for Android and iOS are super affordable ($3.99 for a single-device license and $7.99 for a five-device license). Note, however, that the desktop versions of SafeInCloud are free only in their most basic variant. In order to get more advanced functions, you'd have to pay for them.

In terms of functionality, SafeInCloud gives you everything you'd expect from a password manager – it can be used to store passwords, banking numbers, ID details, and several other types of important and sensitive data while browser extensions for SafeInCloud give you autofill functionality while browsing. Additionally, the app is compatible with different smartwatches (Android Wear and Apple Watch) and it even offers a password-evaluation and generation feature to help you create passwords that would b significantly more difficult to break. On the surface, it all sounds great but how well does SafeInCloud hold up to scrutiny? Let us find out…
Setting up SafeInCloud
The setup process for this app is as easy as it could be – for mobile, you simply go to the online store for your device and download/install it from there in one tap. It's the same for Windows 10 users – the app is available on Microsoft Store. For Mac computers and Windows 7 and 8 PCs, you can find the app on SafeInCloud's official site, from where you can download the installation file and then run it to proceed with the installation. There's nothing complicated about the installation itself but note that if you are a Windows 7/8 user, you'd need to have Net Framework 4.6 installed in order to be able to finish the installation of the app.
Once SafeInCloud is installed and you start it for the first time, you will be required to set up an account by creating a master password that you will use to access all other data stored on your SafeInCloud account (no personal details of any sort are needed to set up the account). Once this step has been completed, you can start importing sensitive data to SafeInCloud by first exporting it from the accounts that contain it.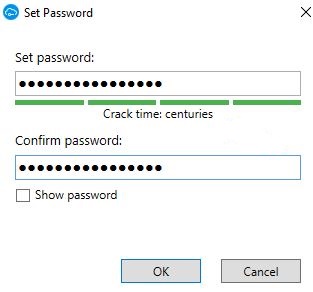 User Experience
The Interface of the app might seem a bit old-school for 2020 but it's nonetheless easy enough to use and has an intuitive design – after all, functionality should always come first. The main actions you can perform and options you can use are present at the top of the screen, your different accounts are in the central panel, and the different types/categories of data handled by SafeInCloud can be accessed from a panel to the left.
What we really liked about this app is just how streamlined managing your accounts' passwords is – you simply select the site/app where you want to change your password, you click on Edit and then you can freely set up a new password. Also, the autofill function of the Chrome browser extension works perfectly, allowing you to access your online accounts on any site through a single click.

How secure is SafeInCloud?
Passwords are all about providing security for your online accounts and it should go without saying that the security level of a password manager should always be one of the two most important aspects of this type of tools (the other one being how convenient the app is).
In terms of security, we can say that SafeInCloud does a good job of keeping your private details as protected as possible. Its whole security system is on a zero-knowledge basis, meaning that not even the app's developers could ever gain knowledge of any of your passwords or other details even if it is for maintenance/troubleshooting purposes. However, the same can be said for the majority of other popular password managers as zero-knowledge is more or less the currently accepted standard. A nice thing about SafeInCloud is its implementation of 256-AES encryption for all areas that require data-protection. This means that there is an actual strong security measure in place that will prevent any unauthorized attempts at gaining access to your sensitive information.
With SafeInCloud, your only way of accessing your account on desktop would be through the use of the Master Password. However, on mobile, biometric identification is supported so you can use your fingerprint scanner or your face to enter your SafeInCloud account.
In terms of data preservation, SafeInCloud gives you the option to backup your data using Google Drive, Dropbox, or other similar services. You can also export data to external devices such as flash memory sticks or external HDDs. Overall, we are pleased with the level of security provided by this app and we would recommend it for keeping one's sensitive details safe and protected.

Support
The support of SafeInCloud is probably the weakest aspect of this password manager. For starters, support is only available over email and it's only in English. However, what's an even bigger problem is the unacceptably long response times. According to SafeInCloud's developers themselves, requests to the support team are to be answered within a period of two business days. Of course, this is a password manager service and not a huge security company that can afford to spend lots of resources on proper customer support but considering how important password-related security problems could be, a late response from the support team could oftentimes mean not being able to stop a scammer from messing up an important online account of yours or even draining your banking accounts. Still, despite the rather underwhelming support service of SafeInCloud, it's still good that it is there, to begin with, and available for anyone who uses this app (yes, even for those who use the free desktop versions of the tool), so we must not be too harsh in our judgement.

Final Notes
SafeInCloud is a dependable and highly-affordable password manager perfect for those users who need help with managing their passwords but don't require a super-advanced password-manager such as some of the more potent competitors of SafeInCloud. If you want the best and most powerful password manager on the market, SafeInCloud might not quite be it, but if you want a reliable and inexpensive (in the case of desktop users – free) option for password management that gives you good security and quick access to your most sensitive details, then we can definitely recommend that you check this one out.