Powerful customer service platform with automation features and more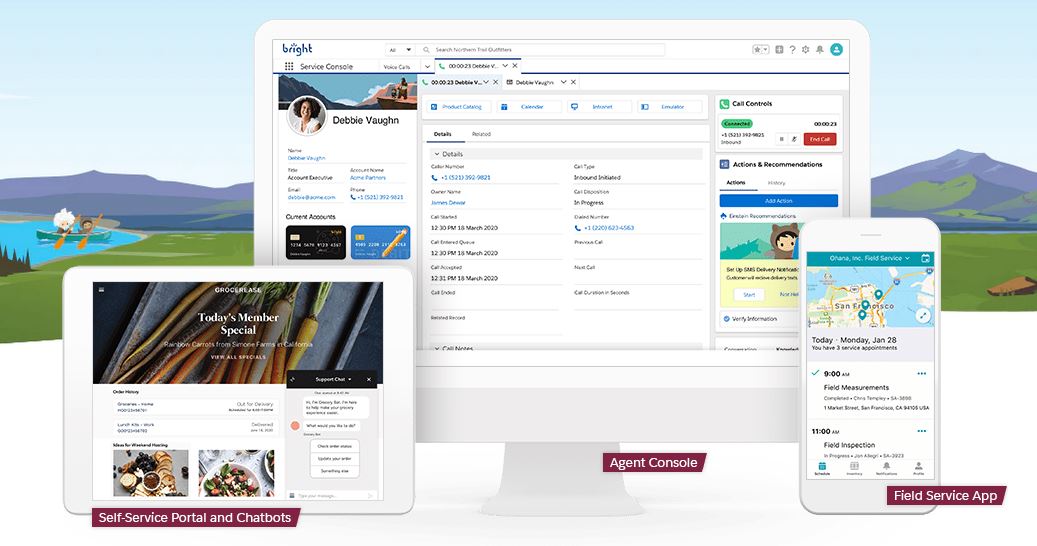 Pros:
Easy user-friendly customization

A balanced set of built-in features

Plenty of customer support options

Accessible on smartphone devices
Cons:
Rather costly priced packages
Salesforce Service Cloud is a product of Salesforce, a tech corporation headquartered in San Francisco. The company is known for its variety of cloud-based applications aimed at improving the business-customer relationships. Its products cover marketing campaigns, distribution and customer satisfaction programs and professional assistance. The Service Cloud product is a customer service platform that lets you connect with your customers, offer them self-help resources and monitor your engagement with them.
Service plans evaluation and price comparison
Salesforce gives a free 30-day trail of the Service Cloud product to all prospective customers. If you decide to continue using the product after that trail period expires, you can choose between several subscription plans. Prices start at $25 a month per account, billed annually.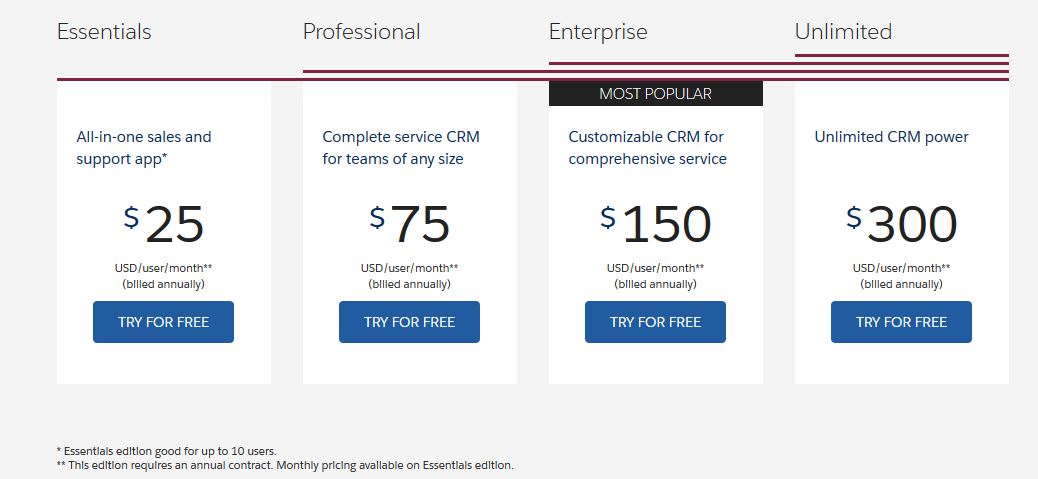 The Essentials plan gives you a set of entry-level features that allow you to track and make notes on all the interactions the consumer has with you, as well as tools to build a knowledge base, and easy integration with most telephony applications.
The Professional plan helps you to track warranties and contracts while an upgrade to the Enterprise plan provides you with access to an API that enables you to export you Salesforce data.
The Unlimited plan expands even further by adding professional support so that you don't have to bother about any setup, installations, configurations, etc.
Customer support
When it comes to finding support, Salesforce gives its clients several options. You could browse the FAQ pages or read through the detailed knowledge base of Service Cloud if you are looking for DIY resources. There you should find all the details you need to customize and utilize the platform. In case you want to speak to someone from the Salesforce's staff, you may use the online service desk to request assistance. There are also community forums where you can discuss questions and ideas with other Service Cloud users or read about their experience.
Interface and user experience
Salesforce provides some of the best developed applications in terms of interface that can be found on the market and Service Cloud does not disappoint with that either. The highly customizable Agent Workspace is one of the product's most loved features. The Service Cloud interface can be adjusted in such a way that your agents can manage their cases quickly and easily. The work with the software is simplified even further with ready-to-use templates, macros and shortcut buttons.
Each case that agents have to handle gets its separate window where they can respond to users, review previous correspondence, read colleagues' feedback and notes, etc. The integrated case-management workflow in Service Cloud provides the employees a detailed description of the client and all their previous interaction with your company which is extremely valuable and saves time while, at the same time, prevents duplicating the work and causing unnecessary frustration. And last, but not least, Service Cloud is also accessible on smartphone devices, enabling you to operate and keep eyes on your cases when you're on the move.
Review of the features
Service Cloud is an all-in-one customer service software that combines all the tools that you need to receive, work on, and track your customers' service desk tickets. It also gives you all the resources required for building a knowledge base and integrating with most telephone systems. There are on-screen controls that save your agents from fiddling their time with hardware, pressing buttons to dial or hang on calls, etc.
Additional features that make it easy for your employees to work quickly and effectively include internal communication tools, file sharing features and the ability to integrate with different third-party apps such as business intelligence tools for research, analysis or reporting, as well as messaging apps for real-time notifications.
In addition, the Service Cloud platform provides a set of automation features, including workflows and ready-made templates. The software allows you to reroute incoming requests to the agents that are the most suited to answer the queries and, eventually, export the data to analytical software for review and reports.
A quick look on the competition
With all that we've said so far, there is no doubt that Salesforce's Service Cloud is a powerful tool for customer support, but you might want to check its competitors in case you want more automation features or an alternative customer support system that costs less.
One of the major rivals in the field of customer service is the Zendesk software. Just like Service Cloud, this is a cloud-based platform that helps agents to communicate with customers seeking help, collect records on their interaction with the company and collaborate with other colleagues. Zendesk also provides some simple features that help you to build a knowledge base. Nonetheless, the main distinction between the two products is the workflow features which Service Cloud provides, but Zendesk does not offer.
Freshdesk is another alternative product, which offers more automation that frees your employees from repetitive tasks. This is a hybrid product that combines some of the best features and functionalities of Zendesk and Service Cloud. Basically, Freshdesk gives you all the functionality you can anticipate from a help desk, plus it includes workflow and automation features that process repetitive tasks. The products gives you a free trial to test its full functionality. Besides, its paid packages are more appealing than those that Salesforce offers for their Service Cloud.
Conclusion
Salesforce Service Cloud is a product that delivers a solid cloud-based customer management framework and is packed with powerful features. It provides your employees with simple and customizable interface, quick access to all the customer information they may need, and a set of automation features that efficiently process repetitive tasks.In terms of price, the packages that Salesforce Service Cloud offers are rather expensive compared to what you can get from competitors. However, if you are convinced about its functionalities and exceptional integration support, this product might be exactly what you need.