SecureAPlus
SecureAPlus Lite is a free malware-blocking tool which runs alongside your existing AV.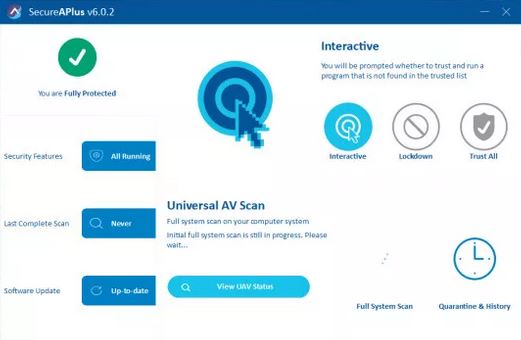 Pros:
Some zero-day malware gets detected by its APEX engine

Checks files with multiple antivirus engines

Free version runs alongside existing antivirus

Affordable prices for protecting multiple devices
Cons:
Requires some security knowledge to get the best of its settings

No real-time protection in the free version

Interface is confusing

Basic online support available Mon-Fri 9am – 5pm only
SecureAPlus is innovative software for freemium defense, which can apply several additional safety layers to your current antivirus (or Windows Defender if you prefer).
Its "Universal Antivirus" feature allows you to check files in the cloud against multiple antivirus programs. In addition, its application whitelisting function prohibits the execution of unknown files without authorization. And in case some malware manages to somehow bypass these two layers of protection, SecureAPlus claims that it may detect and block the danger using SecureAge APEX engines based on artificial intelligence.
SecureAPlus Lite gives you all the main functions we just mentioned free of charge, but with certain limitations. The Universal Antivirus feature, for instance, is available for a full system scan but does not offer real-time protection. This is potentially a big problem if you are using the software alone and you don't have a separate antivirus program that can check your computer in real time.
It will take you a while to get a response from the support team in case you run into any problems with the program. The department mainly operates from Monday to Friday from 9 am to 5 pm Singaporean time and indicates that the answer period could be up to 24 hours. If you've been unfortunate enough to have a question over holidays, add up some 48 hours more.
SecureAPlus Essentials offers real-time scanning with Universal Antivirus and is much more configurable. For instance, you can adjust the sensitivity of APEX engine and add support for Windows Server.
To get the functionality of SecureAPlus Essentials for a year on one system, you will have to 20 dollars for a license. The price drops to 12 dollars for a 3-year plan and only 8 dollars per device a year if five devices are covered.
SecureAPlus Pro goes a step ahead of Essentials by adding protection against memory injection attacks. It also lets you customize security policies to manage multiple computers and provides many advanced set-ups, including an option to substitute ClamAV offline antivirus with Avira.
SecureAPlus Pro is looking a bit costly at $30 for a single year, but again significant discounts are available if you add more PCs and years. A three-year license on a single computer is $18 per device per year. Adding five devices for three years cuts the price to $12.
If you are not convinced to purchase this package, maybe you would like to know that with the installation of SecureAPlus Lite, you get a 90-day trail of SecureAPlus Pro and no credit card or other details are necessary.
Setup
SecureAPlus is easily installed on the computer by running the setup package. Immediately after the setup process completes, the program starts a full system scan and checks executables and builds its whitelist without asking for permission.
Usually we like antivirus applications to give us a little more control of what is going on, but SecureAPlus does not eat up too many systems resources. It grabs one CPU core and utilizes about 10 percent of the disk so one could continue to use its computer for other tasks.
Scan Results
After a scan, SecureAPlus told us that there were no threats found on our computer. When we immediately taped the Scan button, however, SecureAPlus warned us that up to 35 threats have been identified on its cloud antivirus engines.
Detecting so many threats is, in a way, a natural effect of using multiple antivirus engines – some programs may flag some files as threats while others may miss them. In some instances you may receive some false alarms, though.
SecureAPlus addresses this issue by notifying in its interface that "if the file is detected by only 1 antivirus engine, there is a high chance that it is not a virus". Taking this into account, several of the threats on our threats list have then been ruled out, but 15 have still been flagged by two or three engines.
What to do with them was up to us. One of the options was to remove all of them. Experienced users in such a situation may decide to explore the threats, check their names and collect some information before deciding what to do. The regular web users, however, may be a bit puzzled, as for them, it may be more difficult to distinguish secure from potentially unsafe apps. Therefore, it is most likely that they simply decide to delete, quarantine or ignore the reported threats to save time.
Ignoring the alerts and closing the scan window will allow you to carry on as before. However, some of the files flagged as threats may be blocked from operation, as expect, while others could be launched without a warning which is a bit concerning.
Also, even though the SecureAPlus website says that the program operates alongside other antiviruses, this isn't always the case. In particular, if you are running the Windows Defender on Windows 10, it may turn itself off after you install SecureAPlus without a notice. The support page of SecureAPlus discusses how you should resolve this if it happens but, for one, the procedure is not easy and for second, you may not even realize that Windows Defender is off unless you check it.
Features
SecureAPlus is an example of how a program interface should not be built. The controls have inconsistent styles, they are not in line, their purpose (graphic, label, button) is not apparent, thus, your user attention is not clearly focused.
The main window concentrates on the status of your system. You can see if there are unresolved threats, your level of protection, and the features you have activated.
SecureAPlus Lite does not have real-time protection, so threats won't be detected the moment you download or save files on your drives.
The Full System Scan, however, is very fast, uploading new file hashes to SecureAPlus' cloud engines for analysis. Since it doesn't scan the entire system each time, you are able to view the scan results within a few seconds.
As mentioned above, before you choose to remove, quarantine or ignore a file, you can check the AV engines that identified it as a threat and the threat name. All options work as announced, but it takes some time to determine which option is best, as it is not always obvious.
Whitelisting Modes
SecureAPlus offers three whitelisting modes:
Trust All – allows to execute all files without problems;
Lockdown – supports the execution of trustworthy files only
Interactive – asks you what to do when new files are launched.
Launching an unknown application trigger SecureAPlus to display a warning that its process would create a "new executable or script file". The program asks whether we would like to set the process up as "trusted installer" or "restricted application".
Flagging a process as a "trusted installer" ensures that any new files it create are trusted immediately. However, even though some processes can be trusted, sometimes they may launch malicious programs (for example Google Chrome, Windows Explorer, etc.) Therefore, it may be a bit complicated for regular users to decide how to treat a given process or at least, have the option to restrict it so not everything it creates is necessarily trusted. Moreover, the constant warnings of SecureAPlus may confuse non-so-technical users, who, at some point might be tempted to start clicking "Yes" without paying any attention.
Performance
The SecureAPlus APEX engine is not routinely tested by the independent research labs, which makes it hard to see how successful it can be.
In May 2019, however, the engine was added to VirusTotal, an excellent sign that the company knows what it is doing.
In October 2018, AV-Comparatives conducted a one-off test and found that the engine blocked 86.8 % of threats, with 0.7 % false alarm.
This may not look impressive, particularly when you see the top products reaching 100 % detection levels in Real-World Protection Tests of AV-Comparatives, but keep in mind that these rates are achieved by adding multiple protection layers such as URL filtering, file signature checks, behavior monitoring and more. The 86.8% score is for APEX alone, and the free SecureAPlus gives you more additional layers.
Conclusion
SecureAPlus Lite is a program that provides a valuable layer of additional computer protection alongside a standard anti-virus. However, it isn't a "set and forget" app. To setup the program and manage it effectively, users may need some security knowledge and experience.