Shotcut 20
Shotcut 20 is a free, open-source video editor that is both somewhat unassuming while also offering enough functionality that would satisfy more advanced and experienced users. A nice addition is its cross-platform compatibility – the tool has a version for Windows, Mac, and Linux. Another nice thing is the fact that, unlike competing video-editing tools, this one is not so hard on the system and can be used on weaker machines – something that I particularly like seeing as how my own machine isn't top level.
If you are like me and like to now and then make video montages with some silly clips and cheesy background music for your own entertainment (and maybe that of a close group of buddies) but don't have the time or need to get more serious about it, then you might like to have a program at your disposal that offers you a wide enough selection of different options to put together a video while, at the same time, does not require you to to have any high-end equipment or masterful skills in the art of video editing. Well, if that is indeed your case (or even if it isn't and you simply need a reliable video editing tool), then you might like Shotcut 20.
So, if you are interested and want to learn more about Shotcut 20, here's what we have to say about it from our personal experience with the tool: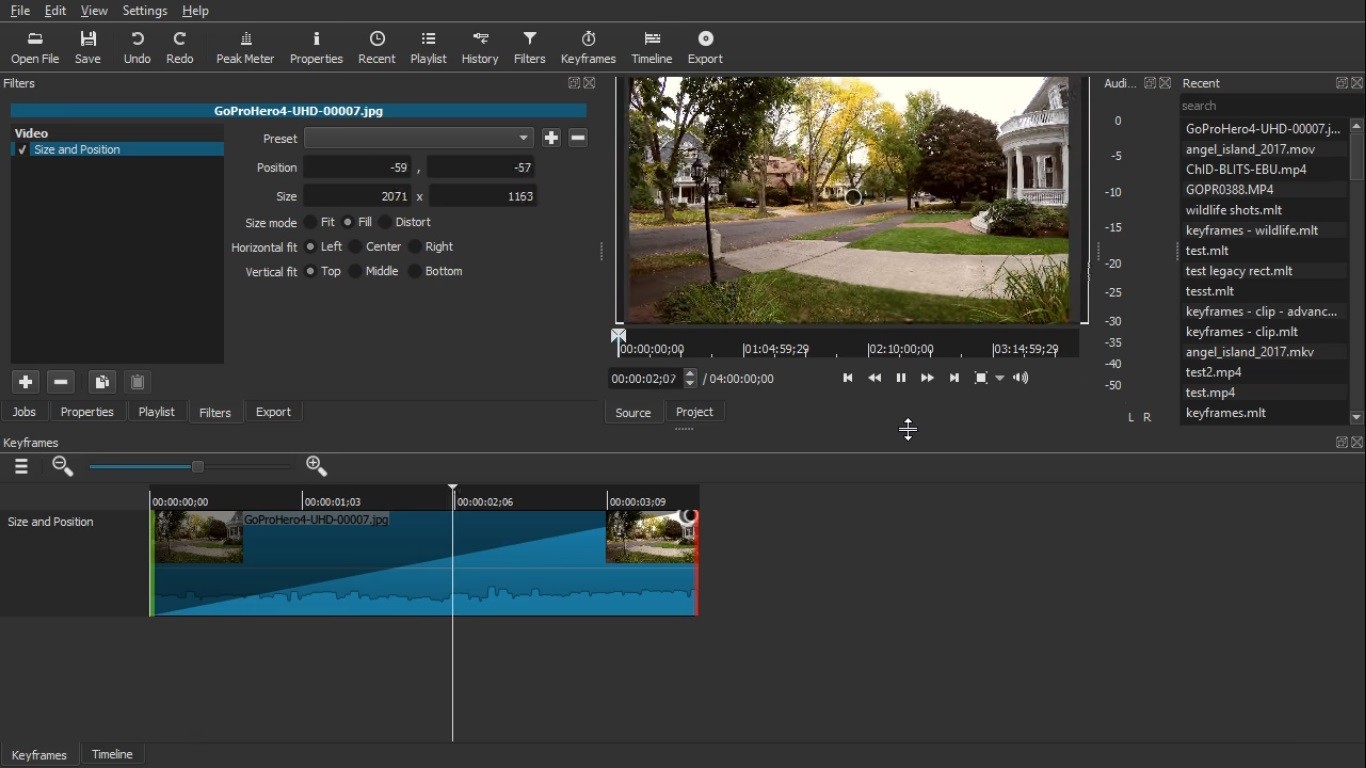 The Interface of Shotcut 20
This program is promoted as a fitting video-editing choice for both regular and experienced pro-users. For the most part, this is true but it must be pointed out that, if this is your first time trying out video editing, the interface of Shotcut 20 may not be as intuitive as advertised. Don't get us wrong, we are sure that it won't be long until you get the hang of it even if you have never before used video-editing software. However, it may be a bit frustrating at first until you get used to it. On the other hand, if you already have some experience with this type of software tools, you should feel right at home with Shotcut 20.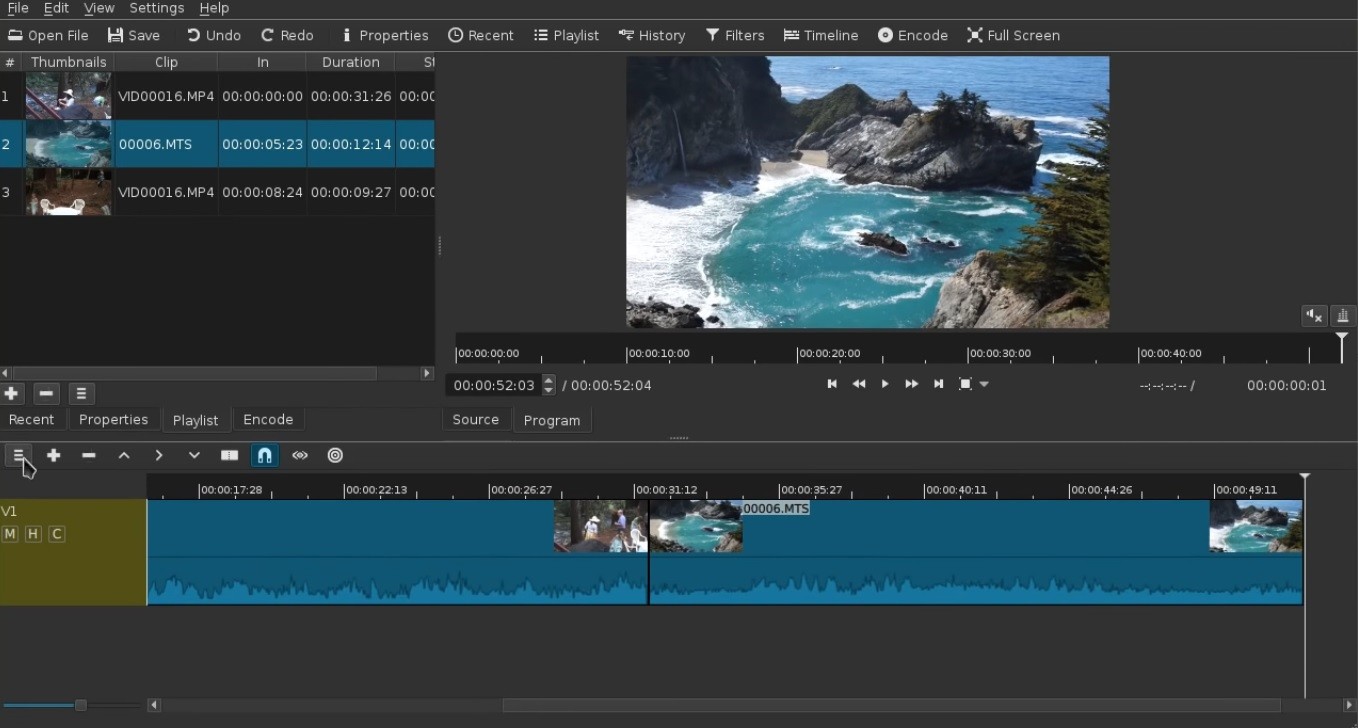 What we liked about the interface of the tool is that it is clean and isn't overburdened by too many buttons. This is not to say that there aren't enough options, features, and settings – it's just that they are neatly hidden under the different menus of the app. And if you don't particularly like it that way, you have some customization options that allow you to modify the interface and make it more fitting with your personal preferences.
One of the things we really liked and which I personally think should be a feature provided by every video-editing tool is the option to have multiple audio and video tracks. Sure, you may not always need to use that, especially if you are a beginner, but after a while, you will quickly realize just how much more you can do in a video editor that has this option.
Filters
As expected, Shotcut 20 offers a good number of different types of video filters though there aren't any overly advanced, fancy, or flashy stuff. Still, there is enough filter variety to satisfy most regular and maybe quite a bit of pro users.
You have your run-of-the-mill filters but there are also some customizable ones that offer more creative freedom so you won't feel restricted by the range of choice you are given here.
Transitions
There's nothing like a cool transition to help join together two separate video clips in a seamless way. Shotcut 20 gives you enough options to splice clips using different cool effects but the one thing that could have been done better here is the way you are supposed to put a transition in your video. While on other similar video-editing tools all you need to do is simply drag and drop the effect on the video track like it is just another clip, here you first have to make the clips you want to splice overlap, click on the overlapping region, and then choose a transitional effect for it. It's just a bit clunky is all but it still gets the job done just fine.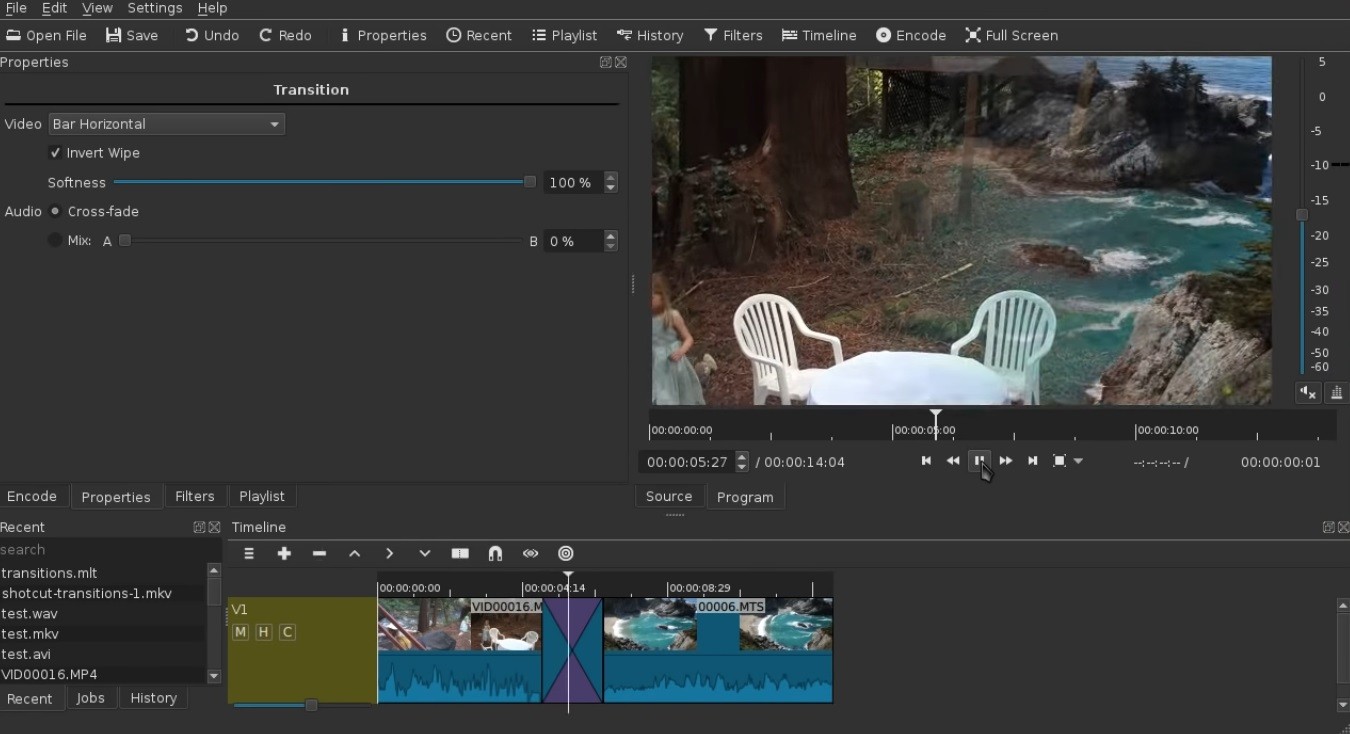 Text editing
Text editing in Shotcut 20 gives you all the options and freedom of customization that you may need. You can use any font, size, background, padding, etc. for your text and then add to it different animations such as various types of entrances and exits.
Furthermore, there's even an option for 3D text that provides you with even more customization features. Overall, everything you may need in terms of text-editing options in a video-editing tool is here.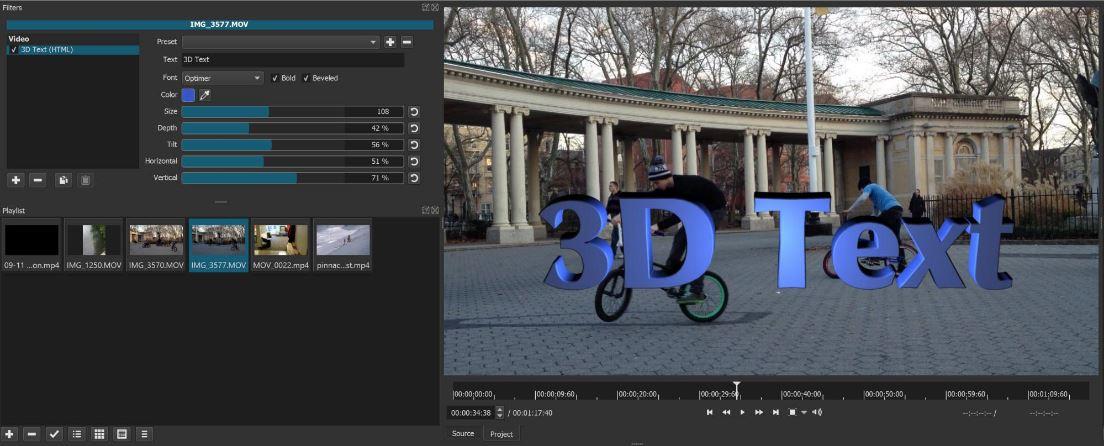 Video Export
In my opinion, this is one of the most important aspects of any video-editing tool. You could spend days, weeks, or more editing and perfecting a video but if you cannot export it properly to a suitable video file format, then all your efforts wouldn't matter.
Shotcut 20 gives you the option to choose from many different video formats for exporting and gives you some customization options but the downside here is that exporting a video with it isn't as intuitive as it is with other more consumer-friendly alternatives. In order to pick the best format and settings for a video that you'd later want to upload to YouTube or Facebook (or another social media site), you'd need to do your own online research to figure that one out. In other similar tools, the best export formats and settings for this purpose are shown to the user in the program itself so it's much easier to pick the best option.
Conclusion
Although there may be alternatives out there that outperform Shotcut 20 in different areas, we believe it's fair to say that this is a good all-around video-editing tool that offers lots of good things and there's a lot to like about it. Sure, it may not have the greatest array of options (it doesn't support VR, motion tracking, or multicam editing) but it still has several notable and interesting features and will most likely satisfy all but the most advanced users – the ones that use professional video-editing software anyway. Also, let's not forget that it is totally free and that it won't put as much strain on your computer's performance as most other video editors would.