Sophos Security
Sophos Home antivirus products come at an affordable price and can protect all your Windows and Mac devices.
Pros:
Very simple and user-friendly interface

Promising results of the Enterprise edition by a few testing labs

Effective URL blocking

Very affordable license for up to 10 devices
Cons:
Very basic set of features

Few configuration options

Not tested by major testing labs
The user security solutions of Sophos are very straightforward. The company offers just two antivirus products – Sophos Home Free and Sophos Home Premium – that cover the basics of online security and a little more.
Unlike other security software providers, Sophos has saved its users from the need to compare complex columns of features and prices of different packages and has split its main offerings in two – a free and a premium edition. Both packages protect Windows and Mac devices but only the premium one is supported by live Chat and E-mail support for restricted hours: Monday to Friday, from 8 am until 8 pm EST. It is worth to mention that Sophos offers highly capable Android protection with its Intercept X set, but Sophos Home edition is available only on desktop computers.
The price comparison is simple and Sophos stands really well with a one-year Home Premium 10-device license that only costs $42. The competing Bitdefender Antivirus Plus license, for instance, costs $80, which is double.
In this post, we will first make a detailed review of the Sophos Home Premium and see what it can offer us in 2020. After that, we will compare it with the Sophos Home Free edition and give our final evaluation.
If you are interested in one of the antivirus products specifically, you can jump straight to its review but keep in mind that, in order to get an overall picture of the capabilities of Sophos's software, it is best to read everything, as we compare and refer to features and functions discussed in the free and the premium version.
Sophos Home Premium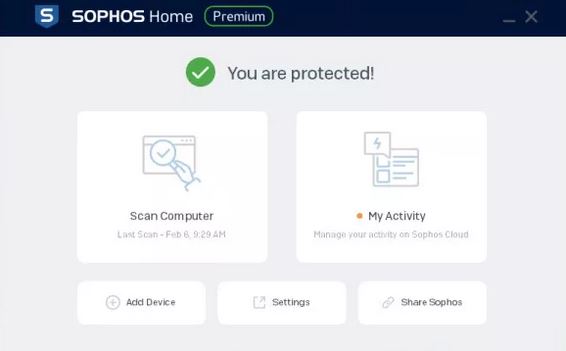 The Sophos Home Premium trail installer can be downloaded from the official website of Sophos within seconds. You just have to hand over your email address and follow the setup steps. After being fully installed, the program will add about 1.4 GB of files to the system and will run an initial system scan.
The amount of space the program takes up is quite surprising considering that Sophos Home Premium isn't packed with so many features. Besides, a lot of security products that are quite powerful tend to take up less space than that.
Sophos Home Premium also launches 17 processes and a few drivers in the background, which is more than what most antivirus suits usually add. Fortunately, there isn't a significant effect on the system's performance except for a slightly longer boot times.
A possible downside to having so many active processes in the background, however, is that malware might have more chance to attack and maybe deactivate your protection. Sophos Home Premium's resistance, however, seems satisfying even after our attempts to kill or stop its processes, delete critical files and remove or pause its services.
First impressions of the interface
Sophos Home Premium comes with a very simple interface that can make any novice feel at home. The main window displays some status information such as the last update and the last scan time. There is a convenient "Scan Computer" button and several other buttons for settings.

As soon as you tap the "Scan" button, the antivirus starts a full system scan. There are no "Quick Scan" or "Custom Scan" options and you cannot set your own rules for scanning.
When you start a scan, until it is finished or canceled, you cannot move to any other part of the program's features or options. This is a potential issue, particularly because it can take hours for an entire device scan to complete. That's why most antivirus programs make it possible to leave a scan running and use other areas of the package in the meantime.
A very useful option that Sophos adds, however, is the right-click scan in Explorer that allows you to check any particular app or file that you desire. Still, this function is also a bit underpowered since it doesn't allow you to run simultaneous scans.
The program also adds an icon to your system tray, however, this icon serves only to launch Sophos Home Premium. It doesn't have a right-click menu, shortcut options or anything that reflects the actions of the program (scanning in process, virus found, etc.)
In general, the simple interface is indeed easy to get used to, but if you are a user who seeks to have more control over the app and more options for manual customization, Sophos Home Premium will rather leave you disappointed.
Security options and settings
Sophos Home Premium does have some user configuration settings and security options, but they are accessible only through a web interface. For example, you have to tap "Settings", and a browser tab will open the website of Sophos. There you will have to login and then you can see a selection of manual configurations for the program.
Perhaps we would agree if you think that this is a bit awkward. But once you've logged in, it doesn't take much time to set your preferences and the desired configurations are just a few clicks away.
This centralized web interface may also be very useful if you want to install Sophos on multiple devices as it allows users to monitor and control the protection of everyone from one location. For starters, it might be smart to keep your family away from more complicated security settings and configurations if they aren't technical types. At the same time, when there is an issue, within a few minutes you can sign in and make any adjustments you need.
The Sophos Home Premium "Settings" page is accessed on the "Protection" tab, where you will find tools for scheduling scans, excluding particular drives, files and directories form checks.

The "Advanced" options allow you to enable or disable the multiple techniques that Sophos uses to block common exploits. There you will find specific exploit protection for browser, browser plug-ins, privilege escalation prevention, code cave usage and APC abuses, backdoor traffic prevention, protection against DLL hijacking, and additional layers to fool sandbox-aware malware. It is nice to see that Sophos Home Premium is covering so many common exploits, however, nearly all of these settings are highly technical. The good thing is they are enabled by default.
We have found only one significant feature that was not turned on by default: "Stop malicious USB devices". This feature obviously is there to block malicious USB devices but as it is disabled by default, you may not see much use of it unless you specifically turn it on.
Our take on the Sophos' Home Premium protection
When it comes to evaluating how well an antivirus software performs, we usually review the results of its tests with major Independent Testing Laboratories. Sadly, Sophos Home Premium isn't covered by the reports of most testing labs that we follow.
Still, a Home Anti-Malware report of SE-Labs for October-December 2019 includes Sophos Home and gives us some positive results. The company is sharing the third place out of 15 with six other packages, but this still works for us since it shows that the program is ranked "mid-range or better".
Sophos Enterprise products are covered in a number of other tests, and even though they may not tell us a lot about Sophos Home edition, they still give us an idea about where Sophos stands against other antivirus software developers.
For example, the name of the company appears in the Enterprise version of AV-Comparatives' Real-World Protection Test where it is ranked in a fourth position out of 17 competitors. According to the report, Sophos is ahead of names like ESET, VIPRE, Avast and McAfee, and just behind Panda, Bitdefender and Kaspersky.
Sophos business-oriented Intercept X product is also mentioned in the MRG Effitas 360 Assessment & Certification reports that certify products compliant with a set standard, not merely score. The company's set is fairly well presented in the final 2019 report. This, along with the strong results of SE-Labs gives us a good reason to believe that Sophos offers reliable malware protection. Nonetheless, we would still like to see Sophos Home Premium tested by AV-Comparatives and AV-Test to get a clearer idea of how it stands against competitors.
Malicious URL blocking
Sophos Home Premium provides a basic layer of protection to keep you safe from questionable websites. If you try to visit a dangerous domain, Sophos will give you a desktop alert to highlight the issue and will show you browser warning that informs that the pages are blocked because malicious content is present.
The app has low false-flag rate and normally detects most of the dubious domains during testing. If you do get a falsely flagged page, however, there is no "let me in anyway" option or some other quick way to bypass the Sophos's warning.
To whitelist the URL, you will have to open the Sophos Home Premium console, click on Settings > Web and enter the URL. This is not that hard but if it happens frequently it may become a hassle.
Of course, this could be a real handy feature if you want to limit access of another person – your children or your employees, for example.
Content filtering feature
Sophos Home Premium doesn't impress with a long list of features, but a quick look in the Web-based Settings will reveal an unusual extra – parental controls-like content filtering system. It is very basic and covers just three lists of site types: "Adult & Inappropriate", "Social Networking & Computing" and "General Interest". These lists include various types of content that you might like to block such as "Drugs", "Violence", "Networking" etc. They are enabled by default but with a single click you can disable any of them as you like.

Unfortunately, there is no single blocking element for blocking social networking sites. And while there's a domain whitelist that should never be blocked, Sophos Home has no blacklist for domains that should never be made available.
Nonetheless, it is easy enough to get started, and with a few clicks, you can restrict access to the worst of the web. When the control filtering system is set up, an attempt to visit a site from the no-go list will result in a web browser message where Sophos Home informs you that it has blocked access to this website. However, the content filtering system works only on top browsers and if someone installs some other web browser, he will be able to access anything they like. Tech-savvy teens can then quickly bypass Sophos Home Premium. Nonetheless, this feature may still be useful if you are only trying to prevent very young children from finding improper content by mistake.
Conclusion
The fairly modest set of features that Sophos Home Premium offers and the limited configuration options can be a concern for novice users who are reviewing this antivirus product. However, Sophos Home Premium can help you to protect multiple devices at a fair price and gives you a simple centrally-managed interface to customize and control all your preferences and settings.
Sophos Home Free

Sophos Home Free is simple and easy to install in your Windows or Mac device. Just sign up with your email address, download and install the software from its official website, and it will be ready to run in a few minutes.
The interface of Sophos Home Free is much like the Sophos Home Premium. You get a Home Premium free 30-day trial with the free install which gives you the feel of the fully licensed version for that limited period. Even after that, however, the main look doesn't change much. The "Scan" button and a few other options are available from the main panel.
Some users may have issues with this lack of features, but that is truly the point of the package. Sophos Home Free is not intended for experts who want to create their own individual search types and specify different search depths for each individual archive type. This is a simple antivirus, easy enough to be used by non-technical users or total newbies, which can be left running in the background and still provide protected.
Sophos Home Free is ideal for those who are looking to protect several devices – it gives you a single cloud dashboard from where you can customize, track and control the protection of all of them. That could be a real advantage if you install Sophos on the devices of several many family members that don't want to spend time studying low-level security information.
Our take on the Sophos's Home Free protection
Although Sophos Home Free looks very much like Home Premium, a range of essential features are left out in the free package. For example, your browser can not be covered by an anti-keylogger protection layer. There is also no webcam hijacking defense. Live chat or email support are also not available. With a Sophos Home Free account you can protect up to 3 devices while Sophos Home Premium can protect up to 10.
Sophos Home Free does not provide, for instance, "advanced real-time threat protection" or "advanced malware scan and clean" although the company does not explicitly clarify what this means or what the effect might be.
To give you a clearer idea of Sophos Home Free abilities to protect your computer, we usually check reports from major testing laboratories for evidence of the anti-virus app's capabilities. However, Sophos Home Free isn't included in the tests of any major labs. Limited small-scale inside tests show promising results with the program managing to catch the threats that are thrown at it. Still, this is not enough for us to come up with a final evaluation.
In conclusion, Sophos Home Free is an interesting antivirus product that winds users with simplicity and offers a convenient central security control of all your protected devices. However, the lack of testing information related to its virus-detecting capabilities is a concern and we do want to know more about the program's performance in reports by trusted testing laboratories.
Our final advice is to check out Sophos Home products anyway, especially if you have a number of devices to cover. However, it is better to focus on Sophos Home Premium, not the Free edition since it is already really affordable at $42 and covers up to 10 devices a year with additional features that add extra layers of protection which are missing in the free version.