We are used to the less a software product costs, the less features it usually has. Well, Surfshark proves that doesn't have to necessarily always be the case. In fact, it even puts a lot of its more expensive competitors to shame when it comes to the long list of added functionalities that it boasts.
In addition, the company boasts a rather impressive network of in excess of 1,700 servers. And the number of locations? 160 across 63 different countries! That alone is enough to earn this VPN just about anyone's attention.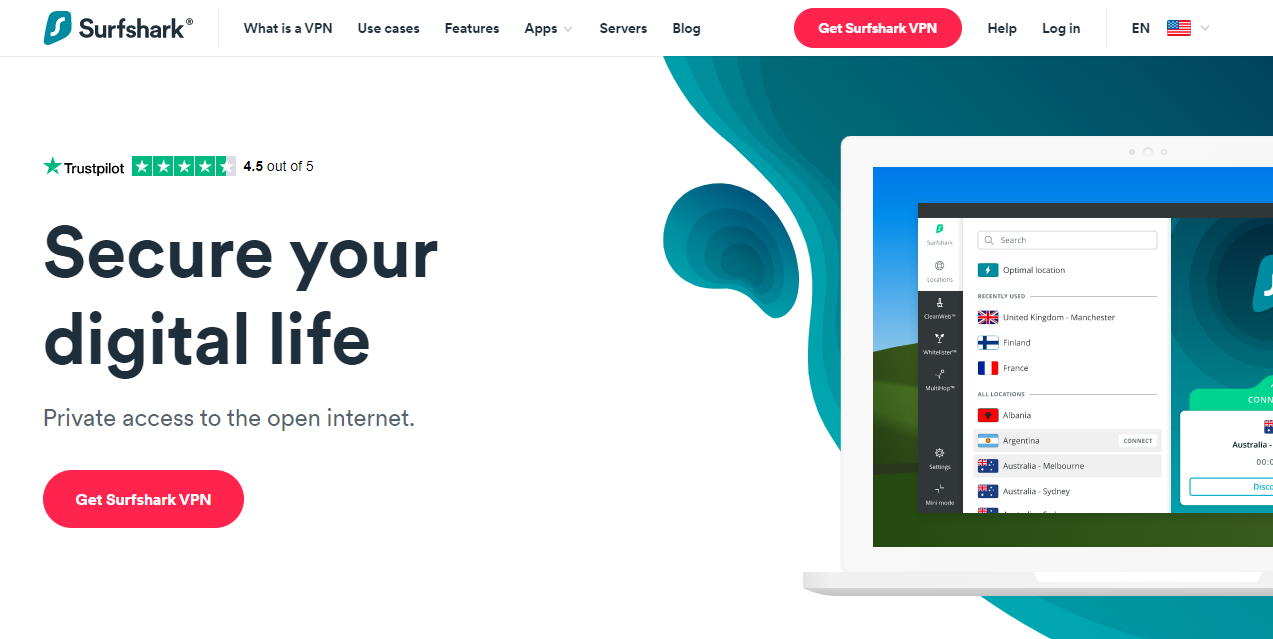 But aside from that there's also the fact that Surfshark supports a wide range of operating systems andn even has Chrome and Firefox browser extensions, too. You can use it across Mac, Windows, Linux, as well as Android and iOS devices, but that's not all. There's even the possibility to use Surfshark on smart TVs and for game consoles.
Better yet, Surfshark allow you to run it simultaneously on as many devices as your heart desires – at the same time. And this VPN has the technical specs to comfortably support this ability, as well. Namely, there's OpenVPN and IKEv2 support, and the latest, iron-clad industry standard AES-256-GCM encryption to protect your privacy, along with a kill switch in case the connection is lost.
As far as the extras go, there are a bunch of pretty useful ones such as ad-blocking and URL filtering, as well as P2P support on the majority of the servers. You can also benefit from split tunneling, VPN chaining and there's also 24/7 live chat and email support available to help if any problems come up.
Surfshark has recently also added two-factor authentication as an extra layer of protection against anyone potentially trying to hack your account. And another very handy function is the GPS spoofing (only for Android, though). With its help, anytime an application wants to know your current location, it will receive the location of your VPN server. But even that doesn't cover all of the juicy extras in this service, so we'll elaborate more on them as we go.
PROS:

A ton of extra features

Highly affordable

24/7 support with quick response rate

Unblocks Netflix

CONS:

Trial version only available for Macs and mobile devices

Problems with kill switch

Support website could use improving

Privacy policy is somewhat vague
Getting started
Setting up Surfshark is very easy and what's even better than that – it can be super cheap. Once you head over to the developer's website, you can choose from the three available plans. Namely, these are:
Monthly: $11.95 per month

Annual: $5.99 per month

2-year: $1.99 per month
As you can see the 2-year subscription is an amazing offer that you will be very, very hard-pressed to find matched elsewhere. And with a price that is this low, even if you would otherwise worry about making such a long-term commitment to a software product, it shouldn't bother you now.
While there is no trial version to help further take off the edge, there is a 30-day money back guarantee. And if you have a look around the market, you will notice that this seems to be the trend and everyone is opting for the money-back vs the free trial way of doing business. And that's alright with us, 30 days should be a fair enough amount of time to decide whether or not you're happy with the VPN service.
However, Mac users to get to try a 7-day free trial version, as do Android and iOS users. And we would think about complaining that there isn't one such version available for Windows, but with a look around at the competition and we'd say this is a pretty sweet deal as it is.
Furthermore, there is also plenty of flexibility as far as the payment options go, too. You can choose from among PayPal, credit cards, Bitcoin and even Amazon and Google are on the list of available methods, as well.
Logging & privacy
Like with most other VPN service providers, Surfshark makes a point of stating that the company doesn't collect and/or store user information. Surfshark is based in the British Virgin Islands, and therefore they are not legally obligated to do so, which in and of itself is somewhat of an assurance already. But not enough.
So there's a FAQ section on their website that elaborate further on the fact that they don't log user activity and don't collect things such as incoming and outgoing IP addresses, the VPN servers you use, purchase details, bandwidth and session information, network traffic, etc. The only information Surfshark says it keeps is you email address and billing details, along with some anonymous stats, such as crash reports and other performance data.
Furthermore, the provider has undergone an audit by German Security company Cure53. And although that this audit was limited to only the browser extensions, it's still reassuring to see the results of it anyway. Only two small issues were found with the extensions, but other than that the overall evaluation was that of high satisfaction with the "strong security posture" of the browser extensions. But one thing to keep in mind here is that the audit was done back in late 2018, so there's no more recent such check done by an external party.
So more frequent security audits would certainly be something we'd like to see. And it definitely wouldn't hurt if Surfshark were to add a little bit more details to its privacy policy.
As far as protecting users' privacy goes, though, things are quite a bit more clear-cut. First off, you've got the basics such as the aforementioned AES-256 encryption and secure protocols (IKEv2, TCP, OpenVPN and UDP). In addition, there's a kill switch meant to protect your identity from any potential connection drops.
A great selling point that Surfshark has is its private DNS on each server. This is done for the purpose of minimizing the risk of anyone spying on you. And to make it even harder for anyone trying to track you, there's a double VPN hop.
Windows client
After you have downloaded and installed the Windows client, you can then proceed to select your desired plan and complete the payment directly from within the client. So you won't have to bother with a third-party browser.
The interface of the client is quite easy on the eyes. And we liked that it adapts very well to resizing the window. When it's at its smallest size, it look pretty much no different than most other VPN clients. But if you expand it, then it reveals many more options with panels to play around with.
Whatever size you choose to view the client in, though, one thing will always be constant and that is the Connect button, as well as the list of locations to choose from. So after you've selected your new location, a notification will inform you about the established connection, the same way it will tell you if the app disconnects.
There's an option to sort your most used servers as Favorites, to manage the locations more easily. And speaking of managing, there's also something called a Whitelister in the Surfshark app. With its help, you can create a list of websites, applications and even IP addresses that will disregard the VPN. This is pretty much the same feature that you will see as 'split-tunneling' with other providers. This is useful in case you find that the VPN breaks a certain site or application.
There are also a number of other handy extras that are worth mentioning here, although without getting into too much detail. For instance, there's a NoBorders mode, which can try and connect you to countries where VPNs are typically blocked. CleanWeb is another useful function that blocks trackers, ads and filters away dangerous links.
We would like to pay a little more attention to the kill switch, as this is an important feature. It's great that Surfshark has one, for starters. But we weren't entirely convinced that it works as it should.
A kill switch is necessary to protect your identity in the event that the VPN drops the connection at some point. And it does that, but it does it in the harshest way possible. Namely, in the event that the connection is lost, Surfshark blocks you from using the internet at all. And the other problem with it is that it doesn't inform you of when the connection fails, but just kicks in without any notice.
Android & iOS apps
Typically the mobile app versions are a lot more simplified than their desktop counterparts. However, in the case of Surfshark, we were surprised to find that the Android app was much the same as the desktop client. The interface is strikingly similar and has the exact same list of locations, as well as most of the extras we mentioned earlier. Hence, you will see the CleanWeb feature, the Whitelister as well as the multihop connections that you also get in the Windows client.
What's no less important is that the kill switch is also available in the mobile apps. And Surfshark even takes things a step further, adding more bonus functions for you to explore and take advantage of. For instance, you can actually select the encryption method, in order to potentially benefit from higher speeds. And you can even set your device to automatically connect to the VPN whenever you access a specific network (e.g. secured, unsecured, mobile).
The iOS app is pretty much exactly the same, so iPhone users won't suffer from any lack of features. So all in all, we were genuinely impressed to get this much out of so little in terms of bang for your buck.
Performance
Surfshark pretty much fulfilled all our expectations as far as its performance was concerned, and there was hardly anything to complain about. We didn't experience any issues with the connection, there were no failures and even connection times were a tiny bit faster than what we would consider average. In addition, all the servers returned the IPs from the locations that they were labeled as, so that's good news too.
US performance was very agreeable and we didn't encounter speeds lower than 120Mbps. And that on its own is already higher than what most people need anyway. But for the most part, speeds averaged at around 160Mbps, which is very decent.
Of course, do keep in mind that the speed you see will always vary based on the location you choose, as well as where you yourself are actually located. So in order to best determine whether Surfshark's speed works for you, you will have to carry out your own tests.
What we can conclude based on our testing, though, is that the application performs rather well throughout most of the time.
Support
The official website of the company has a bunch of tutorials and guides to help you get started with the setup and installation if need be. And there are number of troubleshooting options to explore, should you require those as well.
In addition, users can make use of the FAQ section of the website to find solutions to some of the more common problems. But if you happen to run into some kind of other trouble, then there's 24/7 support at your service as well.
You can speak to a representative of the company via live chat and expect to receive a friendly and helpful response.
To sum it up
Surfshark is a surprisingly powerful VPN that comes at a fraction of the cost of some of the competitors out there. It also boasts a whole range of extra features that certainly add to its value. So we would recommend considering Surfshark if you're looking for a reliable VPN service.