Mac Users usually say that once they get a hold of a Mac machine, there is no turning back. And, indeed, Mac computers combine excellent functionality, tons of great features and a wide range of apps to choose from. However, there are some great Apple applications that are must-haves and can change the way you use your Mac for better.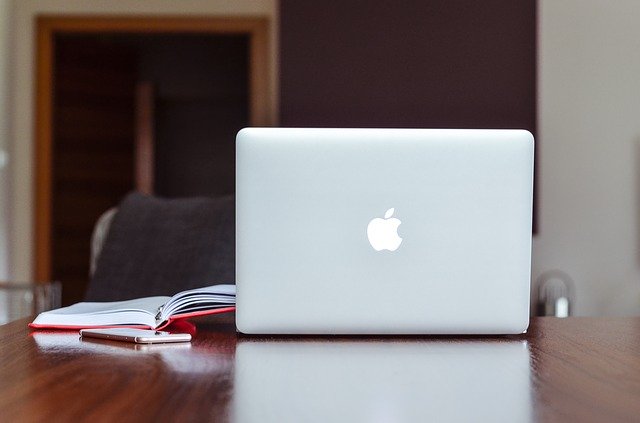 In case you've just bought your first Mac machine and are excited to explore its capabilities or you are an Apple user from some time and want to try out some top-notch desktop programs, here you'll find our take on the best Mac applications for 2020.
We will cover up some great interface apps, productivity apps, entertainment and social apps, as well as apps that can help you with security and storage.
Top Interface apps for Mac
Alfred 4
Alfred is, essentially, an application launcher but it is much more powerful than that. This app combines the features of Spotlight and Siri and, among many other things, it can quickly calculate, run web searches and find word definitions. Alfred is basically helping you automate tasks and execute advanced functions. Version 4 introduces rich texts snippets and other cool features and enhances the overall workflow.
Amphetamine
Amphetamine is a handy app that keeps your Mac from going into sleep, starts the screen saver, or executes the auto-dim function. This app is ideal for those times when you are watching streams or videos or are doing any other activity in which you do not touch the mouse or keyboard for some time. If you want to download Amphetamine, keep in mind that it no longer works with older versions of MacOS before Yosemite.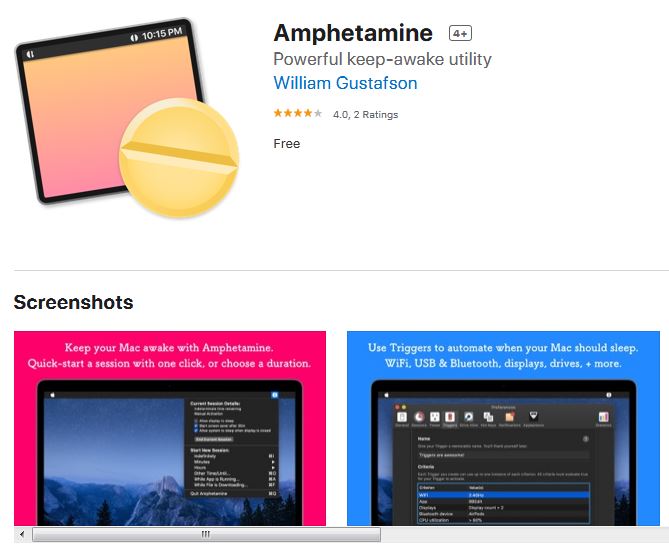 Bartender 3
Bartender 3 is a tool that helps you organize your apps when too many of them are used. The app lets you select which applications to be shown in the menu bar and organizes them to your taste. It's a discreet app that has been specifically built to help you systemize and rearrange your various apps so they can match your workflow.
Bartender 3 is especially useful when you are in desperate need of additional space as it allows you to move items into optional Bartender Bar and search for specific items. The latest version of the app comes with added support for MacOS Catalina. You can test Bartender for up to 4 weeks for free until you decide to buy it.

Dropzone 3
Dropzone 3 feels like a basic component of MacOS. The app acts as a shortcut tool that helps you to easily copy and move files, launch different applications, and share content with Facebook and Flickr, for example. The newly-added Goo.gl shortcut in Dropzone 3 also lets you import files from FTP and Amazon S3 and shorten URLs. The app fits in a tiny icon in the menu bar.

Google Chrome
The rich range of tools, the amazing browsing speed and a few more features make Google Chrome a perfect Mac web browser. Chrome is dubbed one of the fastest browsers and its ability to seamlessly sync all your information, including bookmarks, open windows, latest searches, etc., across multiple devices makes it worthwhile app. And if we take its amazing customization features and the instant search capability, Google Chrome is definitely a winning web browser choice for your Mac.

Magnet
Magnet is the multitasker's helper. This app gives you a simple way to set up your screen. It lets you easily drag and snap windows to the edges and corners of the desktop and lock them into place. It's a fantastic tool with customizable keyboard shortcuts that helps you organize your windows into tiles.

Unclutter
Unclutter is yet another key interface tool that does exactly as its name says. The app can be reached from the top of your screen with a quick swipe and works best for storing your recent files, quick notes, and clipboard information. The latest improvements also give a choice between a light or dark theme (although MacOS Catalina comes in a dark mode by default) and have the option to move cards on top of other screen windows. Unclutter also synchronizes your files and notes across different devices via Dropbox.

Best Productivity apps for Mac
Affinity Photo
Looking for an affordable Adobe Photoshop alternative that is just as good? Serif's Affinity Photo could be what you need. It is a picture editing app that has received multiple Apple awards (including app of the year) which speaks high for its uniqueness.
For a one-off fee of $50 Affinity Photo can be yours for life but please don't think that this is some inexpensive, hobbled program. Quite the opposite – it's an application that's insightful, full-featured that can hold up to Adobe's picture-editing challenge. Affinity Photo also offers sister apps for web design and digital printing, which are all great alternatives to Adobe's software.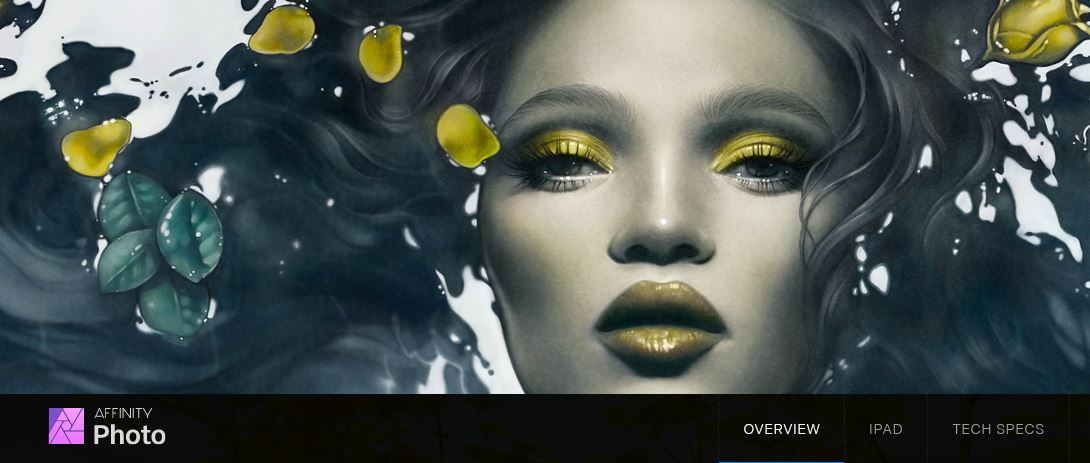 Day One
Day One is a partner for those who want to catch the little moments of life. It's a journal app which, in addition to the text, photos, reminders and tags that it incorporates, make a great contribution to keeping your days organized. The best thing? Day One comes with a password protection that locks the access to the app and keeps your scribbles safe from prying eyes. Day One is free to download, although you may want to take paid membership ($35 a year) into account for unlimited journals and photos, plus the use of any new features and updates.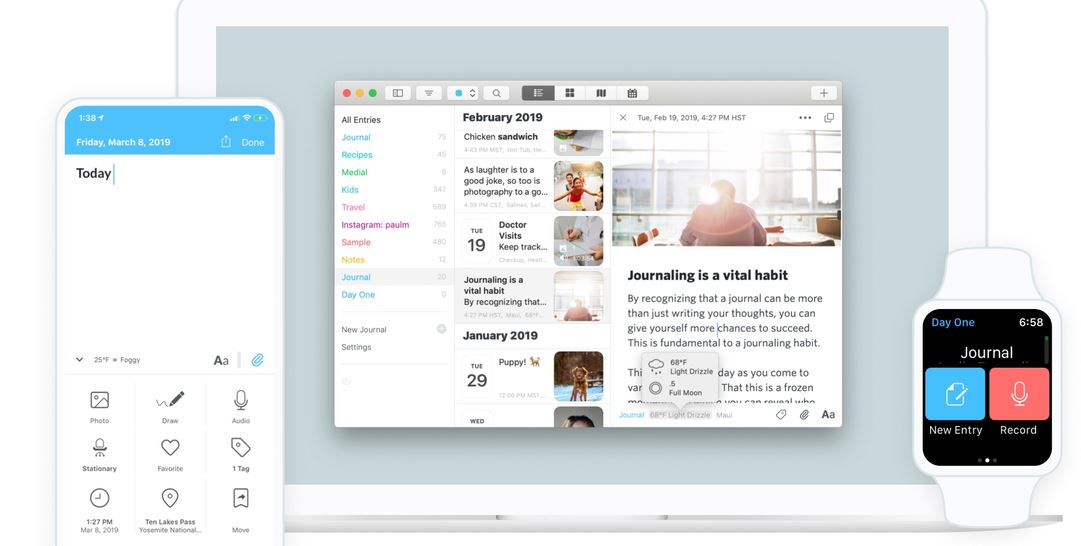 Evernote
Evernote is the note-taking app of the day. It is quick, intuitively structured and synchronizes with virtually every web-based service you might imagine. And as this is one of the most popular apps available, it also has loads of browser extension and add-ons. The free version of Evernote offers up to 60 MB uploads per month, and syncing between two machines but if you're a heavy-duty user, you'll want to buy the premium ($7.99 / month) version to unlock its full potential.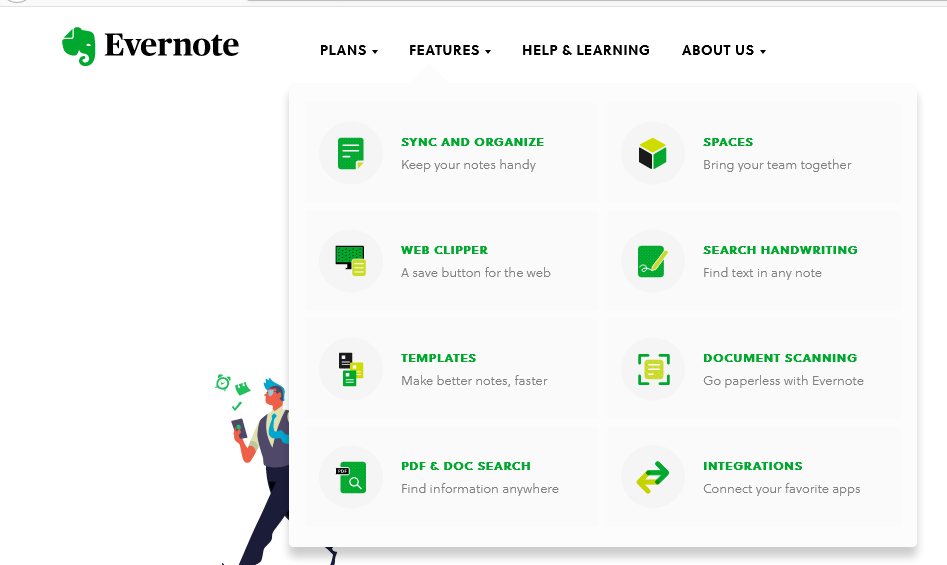 Fantastical 3

The only calendar app that you would ever need is Fantastical 3. The paid version allows you to access a powerful set of tools and also a practical wide-screen calendar window. The hallmark of Fantastical 2 is the way you create reminders in it. You just type in "Lunch with Sandra at 1 pm." and watch the app schedule it automatically.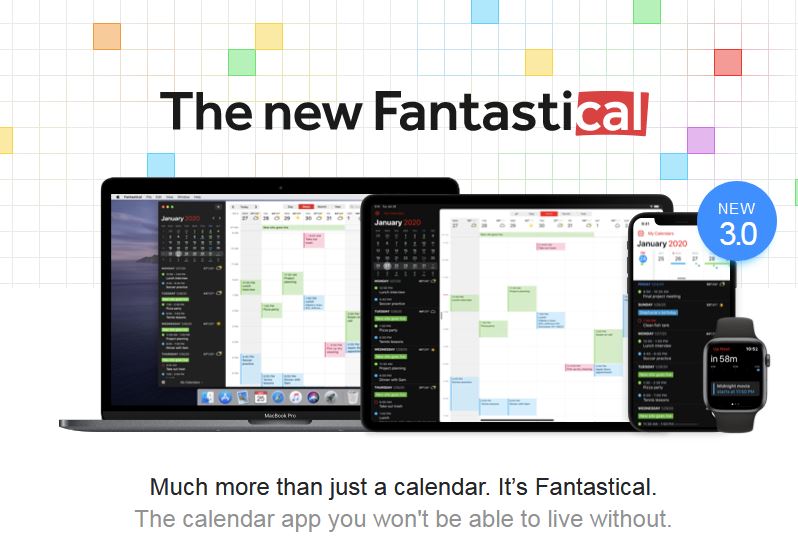 GIMP for Mac
GIMP is another powerful photo editor that provides a number of features that can easily replace Adobe Photoshop – layer control, shadow effects, vectors, filters, saturation and exposure are just a few of them. The app also offers similar auto functions for improving light, correct white balance, enhance colors, equalize and more. The great thing about GIMP is that it is an open-source project and, to date, is one of the best alternatives to Photoshop.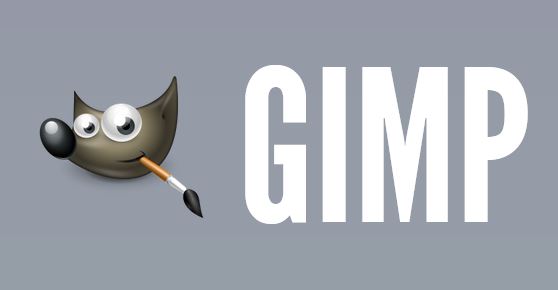 GoodTask
Goodtask is a great reminders app which still cannot be matched by the definite improvements in the in-built reminders app in MacOS Catalina. GoodTask allows you to make entries quickly without coming into your way. But when you start using its power features, it reveals its full potential. The app helps you to build smart lists based on defined parameters, add new reminders by using text snippets, which GoodTask understands intuitively. Besides, the app lets you modify almost every function and tweak it as per your linking.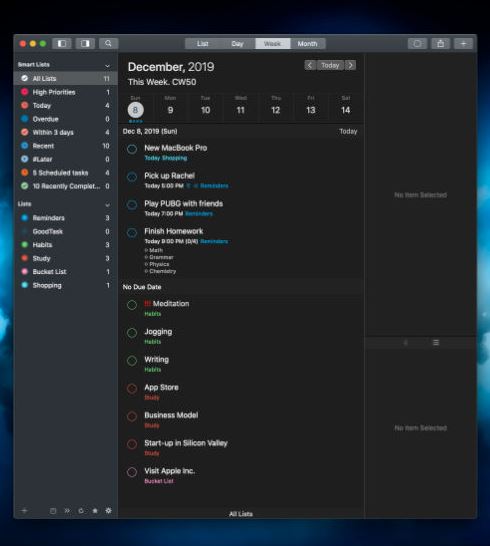 Hazel 4

Hazel is a powerful organization app that lets you create your own guidelines of how the software recognizes, sorts and transfers all your files and downloads. This makes it extremely easy to handle your data and have some order in it when it comes to sorting a certain file format, automatically adding names and tags or imposing certain strict rules to every single file, folder, and download on your Mac computer.
It is a great work app that can be used in all kinds of situations, whether for home, office, handling project-related files, etc. However, setting all the rules you want for file management may take some time. That's why, Hazel is more convenient tool for hands-on organizers. It will cost you $32 to have it, but for $49, a family 5-pack is a better deal.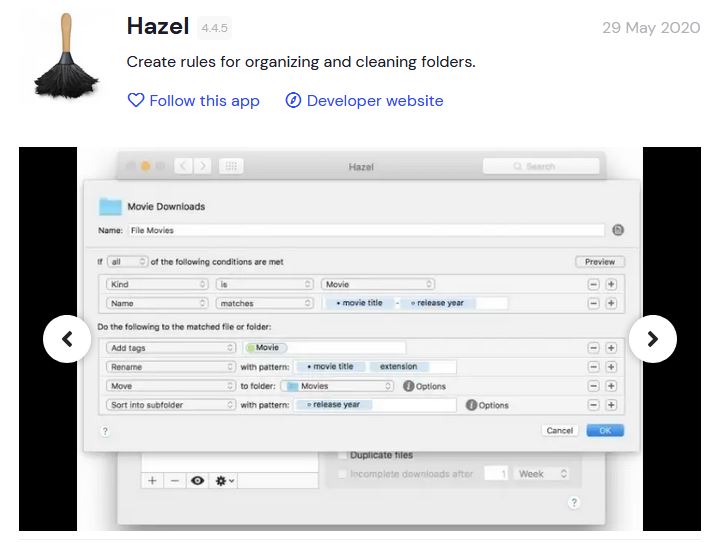 PDF Expert
Operating with PDF files is part of life nowadays for almost everyone and with an app like PDF Expert, this task becomes a bit easier. The lightweight program not only helps you to fill out and merge PDFs but also provides you with a powerful set of tools to edit, annotate, and even sign files on the go. It is also compliant with Apple's Continuity and Handoff features, allowing you to swap devices while in the middle of a document without fear that you will lose your work.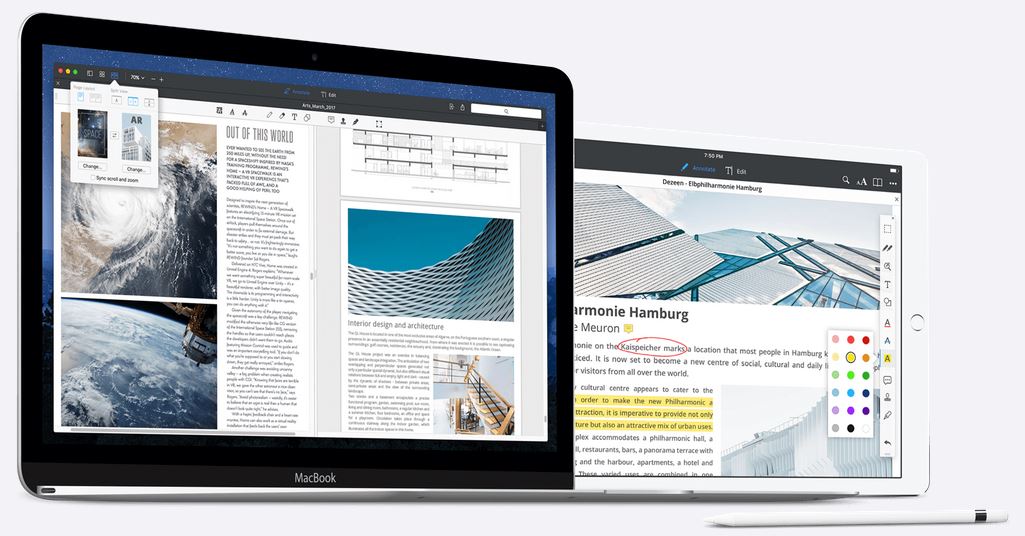 Pixelmator
Mac users may use a broad variety of outstanding photo editing applications, but Pixelmator sticks out as one of the best among its several rivals. It has a range of powerful features and is probably one of the fastest apps in the entire picture editing field.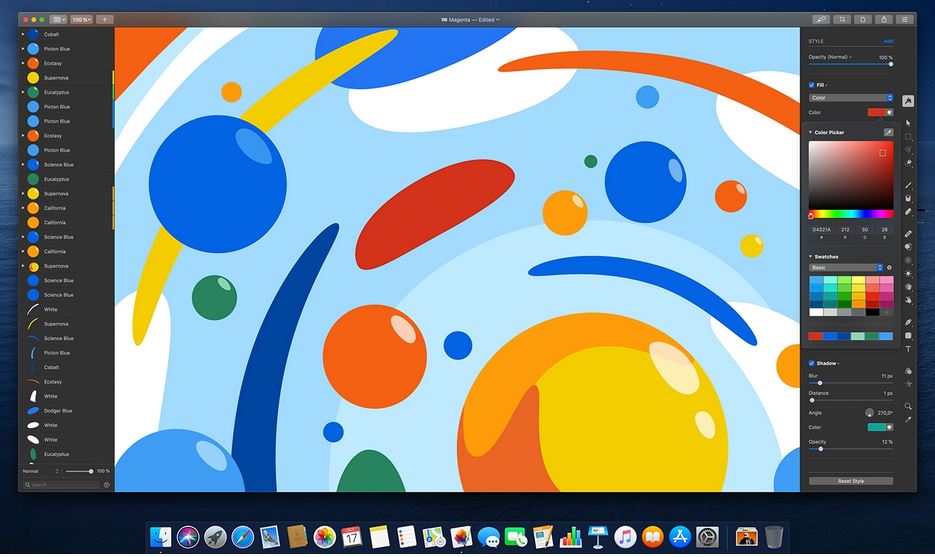 Pocket
Pocket is, as its name implies, a tool that enables you to "pocket" articles, videos and links so you can view them later. Basically, it consolidates all the content in a convenient manner that is also accessible when you are offline.
Pocket is ideal addition to your Mac and you can use it to share your favorite stuff with friends or to store exciting articles you come across on your mobile which can later be quickly pulled in to the big Mac screen. Pocket can be downloaded for free, but you'll want to pay a subscription ($5 a month or $45 a year) if you want to use the advanced search features and an ad-free experience.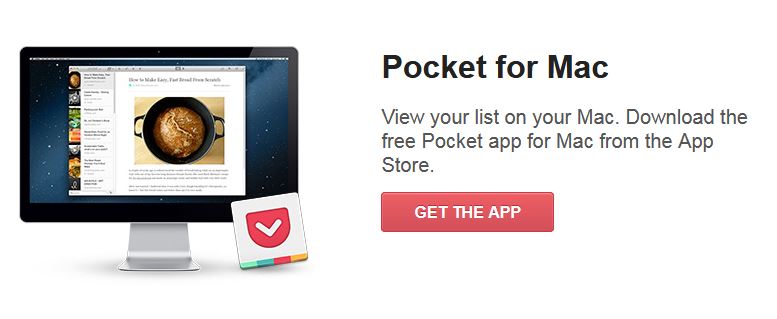 Reeder 4
It's always a must to have a proper RSS reader and Reeder 4 is one of the best Mac apps that you can get for that. The desktop application has a beautiful finish to compliment the semi-transparent MacOS panel. Reeder 4 comes along with shared extensions, allows for private browsing and offers support for most popular RSS services. The app has a range of themes to choose from, gesture control and a whole lot of configuration solutions for your taste. It can be bought for $10 from iTunes

Spark
Even though Apple's Mail software is all great, Spark is an app that strives to make you be in control of your mailbox and it does that cleverly and thoughtfully in a variety of ways.
Spark filters important and relevant emails from known people and immediately floats them to the top to ensure that they are not caught in a sea of notifications and spam. You can only get email updates from contacts, which is helping you to stay focused and avoid unknown messages. The app is great for collaboration with the team and what is even greater is that you can get it for free.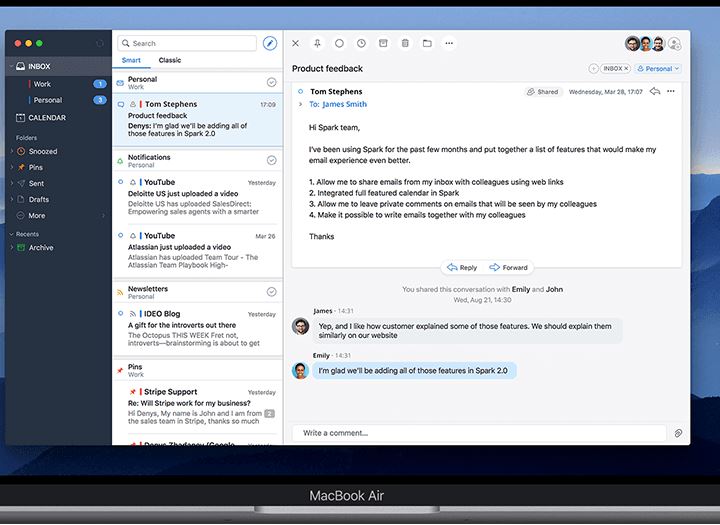 Things 3
Things 3 is a task-management app and a to-do list that can connect to your tasks and Calendar in a seamless interface. The app is great addition to your Mac that lets you add descriptions, checklists, upcoming tasks, auto-reminders and many other unique task features that can help you stay organized. If you want to invest in a high-end Mac task management app, Things 3 is a great choice that will not disappoint. You can download the free trail and see for yourself how useful it is.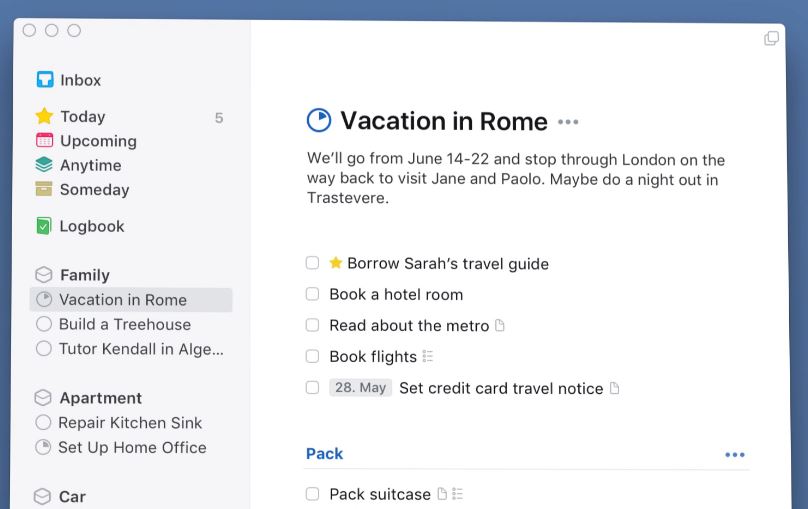 Wunderlist
Wunderlist is a an amazing tool that lets you build to-do lists, where each of these lists comes with customized due dates, notifications, reminders and basically everything that you need to be on track and keep your schedule. The app also provides collaborative lists and synchronizes your content across devices. Wunderlist also allows for web pages and other contents to be saved for later viewing (similar to Pocket).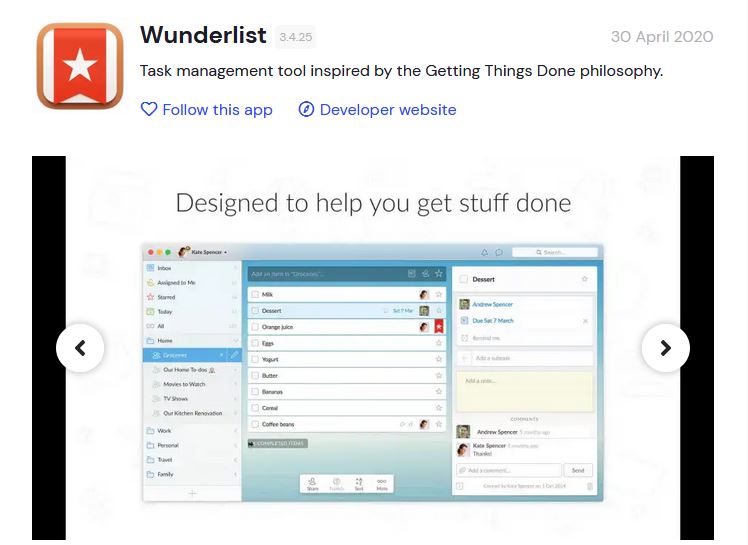 Entertainment and Social apps for Mac

Handbrake
HandBrake is a powerful Mac app that is priceless when you want to convert media files, encrypt videos. The app is quick and intuitive and is based on open-source. HandBrake comes with a broad variety of video-editing resources for splicing, inserting subtitles, adjusting framerate among a list of other useful actions.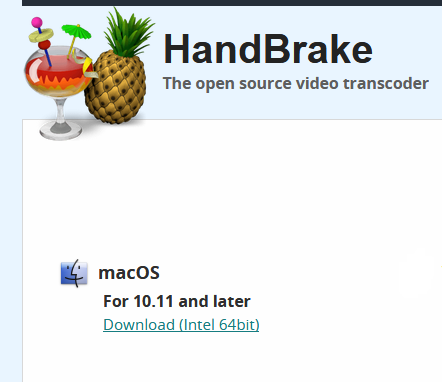 Parcel
Parcel is a tool for the online shopping addicts, rendering it perfect for those who are constantly waiting for a package to arrive. The app operates as a tracking tool for online orders which displays your packages at a glance with a bit more than one tracking code. Parcel operates with more than 250 services, including UPS, USPS, FedEx and allows you to see where your online orders are. The app offers push notifications and Spotlight integration as added features.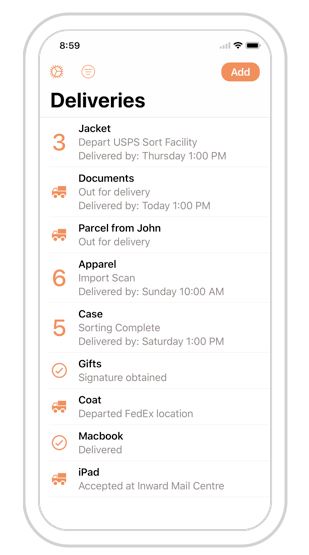 Slack
Slack is an all-purpose messaging client that takes office productivity and team discussion to a new level. The attractive desktop app includes all the services available on the Slack's browser-based version, namely private channels, Giphy integration and themes. The app also provides better control over alerts and better support for multiple teams.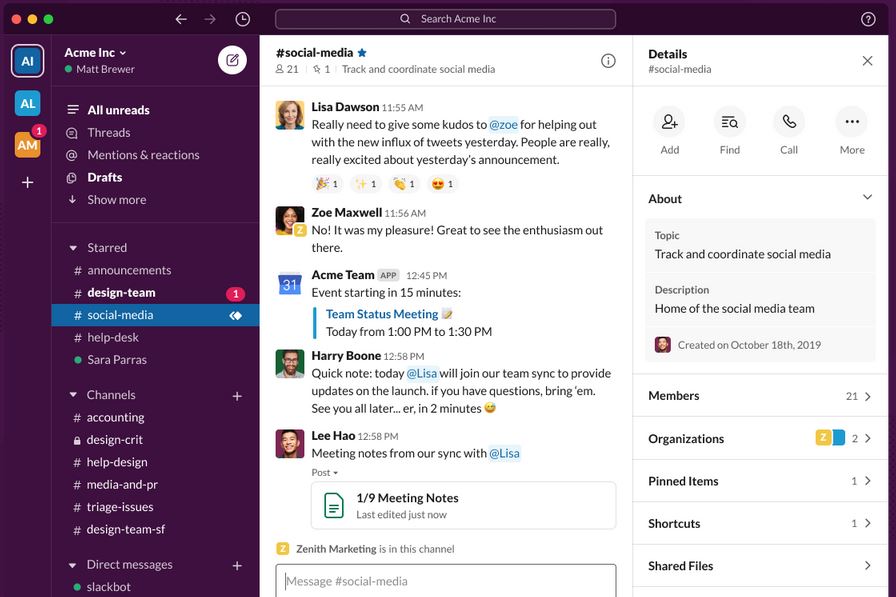 Spotify
Spotify is a music app that is the ideal option for those who want to step free from the environment of Apple. It offers you a free usage of virtually any band, artist or song through the entire Spotify collection, very much like its mobile version. You may also create personalized playlists with the app and rely on personal feedback covering pop, hip hop, jazz, and many other music styles.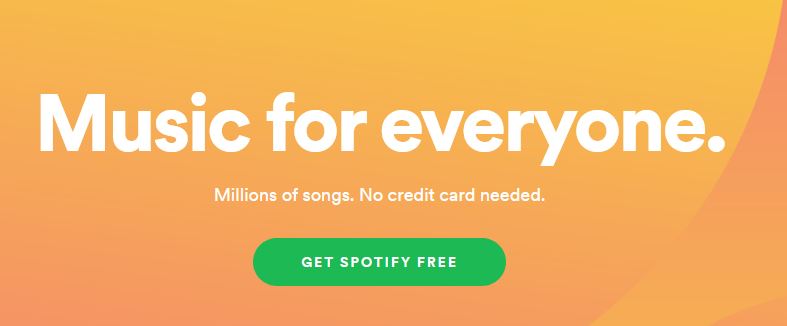 Transmission
There aren't many good BitTorrent clients, but Transmission is one of the best in ranking. The app is lightweight and performs with speed when it comes to downloading, plus, it integrates with MacOS effortlessly. Transmission had a security breach in 2016 so make sure you download the latest edition (2.94 or higher) only from the official developer.

Tweetbot 3
Tweetbot 3 is an alternative to the official Twitter app for Mac. In its latest version, the app comes with multiple columns and windows as well as tools to mute users, hashtags and specific keywords. Tweetbot 3 also supports third-party applications like Bitly and Paper and has a seamless interface that suits the new MacOS look.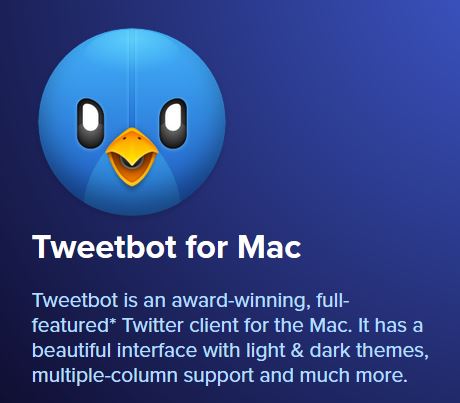 VLC Media Player
VLC Media Player beats Quicktime in speed, file compatibility and almost every other aspect. The open-source program supports nearly every media format, from AAC to Theora, while offering quick video conversion, robust support for subtitles and a variety of video filters for cutting, de-lacing, and customizing the playback.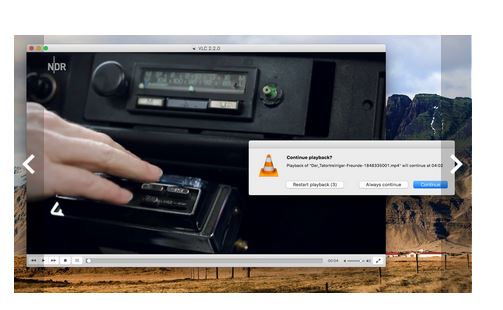 Security and storage apps for your Mac
1Password
If you can't keep track of every password for every account that you have, 1Password is an app that can remember all your login credentials for you. This password manager protects your passwords with a fully encrypted vault, accessible with a master password. 1Password has several payment plans, including for teams and for families, the lowest starting at 3 dollars per month billed annually.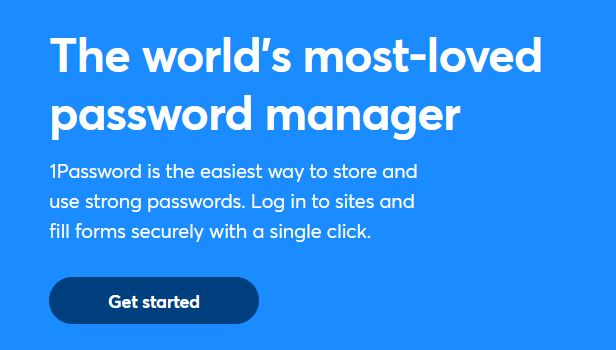 Carbon Copy Cloner
Carbon Copy Cloner is a very user-friendly backup application. The ability of this app to make bootable backups of your startup disk is one of its most valuable features. Carbon Copy Cloner ensures you can boot from your backup and move on with your work if your main drive fails and you can't power on your Mac. This app is a true rescuer.
You may also save your files and documents on an external hard drive or another Mac and then restore them all with a few taps. Only changed files will be backed up after your first major backup, which saves you room.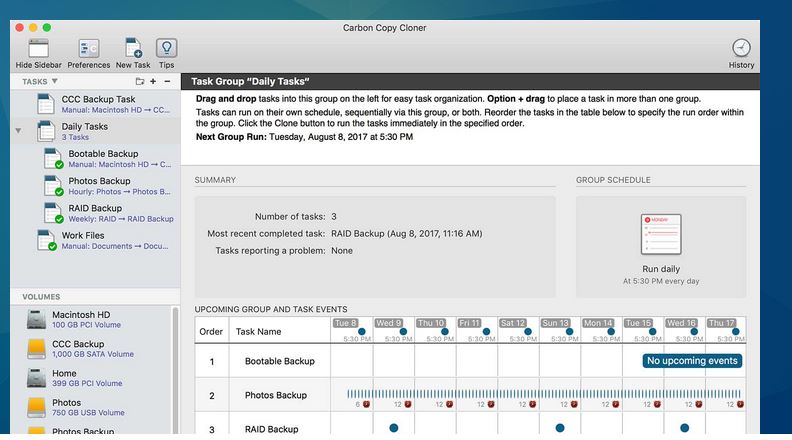 Dropbox
There are a number of excellent cloud storage options, and Dropbox is one of them. The desktop app promises fast and painless file syncing. It gives you quick access to your files and folders and allows you to upload images , videos, and other documents straight from your Mac.
You are given 2 GB of free storage upon registration, but you can earn more by inviting mates connecting to Dropbox through social media.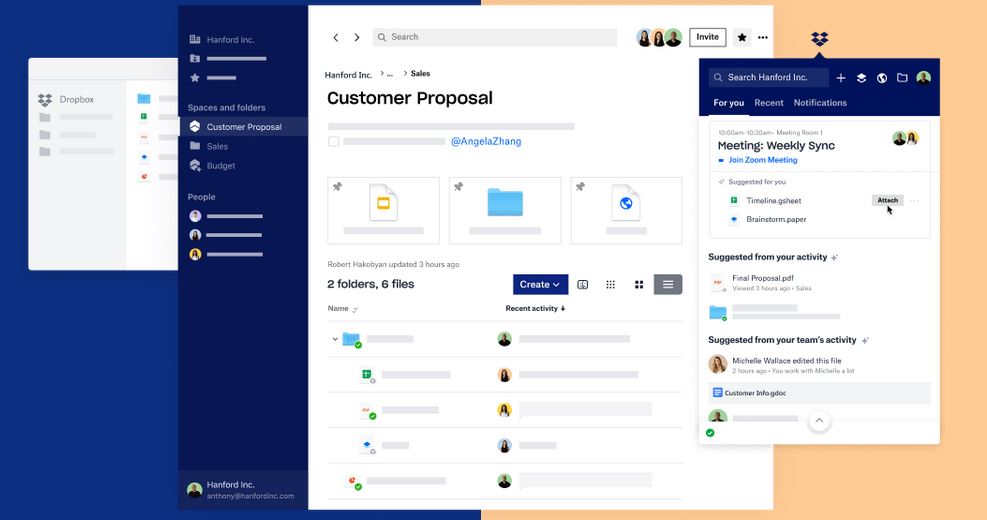 Google Drive
Google Drive is a fantastic app for Mac that, aside from its main storage function, allows you to work on your notes, presentations and documents even when you are offline. The desktop app lets you have a quick access to all your files and folders in a dedicated space of 15 GB. Google Drive can back up your entire drive and can sync across devices with ease.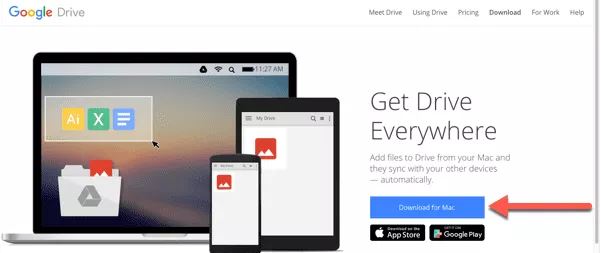 Little Snitch 4
Little Snitch 4 is a blocker that helps you to control all your incoming and outgoing connections. For example, the app can restrict a program on your behalf if you don't want it to connect to the internet. Little Snitch 4 can be configured to restrict a single instance until you quit a particular program or indefinitely. This is perfect for users who want to always control what their Mac is doing.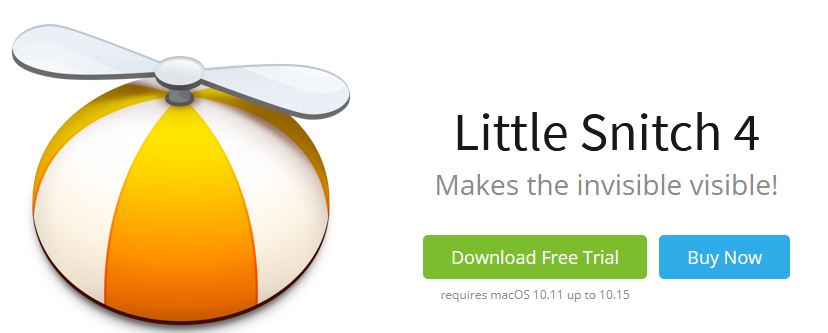 Microsoft OneDrive
Constantly shifting from Windows to MacOS and moving files between them can be a hassle. That's why an app like OneDrive can be invaluable as it conveniently synchronizes the data between the two operating system. With OneDrive installed in your Mac, you can view photos, open documents and more on both sides without any effort. You will get up to 6 TB of OneDrive space (or 1 TB per user), if you upgrade to Microsoft 365. This ensures that if you need more than the free 5GB in your Apple's iCloud, you will not have to pay for it.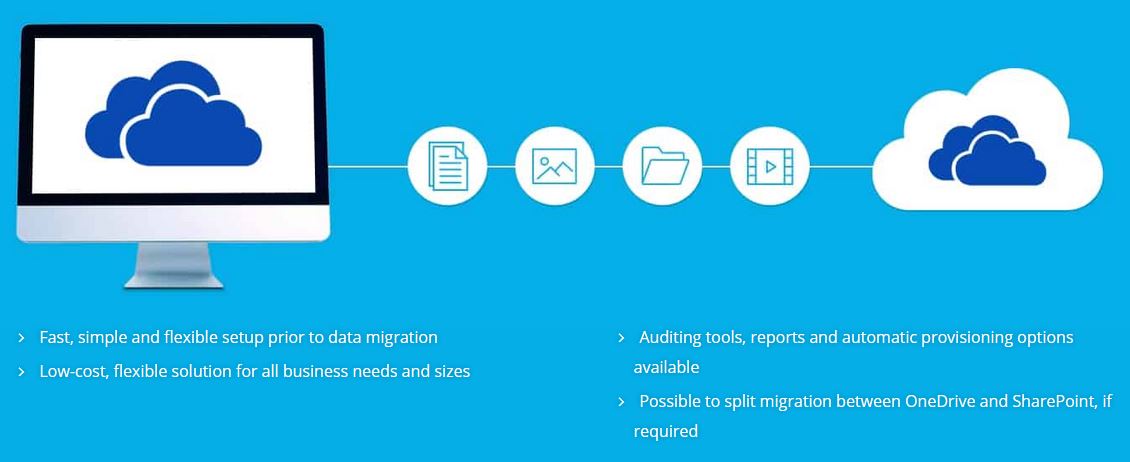 Unarchiver
Unarchiver is a powerful app, particularly when it comes to compressed or archived data. It can handle virtually any format, be it RAR or older formats such as StuffIt, ARC or Tar. What is more, you don't need to launch a separate app – you have a quick-click access your files in Finder.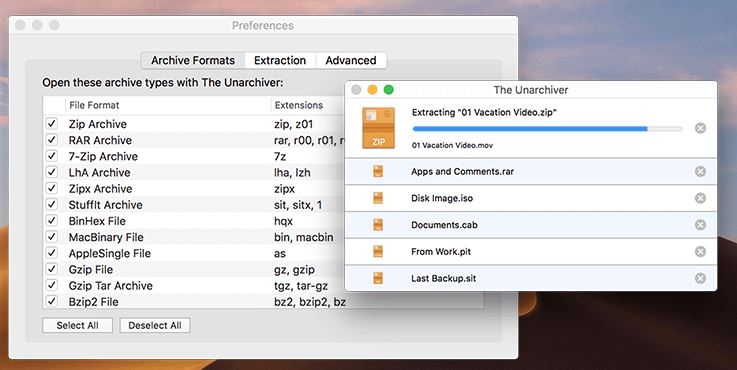 Do you have any other favorite apps for Mac that you love and recommend? We will be glad to know about them in the comments below.