Total AV Antivirus Pro
Total AV Antivirus Pro operates with the Avira engine and offers some basic extras.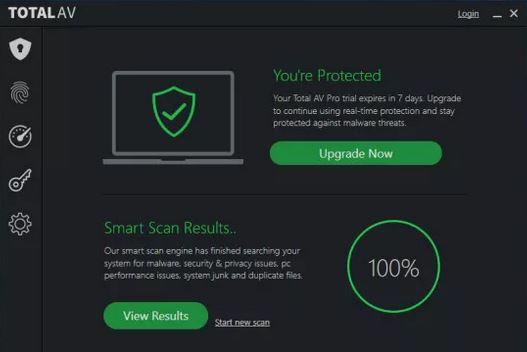 Pros:
Integrated Avira engine

Limited free edition

First-year discounts

Many configuration options
Cons:
Unimpressive test results

Very basic PC maintenance extras

Renewal prices are high

Vulnerable to malware attacks
Total AV is an online security company that sells a wide variety of antivirus and other software solutions. The organization has a basic free antivirus, named Total AV Antivirus, to identify and delete threats on on-demand scans, but this tool does not provide real-time protection.
Total AV Antivirus Pro is the commercial edition of the free tool and it offers Avira-based on-demand and real-time virus detection, phishing protection, and a set of system optimization features such as browser traces clean up, duplicate files deletion, start-up programs managing, boot time optimization, and more.
The program operates under Windows, Mac, iOS and Android. The key Windows features were listed above, but the other operating systems have their own additional touches. For example, Android users can password-protect applications and prohibit others from accessing their most sensitive details.
Purchasing the license for Total AV Antivirus Pro for one year on three computers costs $19 initially but after that renewal costs $99.
Total AV Internet Security is extending the suite by introducing a VPN and coming at a price of $39 for up to five devices for the first year and $119 on renewal.
Total AV Total Security is the high-end suite that provides ad-blocking feature and a password manager for a price of $59 for one year and $149.99 on renewal.
Price wise, except for the first year, this software doesn't feel like a very good deal. Besides, one can get the Avira engine that Total AV is based on free of charge in a basic Windows form. Besides, Avira Prime gives you protection for five devices, an unlimited VPN, a powerful Windows optimizer and several other features, all for $99 per year.
Bitdefender Antivirus Plus 2020 is another affordable alternative that protects up to three PCs at a rate of $60 a year if you're only searching for a Windows antivirus.
With a gratis 7-day trial accessible with no billing information or even email address, however, Total AV Antivirus Pro is, at least, easy to try. And you have a 30-day money back guarantee in case you want to cancel the purchase.
Setup
The main web page of Total AV Antivirus Pro uses various marketing methods to encourage potential customers to quickly purchase the software. If you head of to the Applications page, however, you will find a "Download Free Trail" link.
The setup takes only a minute to install and, after that, Total AV Antivirus Pro launches an initial system scan. However, the program does not immediately disable Windows Defender. In some cases, having both engines running simultaneously could lead to conflicts and high CPU usage. After the scan is finished and after a reboot, however, Total AV sets itself as the main system antivirus and turns Defender off.
A review of the Total AV files that get installed reveals that most of the executables belong to Avira's engine while others are linked to OpenVPN components and Total AV's interface and database management files.
Normally, antivirus products that utilize engines from other providers are much more easy to assault and Total AV Antivirus Pro is no exception. In an attempt to test its persistence, we were able to stop it service and remove most of its defenses which means that, in theory, advanced malware could do the same with two or three basic commands.
It is uncertain whether some malware would really attempt to do so, but the pure fact that an antivirus program is susceptible to such a simple assault is a major concern.
Scanning
Total AV Antivirus Pro makes your protection status instantly visible from its main window. Several other features are accessible from its sidebar and menus. The program offers quick access to options like "Scanning", "Quarantine", "Disk Cleanup", "Startup Manager", "Settings" and more.
"Smart Scan" can be launched in one click and it can search your computer for malware, junk files and a few other performance issues.
If you are searching for malware only, then you can run "Quick" or "Full" system scans or use a "Custom" search to scan the files and directories you like.
Unfortunately, what you don't get with Total AV Antivirus Pro is any sort of Explorer integration. You cannot right-click a selected file in Explorer and simply select "Scan with Total AV". If you want to scan a desired file, you have to open the Total AV dashboard, click "Malware Scan", then click "Custom Scan", click "Add Files", navigate to your file location, click "Open" and then finally click "Start Custom Scan".
The program also doesn't allow for simultaneous scanning. This means that if Total AV is running a full system scan, you cannot do on-demand scans, such as checking a USB that you've just inserted, until the full system scan is complete.
This will not impact your protection in a serious way – anytime you run or open the file, Total AV should still check it – but a properly built antivirus should be able to do more. For example, the competitive Kaspersky's products happily execute multiple scans simultaneously, each with their own reports on different windows.
After a scan has begun, it takes a little longer than normal to complete, but that is still acceptable. From the first look, it appears that the Quick Scan scans any file in its target location, including those which are not expected to hold a dangerous payload.
The "Settings" dialog of Total AV Antivirus Pro offers a wide range of tweaking options and is very configurable. However, if you are not an expert, you may have a hard time exploring what all the options are for, since there is no help within the program. Besides, the support pages on the website aren't structured well – they are not fully searchable and some of them refer to earlier version of the program with a different interface.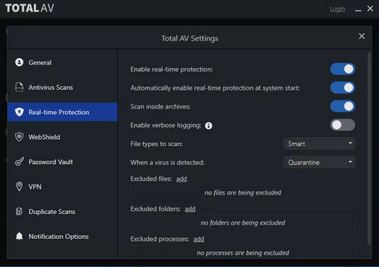 The default settings, however, work pretty well and are able to quickly detect malware, infected payloads and questionable downloads.
The web filtering through the core engine, however, isn't as effective. The program claims to "block crypto mining URLs" but it fails with imported samples maybe because it is based on a blacklist, rather than real-time detection.
The Safe Site browser extension of Total AV is intended to block links to harmful websites. From an initial look, however, it seems that it uses Google's safe browsing data, so its level of protection isn't something more than what Google Chrome can offer you.
Protection
To give you an idea of an antivirus engine's abilities, we normally check the results from major independent testing labs and provide a summary. For smaller antivirus companies that are barely included in the biggest evaluations, however, this is not easy. Fortunately, Total AV has recently submitted itself for a close examination by AV-Test, thus, we will be able to check its results and comment on them.
The scores from July – August last year are quite disappointing as Total AV has been able to detect known threats by 99,9% and 99,7% for that period. Most competitors (including Avira with the same engine) are reaching 100%. The performance of Total AV on the test of zero-day attacks has been even worse – only 94.1% and 96.7% compared to the average industry score of 98.9%.

The September-October score of the zero-day tests have been even poorer – Total AV has only stopped 78.6% of attacks in one test, and 57.4% in the other. Whatever the reason for this poor performance, Avira's own scores were 99.3% and 100%, which means there isn't anything with the engine.
Taking the AV-Test results into account, however, it seems that the Total AV users have a major reason to question the performance of this antivirus program.
Extras
Total AV Antivirus Pro goes above the normal malware detection fundamentals with a range of computer management extras. Initially, this sounds great, but if you take a deeper look into them, you may be left disappointed.
The Junk File Finder, for example, searches only four areas of your system – the Recycling Bin, cached Windows updates, Windows Error Reporting Files and temporary files. This can't compete even with Windows' own Disk Cleaning tool, let alone big names like CCleaner.

The Duplicate File Finder offers very basic functionality as well. It just scans in your user folders (Documents, Pictures, Music, Video, etc.) and while it accurately detects and shows any duplicates, it doesn't give you any detail to help you decide which one to keep. You can't even see the last updated date, only the file name, path and size are available.
A fairly useless Application Uninstaller shows the uninstalled software and allows uninstalling apps you don't use. There's no recommendations for what's safe to uninstall, and no "force uninstall" to fully remove unwanted apps. You can only select multiple applications for uninstallation, press "Uninstall" once, and then wait as Total AV runs the standard uninstallers for them, one after the other. Practically any freeware app uninstaller can do that and much more.
A Startup Manager allows viewing and removing any applications set up to open when Windows begins. The manager, however, is also very basic and has fewer features than Windows 10 users will normally find in their Task Manager Startup tab.
The Browser Cleanup feature only supports Chrome , Firefox, IE and Opera (no Edge) and is as basic as the rest of the extras. It just looks at history and cookies and the figures it cites don't always match with what is seen in the browser's profiles, or CCleaner or similar applications.
The Data Breach Check looks like an interesting bonus that claims to notify you if your email has been compromised in a data breach. Once you enter your email address there, however, the small text below the "Test Now" icon reads that by checking your email you also agree on Total AV's EULA and privacy policy and allow the company to create a free account for you.
Conclusion
Total AV Antivirus Pro is an antivirus program based on the Avira engine, just not as powerful as Avira alone, and much more vulnerable to attacks from malware as seen from the tests. The program does offer some PC maintenance extras, however, they hardly can compete with any freeware on the market in terms of features and functionality.