Total Defense Essential Antivirus
Basic malware protection powered by a Bitdefender engine.
Pros:
Reasonably priced package

High score in tests from independent testing labs

Accurate Bitdefender engine

Customer support via toll-free phone and email
Cons:
No anti-phishing protection

Small issues with usability

Does not detect custom-made malware sample

Mid-range speed and performance
Total Defense Essential Antivirus is a security program that doesn't top the security news headlines too often but its capabilities may definitely surprise you. A Real-World Protection Test summary from July-October 2019 published by AV-Comparatives reveals that Total Defense's Bitdefender-powered engine has outperformed big names like Kaspersky, Avast, Panda, ESET, McAfee and a few more. These results are quite surprising and have drawn our attention to this program in such a way that we decided to make a review of it.
As its name suggests, Total Defense Essential Antivirus covers the essential security of your computer by performing real-time scans and on-demand malware detection. The program doesn't have anti-phishing protection to block questionable websites, tough. In the next lines, we will take a look at all of its features and will evaluate its performance.
Setup and configuration
If you want to download Total Defense Essential Antivirus, you can do that from its official website. All you have to do is hand over your email and your name on the site and the link for the trail download will be available within seconds in your email inbox.
The installation wizard detects existing antivirus on the system and demands that it is removed prior to installing the Total Defense package. There is no way to bypass this stage or to use a "compatibility mode" to run two antivirus engines simultaneously. Some experienced users may not be satisfied, but this actually decreases the risk of software conflicts and is, in general, the best approach when it comes to installing antivirus software.
Once the package is installed, it takes up about 700 MB of disk space. Most of the files belong to Total Defense but there are also several Bitdefender components and a few Mozilla Network Security Services tools for SSL processing.
The reliability of an antivirus package depends on its ability to protect itself against malware that is trying to disable it. In a simulation where a malware tries to change Total Defense's Registry keys, and delete critical files, the program proves resistant. However, some of the antivirus's services can be stopped and, even though it is hard to evaluate the potential effects, this still leaves us with a sense of doubt.
Pricing and support
Total Defense Essential Antivirus is currently selling at $29.99 for a one year license on up to three devices. The renewal costs $49.99. The two-year license sells at $69.99 initially and costs $99.98 when renewed. The program lets you test it for up to 30 days and gives you 60 days money-back guarantee in case you want to cancel the purchase.
Just for comparison, Bitdefender's Antivirus Plus 2020 costs $24.99 for one year on three devices but comes with many more features, including anti-phishing protection. The renewal of the license, however, costs $59.99.
Total Defense Essential Antivirus supports its users via e-mail and telephone that has no fee for US, UK, Australia, and New Zealand. The support team is available on weekdays 9 a.m. – 6 p.m. EST. This is quite good because, nowadays, few antivirus products offer phone support.
The company offers two more security packages which we are not reviewing in this post – Total Defense Premium and Total Defense Ultimate. These two packages cover more devices and add up more security features (such as Parental Controls, Anti-phishing, Secure Cloud Storage, PC Optimization tools) if you are ready to pay a bit extra for several additional layers of protection.
Impressions on the interface
The initial impression about the interface of Total Defense Essential Antivirus is that it is rather bulky and grabs a lot of screen space. The main screen greets you with three panels. The first one shows the status of your computer, and the rest two, named "Security" and "Devices", serve as buttons that take you to the scan window and let you view other devices that are covered by your Total Defense license. The sidebar has a menu-like button that simply brings you back to the main screen.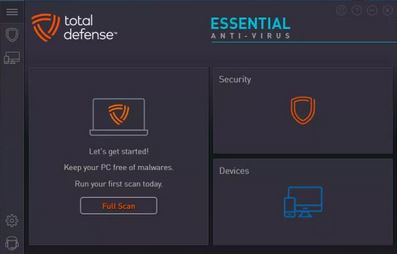 When you get used to the interface and explore the menus, however, it is not hard to operate the antivirus.Through clicking on the "Security" panel you can select a variety of scanning options: "Quick", "Full" and Custom, where you can specify which files, directories or drives you want to be scanned. You can also manage quarantined files, view basic reports, and change some basic settings.
When you don't need the main window of Total Defense opened, you can minimize it to the system tray. Integration with Explorer allows you to scan selected files, folders and drives by simply right-clicking on them.
There are still some minor irritations to the interface. For instance, you might expect that when you left-click the tray icon or double-click it, the Total Defense dashboard will appear, just as it is with most Windows apps. However, the left-click on the icon opens the right-click menu and from there you have to select the Home option which opens the dashboard. This may not be such a big deal, but still it is an extra click.
Nonetheless, the slight usability issues of Total Defense Essential Antivirus will probably not bother you too much, since, once you install it, you'll mostly forget it is there. The program will perform its basic processes when you need them and that is the most important.
There isn't much to configure also. Essential Antivirus comes with a scheduler but you cannot schedule multiple automated scans (for instance quick scans every day, full scans once a week, custom scans at various times, etc.) You can only set up a single full scan (at 6 a.m. every day, for example).
Scanning evaluation
Total Defense Essential Antivirus stands in the mid-range during scan-time testing for basic anti-virus tests. The "Quick" scans takes about three minutes, while a fill system scan that checks about 2.75 million files takes about 70 minutes which is an average scanning speed.
What is more important is how optimized the scans can be and whether the antivirus can skip unmodified files to save time rather than scan them again. Unfortunately, Total Defense Essential Antivirus doesn't seem so smart in terms of that and takes almost the same amount of time for the first, as well as the very next scans.
The program, however, offers a decent control over the scanning configurations. You can tweak the settings from a Custom Threat Detection Box that allows you to scan (or skip) network or cloud files, archives, scan for rootkits, and determine the maximum CPU load for scheduled and on-demand scans and more.
In general, the kit detects and blocks malware testing samples successfully, but there are some issues. Essential Antivirus tends to raise an over-the-average number of false alarms. It is not hard to restore incorrectly quarantined files, but this can become a daily hassle. Besides, in some instances, the program detects a threat, announces that the file has been deleted or even shows it in quarantine, but the script is still in its original folder when reviewed. We cannot say how common this last issue is, but it leaves us with concerns.
Performance
Speed, ease of use and price are significant elements that we take into consideration when we review antivirus products. However, how well your hardware is protected from malware is the true value of any antivirus.
The Total Defense Essential Antivirus kit doesn't have issues with detecting known malware samples, but when putted through a tougher test with a custom-made malware simulator the program fails to recognize it. Of course, custom simulators aren't real malware, thus, we can't count this as a total failure. However, taking into account that Total Defense Essential Antivirus is powered by the Bitdefender's engine (which generally performs well even with custom malware tests) we have no explanation of Total Defense's performance. We can only guess that probably its default settings are different or the program doesn't have the same behavior monitoring features as a Bitdefender product.
Small-scale tests, however, provide a little product detail, but the Real World Security Tests from AV-Comparatives give us more details by testing 16 top antivirus engines against the newest malware.
In the July-October reports of 2019, Total Defense takes the 6th place by successfully blocking 99.6% of the threats that are thrown at it with just 5 false positives.This is an outstanding result that surpasses many of the other competitors. For example, Panda Antivirus is a powerful antivirus product that Total Defense leaves behind with a block rate of 99.5% and 12 false positives.
Yet, in the reports, Total Defense is surpassed by Bitdefender's own engine (99.7% block rate, just 2 false positives) and a couple of other big names, including Avira, Symantec, Trend Micro and VIPRE.
Final words
Total Defense Essential Antivirus is a reasonably-priced antivirus product that covers most of the basics of malware management and protection. The program scores well on tests by independent testing labs and even though it doesn't offer many features, it works well in the background and is easy to use.