If you are a newcomer to the type of virtual service known as VPN, then you are likely to not be interested in using the most advanced and feature-filled VPN service out there. Most users who are inexperienced with VPN are probably not going to need a whole lot of settings and options to play around with on their very first VPN. That is why picking a simpler variant that focuses more on fundamentals rather than on providing you with the biggest number of extra tools and features might be the better option. TunnelBear VPN is one such variant that provides its customers with all the fundamental functions of a VPN, focusing more on ease-of-use and user-friendliness and less on a wide variety of additional features and functions.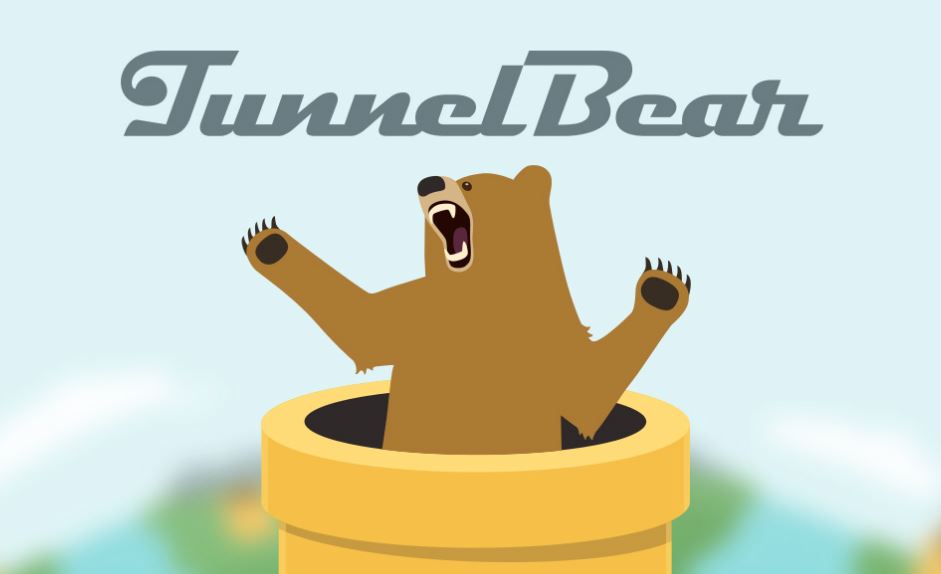 Even if you have never used a VPN before and don't particularly care about more advanced functionality, you still ought to make sure that your first VPN has high enough levels of security and privacy because picking a VPN with questionable privacy-policy and low security standards could turn out to be worse than using no VPN at all. For that reason, we advise you to first do your own research on the VPN you are thinking about using and only then decide if it is the right one for you. In the current review, our goal is to take a closer look at the characteristics of TunnelBear VPN and give our honest opinion on how good this VPN really is and whether we'd recommend it to our readers. If you are unsure what the main goals of a VPN are and what you should be looking for in such a service, you can learn more about VPNs in general by checking out this article (LINK).
TunnelBear VPN – overview
TunnelBear VPN is owned by the well-known cyber-security company known as McAfee which already gives us some reassurance that, at the very least, you can trust this VPN with your virtual privacy and the security of your online traffic. The approach taken by the developers of the VPN is user-oriented and aimed at explaining everything in layman's terms, without unnecessarily drowning the user in technical specifics and advanced terminology that many users may not be easily able to understand. This approach will probably be welcomed by someone who has never used a VPN before and is about to try this service out for the first time. However, more experienced users may prefer to be given more specific information about the characteristics of TunnelBear. In addition, this VPN is deprived of any overly-advanced features and, instead, it mostly focuses on the basics, which further proves the point that TunnelBear mainly caters to less-experienced users rather than to experts and professionals. That being said, TunnelBear doesn't compromise with fundamentals such as security or privacy (more on that in a bit) which are aspects we always pay special attention to. It is especially important to be able to trust your VPN provider if you are new to this type of service and we highly appreciate it when providers make sure to be as transparent as possible and do not cut corners with these key aspects of their service.
Installation and Interface
TunnelBear VPN has versions for Windows, macOS, iOS, and Android, but no Linux version. It also has browser extensions for Chrome, Opera, and Firefox. The desktop clients and the mobile apps look similar and are both very easy to install. However, there's no option to install the VPN on a router or on a gaming console and so more demanding users are likely to be disappointed by this.
In terms of interface, the VPN clients and mobile apps look pretty, with a nice-looking world map on their starting screens. However, on the desktop client, the map is not all that practical to use. You cannot zoom in or out the world map and it doesn't wrap around like a globe so if you keep going to the right and get to East Asia, continuing right won't get you to California. Instead, to get to the West Coast, you'd have to go all the way back through Asia, Europa, the Atlantic, and only then get to the Americas. This isn't a big deal but they could have made the otherwise good-looking map interface a bit more practical, especially since the mobile version of the VPN does have a map that wraps around. Fortunately, you aren't forced to always use the map to choose your preferred server location – you also always have the option to select it from a panel to the left where a list of all available locations is displayed. Something we liked about the desktop client is that it shows notifications (you can disable them if you want) when it connects/disconnects even when the client's window is closed so that you know when your connection is secured by the VPN.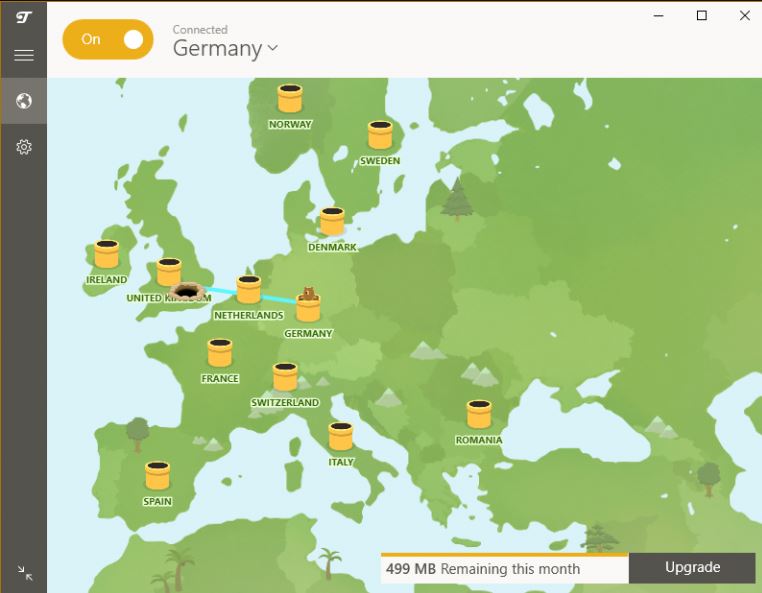 When it comes to available settings, neither the desktop client nor the mobile apps offer too many settings but the basics are there and they are intuitive to use and customize. You have the option to enable a system-wide kill switch as well as to use a feature labeled "TCP override" which is supposed to improve connection stability by using the TCP Internet protocol over the UDP one.
The browser extensions for Chrome, Opera, and Firefox are mostly there to help with utility rather than add the whole VPN service to your browser so they only allow you to choose a preferred VPN location and enable/disable TunnelBear. We prefer it that way – it is unnecessary to needlessly add stuff to the browser extension considering its purpose isn't to function as a standalone alternative to the VPN client but rather to serve a utility that complements the desktop app.
Security and Privacy Policy
If you are looking for a transparent VPN provider that gives you detailed info about everything related to its privacy policy and the way it handles data, then TunnelBear VPN is one of the names we can recommend. One of the main highlights of this VPN is just how thorough it is when it comes to letting you know how much of your data is known to the provider (very little) and the exact ways in which it is used. TunnelBear doesn't log your IP (even when you visit its official site!), your DNS requests, or any data about the sites, services, or apps you use when connected to the VPN network. The only types of information TunnelBear collects is what its provider refers to as "operational data". This includes the version of the TunnelBear app you use, your OS version, whether or not you've used the VPN during the current month, and how much bandwidth you've used. None of this info can be linked to you, personally, or to your IP address or used to learn other, more specific data about you.
All of what was mentioned thus far about TunnelBear's privacy policy, however, are statements coming from its developers. However, is there a way to verify those statements? Turns out there is: TunnelBear is one of the few VPN services that has gone the extra mile to ensure that its customers can trust it and its privacy policy by getting professional auditors from German cybersecurity company Cure53 to evaluate it and determine how secure and privacy-oriented this VPN is. Furthermore, those audits are annual so that every year a new evaluation of TunnelBear's service is performed, keeping users reassured of the company's transparency and willingness to earn its customers' trust. For the most part, the results from the most recent audit (2019) are good and all of the statements from TunnelBear with regard to the way it handles user data have been confirmed. In terms of security, the tests from Cure53 verify that TunnelBear has high security standards with only a couple of minor issues (that should be resolved by now) detected during their latest evaluation of the VPN.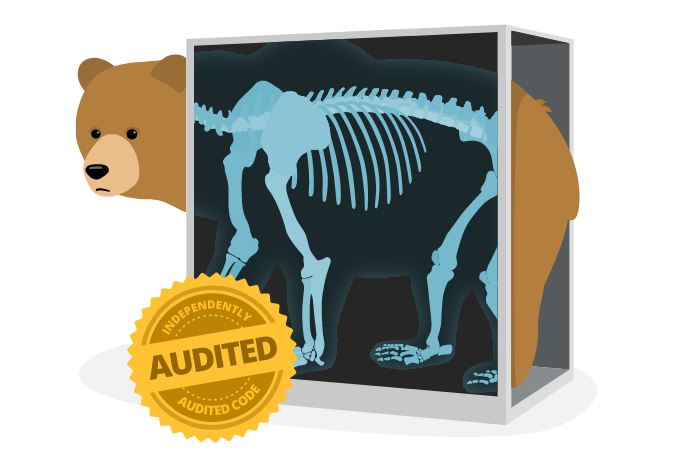 All in all, TunnelBear seems to have an impeccable reputation and we applaud it for that, especially when we consider that most of its competitors haven't even attempted to open their doors to impartial outsiders that will evaluate their services and determine the level of security and privacy that those services offer. Another popular VPN service we've recently reviewed that also has gone through such audits is BullGuard VPN so if you are interested in learning more about what it has to offer, you can read more about that here (LINK).
Network and Performance
TunnelBear isn't the VPN with the biggest number of locations and servers. It covers only 23 countries but the plus side is that those countries are all over the globe so you aren't only limited to servers in Europe or North America. In addition to those two continents, the VPN also has servers in South America (Brazil), Australia, New Zealand, East Asia (Japan), and South Asia (India, Singapore). The number of servers is also not amazing but it's not bad either – TunnelBear's network has approximately 1,800 servers.


In terms of performance, TunnelBear has low connection times and good connection speed if you are living in one of the countries where the VPN has servers. On 75Mbps Internet, the average connection speed when the VPN is in use is around 65-66Mbps, which is more than adequate. However, since the number of locations is relatively small with this VPN, the likelihood that you live in a country where TunnelBear has no servers is high and in that case, the connection speed is likely to decrease depending on how far the nearest server is. Still, in terms of performance, we can say that TunnelBear delivers. If you want to first test the VPN before you buy it, there is a free trial option but its bandwidth is very limited – only 500MB a month – which is barely enough to get an overall idea of how good the VPN would perform in your case. Still, it's a better option for testing compared to (LINK)'s limit of 1Mbps speed for its free trial version, which gives you absolutely no way of testing the VPN's speed.
Features and extras
It should already be obvious that one shouldn't expect some particularly advanced features from TunnelBear VPN. Still, it isn't totally deprived of some useful features on top of its base functions, but those features are mostly focused on enhancing your security and privacy rather than expanding the functionality of the service.
We already mentioned the system-wide kill switch – a useful option that, when enabled, will shut down your Internet connection if the VPN disconnects for some reason. The purpose of this function is to keep your IP address hidden in case the VPN stops working and can no longer keep your online traffic anonymous.
Another thing that was hinted at above is the option to switch from UDP to TCP Internet protocol whenever the former is used by default. Generally, UDP is less reliable so the option to switch to TCP should, in theory, make your connection more stable.
You can also make the VPN to launch on startup, add trusted networks, and set TunnelBear to automatically activate whenever you connect to networks that you haven't added to the list of trusted ones.
There's also a VPN obfuscation feature, the goal of which is to hide the fact that you are using VPN in order to gain access to geo-restricted content that blocks VPN users. However, even the functionality of this feature is somewhat questionable because of TunnelBear's inability to unblock popular streaming services such as Netflix, Disney+, or Amazon Prime.
One of the main selling points of VPN services in general and one of the main reasons why people resort to using them is their ability to unblock geo-restricted content that isn't available in certain countries. The main downside of TunnelBear is its frequent inability to bypass such restrictions so keep this in mind if you consider getting this VPN. If your main goal is to access a certain site or online service that's blocked in your country, our advice is to first test TunnelBear by going for the trial version. Even if it is limited to only 500MB bandwidth per month, this should still be enough to let you know if the service/site you are trying to reach can be accessed with the help of this VPN. If TunnelBear cannot unblock it for you, you'd best try some other VPN with better unblocking abilities.
If, however, your goal is to use a VPN service for torrents, then TunnelBear may be able to satisfy your needs. You won't find any information on its official site regarding whether or not P2P is supported by the VPN but tests have confirmed that it is indeed an option. It is understandable why its creators would prefer to keep quiet about anything related to torrents and P2P seeing as how customers who use the service for this particular purpose eat up significantly more bandwidth than anybody else. Another reason why there's hardly any mention of torrents/P2P is the fact that people oftentimes download illegal/pirated software through torrents and TunnelBear's developers would obviously prefer to distance themselves from anyone who would try to use their service for such activities.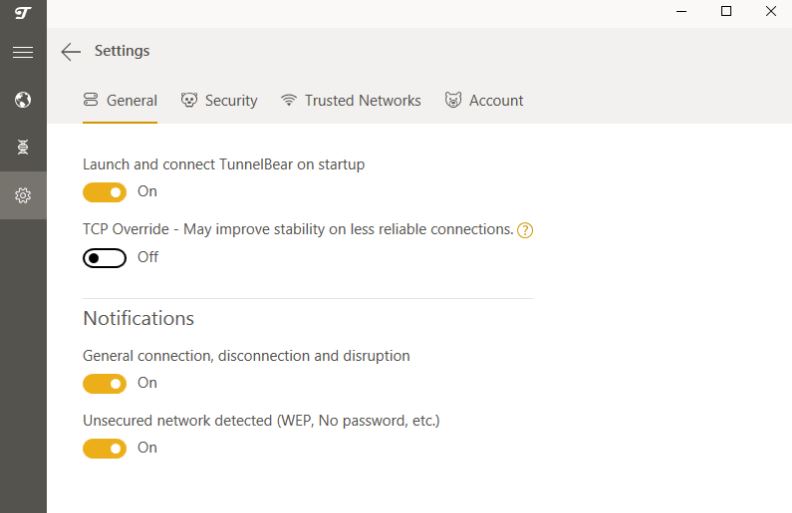 Pricing
For commercial use, there are basically four pricing options. The first one is the free trial version of the app and, as stated earlier, it is limited to a maximum of 500MB of bandwidth per month. The first paid option is a one-month subscription and it is priced at $9.99. You can also get a one-year subscription and the price would be $59.88 which is the same as paying $4.99 a month. The last option is a three-year subscription where the price drops even further to $3.33 a month ($120.00 for the whole 3-year period). In our opinion, the pricing is adequate but there are other VPNs out there that are even less expensive and can offer you better unblocking of restricted content. However, the alternatives may not be as transparent as TunnelBear so that's another thing to bear in mind.


Final Notes
In conclusion, we'd like to say that TunnelBear is a great pick for one's first VPN as long as the inability of this service to unblock certain sites doesn't bother you. TunnelBear is a good all-around VPN option with a strong focus on security, privacy, and ease-of-use. That being said, there are certainly better, more complete VPN options out there, so if you are looking for a VPN service with more advanced features, you may want to check some other variants. If you are okay with the few extras that TunnelBear offers, we would most definitely recommend that you give it a try.