7-day Free Trial w/Credit card, no charge upfront or if you cancel up to 2 days before expiration; Subscription price varies per region w/ auto renewal unless you timely cancel; notification before you are billed; 30-day money-back guarantee; Read full terms and more information about free remover.
*Source of claim SH can remove it.
Vpnagentd
Vpnagentd is a software component commonly associated with Cisco AnyConnect Secure Mobility Client, and it's typically not harmful. However, it's possible that rogue software may try to disguise itself as Vpnagentd in order to avoid getting detected while on your Mac.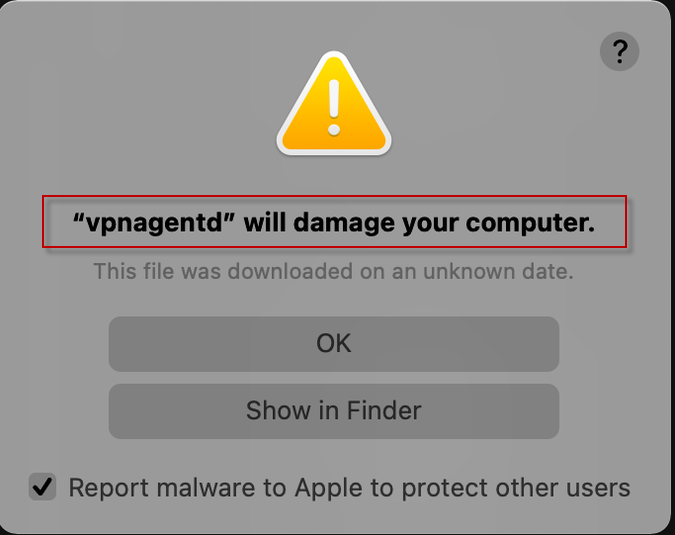 The most likely reason you are here is that you've recently started encountering a warning on your Mac that reads something along the lines of "Vpnagentd will damage your computer". In most cases, this is a legitimate warning from the security systems of your macOS, but it's usually the result of outdated software and not that of a malware infection. Still, you should not simply dismiss this warning and instead find out what triggers it and fix the issue.
As mentioned, Vpnagentd is often associated with Cisco's AnyConnect software suite, so if you have this software on your Mac, then the cause of the warning most likely stems from the need for an update of the AnyConnect client on your Mac. In most cases, this warning would appear when the user's Cisco AnyConnect software is outdated, and so its certificates have expired. It's also possible that a recently installed macOS update has rendered the AnyConnect software outdated without there being an available new version for it. The third variant is if you are using a very old version of macOS that is not compatible with Cisco AnyConnect. In either case, you should try to update everything and see if this causes the message to stop appearing. If this doesn't fix it, however, it's possible that you may be dealing with malware in disguise.
Vpnagentd will damage your computer
Vpnagentd will damage your computer is a warning from macOS that can be caused by outdated legitimate software or by a malware infection. If you don't have the Cisco AnyConnect app, then the cause of the Vpnagentd will damage your computer warning is probably malware.
Even if you have Cisco products on your Mac, if you've started encountering this message, you should take the necessary precautions in order to make sure your Mac is safe and that there's no malware on it. Think about what apps you've installed recently and if you've downloaded anything from questionable sources. Many forms of malware are programmed to mimic legitimate programs in order to evade detection and remain on the infected computer for longer.
Another thing you should consider is whether you've started noticing any other unusual symptoms – performance issues, other errors, aggressive ads, and automatic page-redirects in your browser(s), etc. If there have been any such irregularities in addition to the warning message, it's strongly advised that you check your Mac for any rogue programs and delete what you may find. Of course, we will help you with that, by providing you with a detailed guide for removing malware disguised as Vpnagentd from your Mac.
Vpnagentd on Mac
Vpnagentd on Mac is a legitimate software component related to Cisco AnyConnect which may be mimicked by malware that tries to stay hidden in the system. If you've been getting any Vpnagentd on Mac warnings, it's best to check your system for any malicious apps.
As mentioned earlier, other unusual behavior or symptoms may be noticed alongside the Vpnagentd warnings. It is very important to not click on or otherwise interact with any random pop-ups, notifications, ads, or banners that may suddenly appear on your screen. Many forms of Mac malware try to trick their victims by showing them misleading pop-ups/notifications. A common example of this would be if you get a malware warning that tells you a specific anti-malware tool must be installed to clean the computer. If such a message pop-ups on your screen out of nowhere, be sure not to trust it or to download the promoted software because, more often than not, that software may turn out to be even more malware.
What is Vpnagentd?
Vpnagentd is a non-harmful software element often associated with Cisco or McAfee software, but that could also be hijacked/mimicked by malware. If you're getting warnings about Vpnagentd, it's best to not leave anything to chance and do what you can to secure your Mac.
Some users who have McAfee software installed on their Macs have also reported encountering warnings about this software on their computers. Again, trying to update your Cisco/McAfee software could be a viable way of stopping this warning from showing up again, but it's preferable if you first check the system for any hidden threats that may be triggering the warnings so that you'd make sure that your Mac is safe and secure. The way you can do that is shown below.
SUMMARY:
*Source of claim SH can remove it.
Vpnagentd Mac malware removal
Vpnagentd Mac malware removal steps must be performed if you have encountered a warning on your Mac about this potentially harmful software. There are two main Vpnagentd Mac Malware removal methods – a manual and an automatic one, with the latter involving the use of specialized removal software.
Both of those methods will be presented to you below, so you can pick the one you prefer. Note, however, that if there are helper components that allow the malware that's disguised as Vpnagentd to restore itself after you restart your Mac, the manual method would probably not be enough to rid you of this malware, and you'd need to try using the specialized removal tool. Here is a brief overview of the two methods:
Manual: To complete the manual removal of the malware program, you'd first need to download two helper apps in order to more easily find the folders where the malicious data is and delete that data. To complete the manual removal process, it should take you around 1-2 hours.
Automatic: For the automatic method, our recommendation is to download SpyHunter for Mac (it's also used in the manual instructions), use it to scan your Mac, and then to delete whatever malware data it has found. The scanning and deletion of rogue data should take no more than 20 minutes. To be able to use the malware-deleting functions of this tool and not only its scanning functionality, you'd need an active subscription for SpyHunter, which is paid.
Manual removal instructions
Go to the App Store, search for the EtreCheck app in it, and download that app – here is a direct link for EtreCheck that will get you to its App Store page.

It's possible that this app may currently not be available in your country/region – don't worry, you can skip this step and use SpyHunter for scanning for rogue data.

Open EtreCheck when it downloads and give the necessary Admin permissions to access it (your macOS will warn you that this is an app "from the Internet" and that you should only open it if you trust it).
When you get to the screen shown in the image below, first click on Allow Full Drive Access, then click Allow in the window that pops-up. Next, select the Padlock icon in the Privacy & Security window that shows up, type in your Admin password, click Unlock, then find the EtreCheck icon in the right panel, and put a tick in the box next to it. You will be asked to Quit and Restart the app in order to apply the changes, so go ahead and do that.



Next, click on the Pick a problem button in the EtreCheck app, and select the problem you are experiencing. In this case, since you are worried about malware and no such option is available, you can simply click on "Other problem". After this click Start and wait for the scan to complete.

Once the scan is over, check both the Major and Minor issue tabs, and if you see that either category has "Unsigned files" as a problem, click Review next to that problem, and then select the Remove button that's next to each unsigned file.



Next, click the following link to download and install SpyHunter for Mac, and after the tool is installed, open it, click on Malware/Mac scan, and then click on Start Scan Now.

Wait for the scan to complete and if malware files are found, you can either go to them and delete them manually or use SpyHunter to remove them automatically.
If you want to go for the manual deletion, in most cases you'd have to delete the contents of this directory: /private/var/root/Library/Application Support/.Vpnagentd/Vpnagentd. To go there, in the menu bar, select Go > Go to Folder, then type /var, and hit the Enter/Return button to go to that folder, and then look for the directory mentioned above and if you find it, delete its contents.
If a permission is required of you to change/delete data from that directory, press Command + I, click the arrow next to Sharing & Permissions, then click on the Padlock icon, type your Admin password, and select Unlock.

Next, click the (+) icon and add your profile to the list.

If you are unable to find the above-mentioned directory, press Command + F, then type the name of the file you are looking for (vpnagentd), search for it, and delete it if it gets found.
In case the steps shown here didn't help you resolve this problem, visit this removal guide for Mac and follow the instructions shown in it to deal with Vpnagentd.