VPN's are becoming a more and more popular tool for users to maintain their safety when browsing the web and to protect their privacy. But some things aren't always very clear cut when it comes to using a VPN – any VPN, regardless of the provider.
For example, when you sign up for a given VPN service, there is no way of knowing how busy the company's servers are at the moment, and how busy they can be on weekends, in the evenings, etc. You can't tell right off the bat whether there will be enough bandwidth available for everyone to enjoy good speeds or if at some points during peak usage your speed isn't going to drop to the point where you can't really use the internet decently.
Well, there's one provider who claims to have come up with a solution for this problem. VPNBook Dedicated VPN is that service and it promises you a server with memory, CPU time and over 500GB of bandwidth usage – just for you. So in theory, customers should be able to enjoy higher speeds (and more consistent ones) whenever they want, which is the main selling point.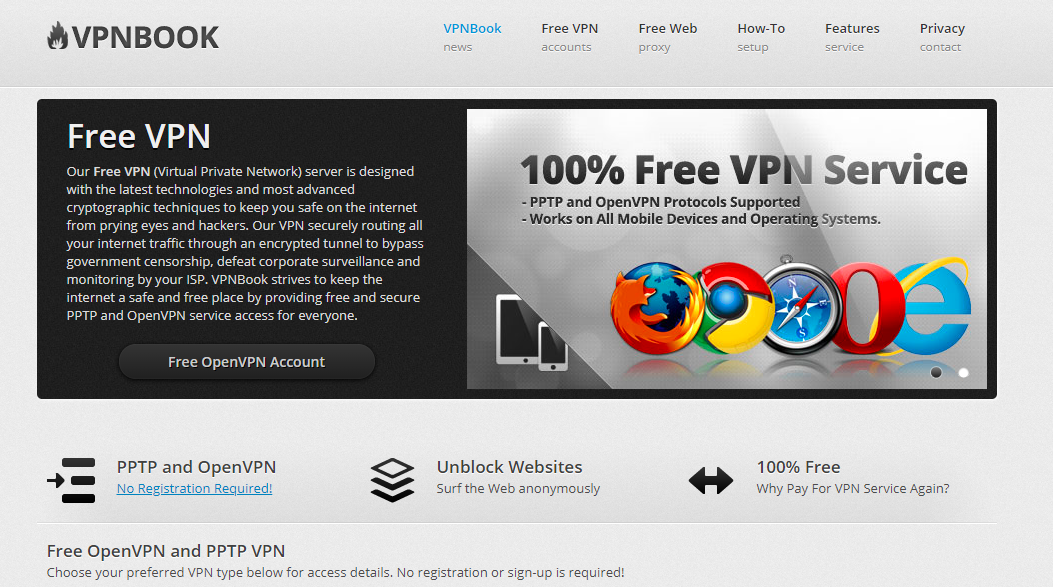 And contrary to what you might expect, the use of a dedicated VPN (in this case at least) won't cost you an arm and a leg. Instead, plans start at a very reasonable $7.95 per month, but we'll review the pricing in more detail later on in this review.
Coverage is offered for up to 5 devices simultaneously, and the product is available across different operating systems, including Mac, Windows, Android and iOS. It's also said to be reasonably easy to set up and use, with very little commitment on your part. In other words, there's no annual or bi-annual plan to keep you chained to the service if you aren't happy with it.
At a glance, though, here are the main advantages of using VPNBook's Dedicated VPN, along with the obvious disadvantages we encountered during the course of our review.
PROS:

30-day money back guarantee

P2P available

CONS:

Session logging

Service didn't work!

There are only 4 server locations

Poor level of customer support
Getting started
As we found, setting up your VPNBook Dedicated VPN is surprisingly easy. There is no software client for you to download and install, and signing up is very quick and simple.
Head over to the provider's website and select the Dedicated VPN as your desired service. Next, choose one of the four server locations offered. These are Canada, US East, US West and US East Outline VPN. Yes, the selection is incredibly slim, but that's not the most disappointing part yet. Once you have chosen a server, that's it – you stick with it. There will be no chance for you to switch to a different one.
And if you want P2P, then the list becomes shorter yet with Canada being your only choice.
The price is fixed at $7.95 per month with the option to have up to 5 devices connected at the same time. That is noticeably cheaper than what many of the top VPN providers have to offer, so that's good. And while there is no free trial version for you to test first, you can make use of the 30-day money back guarantee, which is becoming more of a standard approach with these types of services.
Payment options are very limited, though, with credit cards and PayPal being the only available options.
But if things were very easy-peasy so far, then difficulties start after you click on 'Subscribe'. The website notifies you that the provider will set up your VPN for you and all you have to do is sit and wait for an email with all the details.
Once the email arrives, you will see it contains the OpenVPN and PPTP usernames and passwords, along with a few OpenVPN profiles. What was surprising (and not in a good way) was that there were no setup instructions or even tips included. You will have to go over to the website to find the respective setup tutorials that were also very underwhelming. Unless you've had experience setting up a VPN before, you likely have a pretty hard time trying to implement the lack of decent instructions and just figuring out a handful of screenshots.
And adding to the disappointment is that there's no speedy live chat to contact a customer service agent if you have any questions. Support is only available via email and, in our experience at least, they do not respond quickly. In fact, they don't even respond thoroughly either.
Moreover, support is only reachable on weekdays, so you will have to brace yourself if you run into trouble on a weekend.
Logging & privacy
As is custom with VPN service providers, the companies try to communicate to their customers that they do not log their personal information or internet activities. This is also true for VPNBook, which has a similar statement posted on their website.
However, you will have to dig a little bit to find it, as it's not plastered across the homepage of the website, as is often the case with other providers. Once you've found your way to the respective page on the website, you will find that it says that VPNBook doesn't collect any personal information and also doesn't store user internet data.
What they do store, on the other hand, is IP addresses you connect from and the connection times. And since it's a dedicated VPN, the company will obviously always know the server you're connecting to. Hence, it will have the information necessary to trace any of your actions back to you. VPNBook argues that this is done for the purpose of detecting 'abusive activities' and blocking them.
As per the provider's own words, if you are found to be associated with such 'abusive activities' your IP will simply be banned.
That's it as far as privacy and logging goes, as the website lacks a detailed (or any, for that matter) privacy policy. And obviously things like independent audits from third parties are out of the question, so don't expect any of those either.
The service
Well, it's time to address the elephant in the room and that is that VPNBook's Dedicated VPN does. Not. Work. It doesn't work!
This review can't really even be made entirely wholesome due to the simple fact that we were unable to use the service and thus test it. After signing up initially, we failed to establish a connection to the VPN and so eventually we had customer support reset our passwords.
And mind you this was no easy task either. As we already pointed out before, the only way you can get in touch with a representative of the company should you need any form of assistance is via email. And only on weekdays. Well, we tried contacting them and it took several days before we received a solution for the problem.
Or so we thought.
Even after the company reset out passwords and apologized for making us wait, we still failed to access any website whatsoever. The disappointment was well beyond anything we can describe and so we decided to stop trying.
In the meantime, while we were waiting for a reply from VPNBook's customer support, we tried the free service that the company offers. And perhaps it shouldn't even come as a surprise that it barely worked either.
The speeds during most of the time were sluggish to say the least. We managed to average around 1Mpbs on two of the servers. So that alone speaks enough about VPNBook's VPN, we think. And it was enough to give us the confidence to not pursue any further attempts to make the relationship work.
To sum it up
The idea of having a dedicated VPN sounds intriguing and would provide a much-needed level of comfort that many users would love to have. And VPNBook's service sounds great, too. But only on paper.
In reality this turned out to be perhaps the worst VPN service we've encountered so far and we would highly suggest avoiding it at all costs. If you're interested in getting a reliable VPN, you'd best look elsewhere and invest your money in something that actually works.
Here we have reviewed a whole range of different services, so feel free to browse and see if there's something you like.