In this WikiBuy review you'll find answers for some popular questions: Is WikiBuy safe? How much money do you save? PROs and CONs of using WikiBuy?
WikiBuy is a relative newcomer to the shopping scene and as such I did not find many WikiBuy reviews on, apart from the short reviews written in the comment section of Chrome itself. Thus the idea to write a more complete review lodged itself into my mind. So now I'd like to share the result with you!
Is WikiBuy Safe?
Yes, by all accounts
Truth be told, the official site of WikiBuy did not inspire too much trust in me when I saw it for the first time, as it looks like someone's graduation project that barely passed the bar…
But the idea behind WikiBuy pushed me to do some Google research and this browser add-on appears to be perfectly legitimate and quite useful. Online price comparison websites are nothing new, but as far as I know, this has been the first time anyone tried to automate the whole process and make it into a browser extension. The best part – it does't have any ads or other annoying features, which you might expect from free software.
How much money do you save?
Depends on your shopping behavior.
The difference in price could be almost negligible at times, but if you are buying more expensive goods OR if you frequently purchase online it can quickly add up.
It should be noted that WikiBuy appears to mostly work with big, well known online shops. I did my best to find information about the approval process WikiBuy uses to automatically list shops, but failed to find anything on the matter. Some may consider this a mixed blessing, but if you'd rather prefer to play it safe and purchase only from established and reputable online stores, then WikiBuy is probably perfect for you. You can still add your favorite store manually to be listed on WikiBuy – you can easily do that from the interface.
What is WikiBuy?
Full functionality explained
WikiBuy is an online shop assistant that integrates as a browser add-on (Chrome only). It integrates the following features.
WikiBuy automatically makes an online search for any product you are currently viewing and looks for a better price. It also factors in shipping costs based on the location you have provided.

WikiBuy searches online for any available coupons, which can be applied to your purchase, and gives you an activation link.

WikiBuy does not share your credit card number with the store and handles all shipping details for you.

No charge for the user – WikiAds generates revenue by slapping a small "Finder's Fee" on any store whenever you make a purchase through WikiBuy.
All of this you could do on your own, but it takes a truckload of time to do all the Google searches yourself and pay for PayPal service.
If you are the kind of person who loves spending a lot of time in front of the PC hunting for the best price, WikiBuy won't do all that much for you.
Here is an example of using WikiBuy to get a better price. This is a random security cam I looked up on Amazon.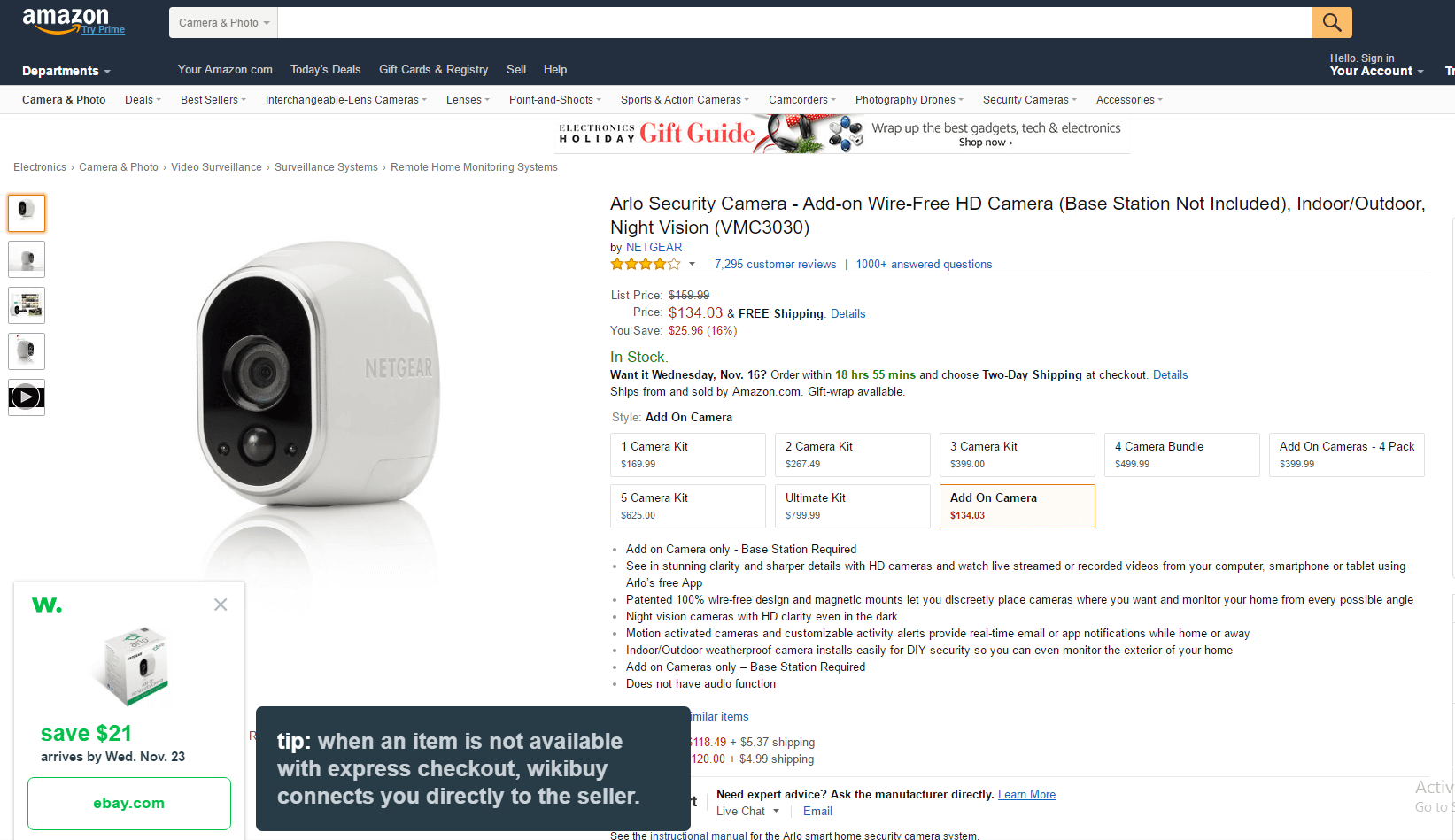 The green pop-up is created by WikiBuy. Clicking on it will take you to the offer on Ebay, which sells the same item at a lower price.
Below you can see the offer on Ebay. In this case WikiBuy did not correctly factor in the price difference, because it takes the original Amazon price for the comparison (I'll talk more about this problem later in the WikiBuy review), but even so you still save $5 off your purchase. In this case both items come with free shipping.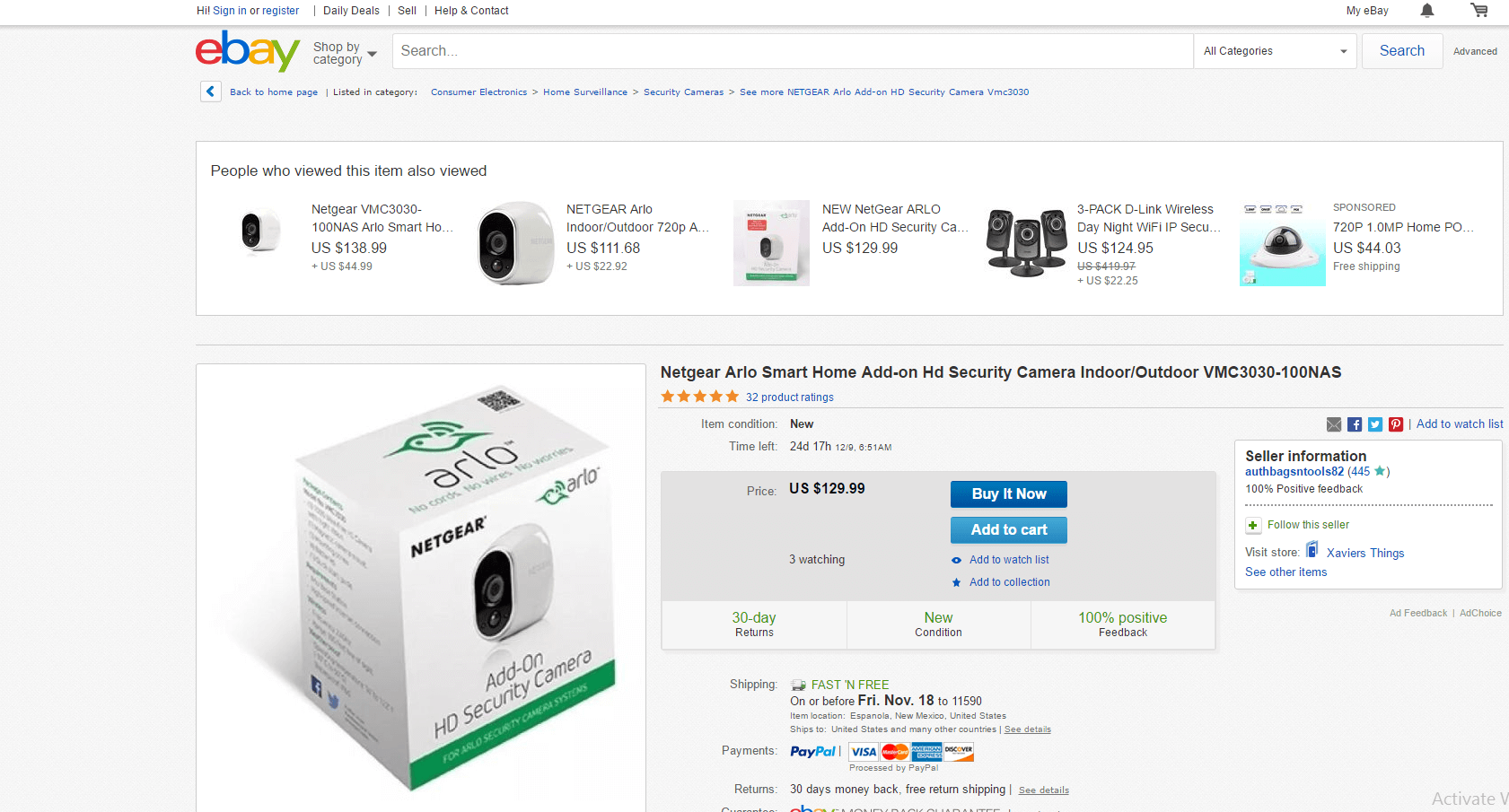 Same product, lower price. What's not to like?
This is also a great example of when NOT to trust "great" Amazon discounts
PROs and CONs of WikiBuy
Pros…
Click on the button for a detailed description
++++ Can save you a lot of time and money
WikiBuy will automatically run a search for the any product you are viewing across multiple online stores and provide you the link with the best offer, while also factoring in delivery cost and applying the best coupon discount available.
+++ Overwhelmingly positive reviews on the Google store
+++ Simple interface, easy to use
The interface is very simplistic, thus also easy to understand intuitively.
++ Integrated Buyer's Protection
You'll have to share your credit card number with WikiBuy, but that's where it stops. All payment transactions are actually handed by WikiBuy (much like how PayPal works). WikiBuy will also handle all disputes and delivery tracking.
++ Does not display disruptive Ads or slow down your PC
Since WikiBuy charges the store for its service it does need to display Ads on your screen in order to make profit.
…and Cons
Click on the button for a detailed description
--- Price comparison can glitch at times
WikiBuy does a pretty decent job in comparing prices and product specifications, but no software is perfect. I caught WikiBuy not factoring temporary discounts several time while I was browsing on Amazon. Always check for yourself if you were linked to the exact same product and if you are actually getting a discount.
--- Shipping/Availability may be misleading
Since WikiBuy works as the middle man between you and the store, some delay of communication may happen when the item you ordered is not immediately available. The store may have the item listed as available on the website, but in reality it might be out of stock in your immediate area and has to be shipped from a warehouse that is out of state. This can delay your order by a day or two, or maybe even a week if you are very unlucky. Keep in mind that the same thing will happen if you order directly from the store – but you might get a warning from the store representative!
-- Reduced, but not eliminated risk on Ebay purchases
WikiBuy appears to only show Ebay sellers with a lot of sales and good reputation, but likely Ebay purchase problems are largely the same. If you encounter any issues, you'll have to sort them out with WikiBuy and not Ebay, which could add communication lag to the whole process. On the plus side, it's also easier to get your money back if you have to!
- Installation woes
Integrating the browser extension is quick and easy enough and the interface is pretty simple. Unfortunately, I did manage to close the "Enter your email and other details" menu before inputting all of my data, which completely locked me out of creating an account. Disabling and reinstalling WikiBuy solved this, but this is clearly an oversight that needs to be addressed by the developers!
Also, WikiBuy only works on Chrome and only for the United States. If you are from another country or don't use Chrome you are out of luck!
Conclusion
WikiBuy is definitely a new and innovative method to boost the efficiency of your online shopping and you should definitely give it a try if you live in the US and use the Chrome browser. As with every new software it has its kinks and minor problems, but nothing to negatively impact its performance in a major way.