Windscribe VPN
A VPN service packed with features and a very generous free plan.
Pros:
Up to 10GB free data allowance upon registration with email.

Very flexible plan offerings

Reliable protection through military-grade encryption

Effective site unblocking
Cons:
Support can be slow and is not available 24/7

There is no Live Chat

It can take a while to receive app upgrades
Windscribe is a popular and simple-to-use VPN service which offers a decent set of handy features and one of the most flexible plan offerings in the market. Users of the service can choose from locations in more than 100 cities in 62 countries. What is more, Windscribe says that its servers are really located in those places.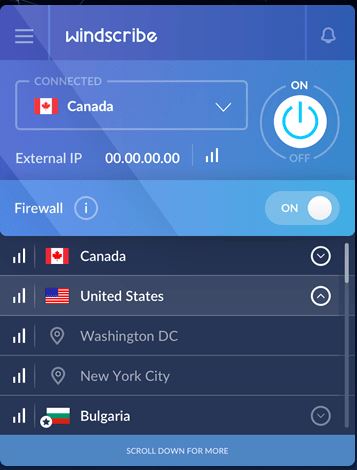 A number of VPN client apps can cover you up on any device and operating system that you use, including iOS, Android, Mac, Windows and Linux. There are extensions for Chrome, Opera and Firefox that give you even more ways to connect, plus some great privacy-related extras that can add additional layers of protection for your web browsing.
The official website of Windscribe provides detailed instructions to help you set up the VPN service on routers, Amazon Fire TV, Kodi, Nvidia Shield, as well as on any device that is compliant with the OpenVPN protocol.
A strong AES-256 encryption, IKEv2 and OpenVPN support take care of your online safety and keep your tunnel traffic protected from prying eyes. There are also embedded stealth technologies that try to mask your VPN usage with the idea to provide access even to sites that actively block VPN traffic. You are also protected from unwanted ads, trackers and malware through a DNS-based tool named ROBERT which goes way beyond a basic DNS blacklist tool. ROBERT gives you more control and flexibility than many of the competitors' apps typically deliver. Windscribe even allows you to purchase a static IP address or add a residential IP address. This greatly increases your chances of accessing blocked pages.
If you need any help, ticket support is available. There are also a lot of resources on the official website. However, support is not active 24/7 and may take you a while to get a response from the in-house team. The Windscribe's own subreddit is a valuable knowledge base, though. There you can see what the real Windscribe users chat about, their concerns and issues – a transparency that is hardly seen in other VPN providers.
The company has recently been busy providing major updates for its VPN client applications and extensions. A stylish new look is applied to all of them. The latest iOS app allows for network whitelisting, enables IKEv2 and OpenVPN support, as well as shortcuts to Siri. The Android VPN app supports IKEv2 and OpenVPN as well as split tunnels to decide which programs use the tunnel and which don't. The latest browser extensions enable city-level location selection, and come with privacy-boosting extras focused on protection against malware and phishing sites, WebRTC blocking, website notification blocking and location API spoofing. There is also streaming support that unblocks almost any site.
Some of the latest changes and additions include:
Users of the free plan can now access locations in Turkey

ROBERT now fully blocks CNAME cloaked trackers on all servers.

All Windscribe servers can have Wireguard configurations.
Windscribe also provides a very generous free service in comparison to other competitors.
Are you already excited to explore more about Windscribe's features? Let's take a deeper look then.
Setting up a VPN client
If you want to set up a VPN client, the official Windscribe website welcomes you with a "Get Started" button which takes you to a Download page. The site automatically highlights the best choice for your device but you can also access links to installation packages for Mac, Android, iOS and other operating systems, as well as guides for router setup, Linux setup and more.


You can create an account for the VPN service only by entering a username and a password. That automatically gives you 2 GB of data allowance per month. If you provide your email, you get 10 GB and if you Tweet about Windscribe, you end up with 15 GB. Just for comparison, competitors such as Avira Phantom VPN's free package gives you only 500MB of data per month and other providers aren't even that generous.
What might be a bit more complicated with Windscribe is to manually set up the servers (a functionality that is not available for users of the free plan), especially if they are using OpenVPN. In this case, you will be required to manually define the type (TCP or UDP) and the port of your connection. This should be repeated for every server that you want to download. This is not the case with most competitors, where you usually can download hundreds of server configuration files into an archive, unpack them and then use them all immediately.
However, with this manual method of configuration, you have great flexibility and can, for example, use OpenVPN UDP on some locations for speed, whereas others will use TCP for reliability. Windscribe also has specific web tools for generating IVEv2 and SOCKS5 configurations, which enable you to change all your manual VPN connections.
The Windows client interface greets you with a panel showing a list of locations, an On/Off button, and some status information. When you tap the default location, a full list of countries opens where you can see the available servers. Each server has an indication for latency to help you find the fastest one. It is also possible to label countries as "Favorites" and to display them at the top for zero-scroll connection later.
The free plan gives access to limited number of servers and countries (US, Canada, France, the Netherlands, UK, Switzerland , Norway, Romania, Hong Kong). A Windows desktop notification lets you know whether you are protected by changing its interface from grey to blue.
A standout feature of the Windscribe's Windows client is its ability to import custom OpenVPN configuration files from other providers and display these servers along with its own. This makes it possible to use the Windscribe desktop app as an interface for other free VPN providers.
You can find a variety of connection choices in the "Preferences" dialog. For instance, you can select your preferred protocol manually, try bypassing some VPN blocking, remove the need for DNS by using a special API Resolution system and set up a proxy (HTTP or SOCKS).
The Windows client even supports the use of the device as a secure wireless hotspot, or as a proxy gateway. Through this feature, your other devices (which support Wi-Fi or proxy) can take advantage of Windscribe without any special VPN setups or an app of their own.
Some other extras include the ability to sort the location list by country, by latency, alphabetically, etc. A local view log option provides a detailed overview of recent program actions, which is great for tracking and detecting issues. Experts may even pick their preferred TAP driver and OpenVPN version or incorporate custom OpenVPN parameters, allowing for much greater control over the operation of the connections.
The main panel of the mobile VPN client apps of Windscribe is almost identical to the Windows panel. There is an On/Off button and status information, as well as a list of countries (expandable to cities) that allows you to select the server you want. There are also lists to Favorites and dedicated streaming locations, as well as a Custom Config list (probably used for enabling other VPN servers within the Windscribe's interface).
The "Preferences" panel in the mobile apps is packed with features and customization options. A Connection log helps you to choose which apps you want to use the VPN and which not (split tunneling), select the protocol type (OpenVPN UDP, TCP, IKEv2 or Stealth) and your preferred port. There is also integration with Android Always-On that allows you to set up a system-wide kill switch, enable GPS spoofing, block or allow local network traffic and more.
There is a Network Whitelisting tool which lets Windscribe to automatically connect the moment non-trusted networks are accessed. This allows for the service to automatically protect you when you surf in a coffee shop, for example, and intelligently shut off when you connect to your home network.
Windscribe offers simple and fast way to connect your Chrome, Firefox and Opera browser to their VPN service through browser extensions. These extensions have a modern and sleek interface and operate as simple proxies that protect your browser traffic. This may not seem like much but is your easiest way to go if you need a VPN for basic browsing. Autopilot mode helps you to connect to the best location in just a click. You can select countries or specific cities from a list and mark them as "Favorites".
Ad and malware blocking is taken care of with a ROBERT tool that keeps away malicious and phishing pages, bandwidth sucking adverts, trackers, widgets for social media and more.
The extensions include several additional data security features that block WebRTC leaks and change your GPS position and time zone in order to better match the selected Windscribe server and make it harder to get tracked. All that we highlight speaks about how powerful the extensions are, but this isn't only our opinion. A quick look on the high rating of Windscribe's browser extensions proves that most users share the same opinion.
Performance and user experience
For the purpose of testing Windscribe VPN, an automated tool is used to log into servers based in different geolocations, check their connection time, latency issues and actual physical location. According to the results, the service connects without errors with sample servers in Europe, UK and the US. The average connecting time with OpenVPN takes about 12 seconds but switching to IKEv2 protocol brings the time down to 3-4 seconds. Latency problems are not detected during our tests and servers appear to be located in the countries they are advertised.
Testing the download speed from the nearest servers in UK and US locations gives positive results, reaching an average of 68 Mbps on a 75 Mbps connection. The results from a download performance evaluation using benchmarking sites such as TestMy.net and SpeedTest are also impressive with download speeds reaching about 250 Mbps on average.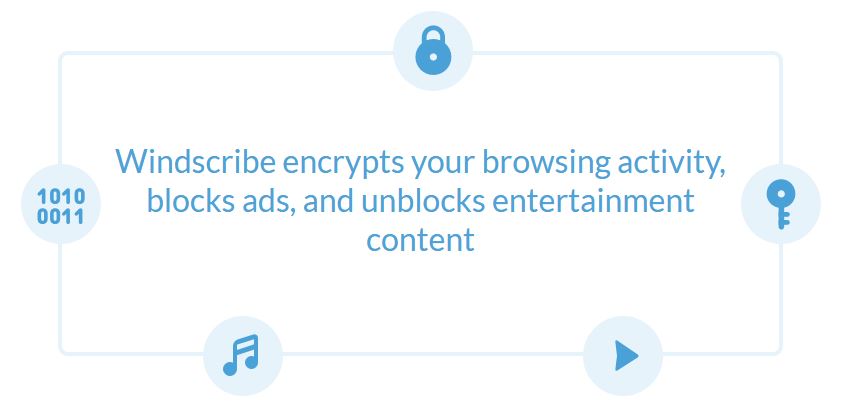 If you want to test the service for yourself, Windscribe provides you with up to 10 GB of data per month, with access to many locations and high-speed servers with its free plan. This is something that many VPN providers don't offer and is something that you can use to your advantage to evaluate the Windscribe service before you decide to buy it.
Streaming
Connecting to a VPN may allow you to access content that is location restricted. For instance, if you want to watch US only YouTube videos or US Netflix, it would be more than welcome if your VPN service can unblock this content for you.
Many competitor VPN services, however, fail to unblock popular streaming sites effectively. Moreover, content providers of restricted content try to detect and block traffic that comes from VPN. In our tests, Windscribe proves effective in avoiding the blocks and lets you access US YouTube, US Netflix, BBC iPlayer streamings and Amazon Prime Video through various US and UK locations without problems even with the free plan.


In fact, in its paid plans, Windscribe provides a virtual location called Windflix US which enables users to access Netflix without having to try different servers manually until they find a server that works. The VPN service also has virtual servers in the United Kingdom, Japan and Canada for streaming Netflix and they perform great during tests, unlike other competitors.
Torrenting
Windscribe is very transparent about its torrent support unlike many other VPN providers. In their "Status" page, the company provides a list of locations that support P2P and locations that don't. In the Windscribe apps, the locations where torrenting isn't allowed are marked with crossed-out "P2P" and the rest support it.
Privacy policy and data logging
Windscribe's privacy features include AES-256 encryption, with SHA512 authentication, a 4096bit RSA key and support for maximum protection. The keys are not re-used, so even if a malicious attacker takes a hold of a private key, they can only access the data of one session.
Multiple strategies are used to mitigate leakage, restrict IPv6 traffic and re-route DNS requests through the tunnel so that the VPN server can handle them, including in the apps. There is also a kill switch to prevent all Internet access in case the VPN connection fails.
A check on Windscribe's performance on a Windows 10 system with websites like IPLeak, DNSLeakTest and DoILeak shows no DNS or other disturbing leaks of private details.Forcibly closing the VPN connection with the kill switch on results in immediately blocking the Internet access and preventing potential leakage of data followed by a reconnect attempt.
Unlike many other VPN providers, Windscribe has a clearly defined and refreshingly brief privacy policy on their website, outlining what type of data the company does collect and what doesn't.
The long-term logging is restricted to the total bandwidth that you have utilized during one month (essential in the management of your free plan usage) and a time record of your last activity on the service, which allows the identification of inactive accounts.
The service does collect some details about your connection such as your username, the VPN server you are connected to, bandwidth used during the session, number of connected devices and a few more details. These, however, are stored only in the VPN server's RAM and are lost when the session is terminated.
As the company states in its privacy policy, they do not keep records on what IP address the users use and what their browsing history is. These claims are backed up by a report that transparently reveals the numbers of DMCA and Law Enforcement data requests throughout the year. It states that "Exactly zero requests were complied with due to lack of relevant data."
Many competitors, however, go a step further and invite independent audits to check their systems for privacy issues and logging. Thus, the reassuring words on Windscribe's website aren't enough to convince us about their privacy policy and we would like to see them (and other VPN providers) have their systems publicly audited.
Still, it is worth taking into account the fact that Windscribe gives you 2 GB of data per month without requiring your e-mail or other personal details totally for free. This may not be enough for heavy downloaders or streaming users, but is more than enough to protect your basic browsing data and provide you with anonymity when online.
Plans and pricing
The free plan of Windscribe provides a comfortable 2 GB of data transfer per month. If you register with your email, however, you automatically get 10 GB. There are just 10 servers in the package, located in North America, Hong Kong and Europe, but that is still more than what you can get from many other VPN providers.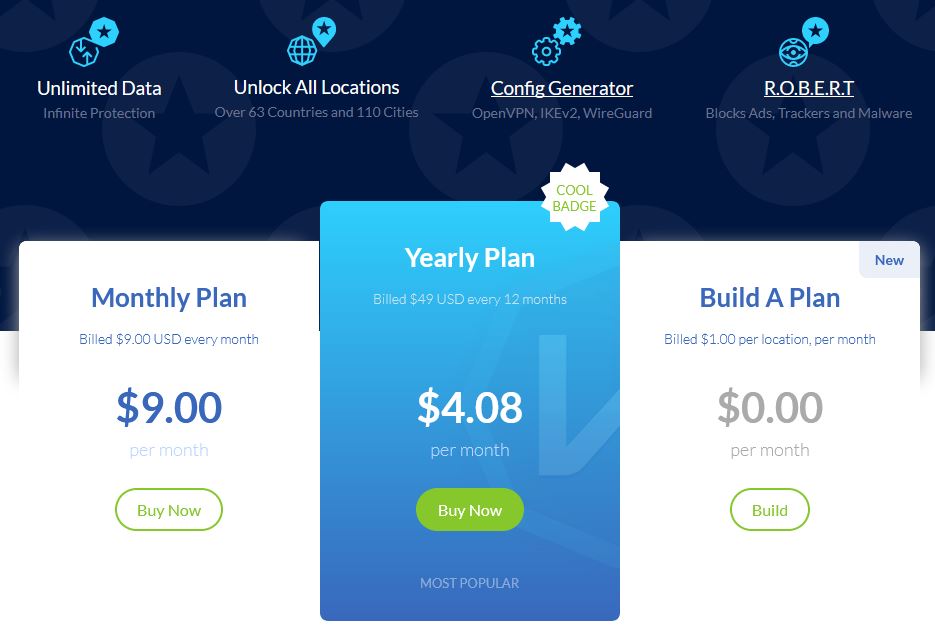 The paid plan, naturally, gives you unlimited data, access to 110 locations and the opportunity to customize the settings for OpenVPN, IKEv2 and SOCKS5. Simultaneous connections have no irritating restrictions and you can set up and use the service wherever you want. A small print, however, forbids sharing your account with others.
Prices are very affordable and competitive compared to what you can get from the annual plans of many VPN providers that are currently on the market. A monthly subscription will cost you just $9. And if you pay upfront for one year, the price drops down to just $4.08 per month.
But there is something even sweeter – Windscribe has a "Buld a Plan" scheme that may save you money by letting you pick just the locations you need for $1 each. With each selected location, you get 10 GB to your free bandwidth limit. Minimum two locations are required for your package. This means that, you can build a plan with UK and US locations, for example, and you will get 20 BG of data. Add that to your initial free 10 GB data allowance provided that you register with your email address and you can create a package of 30 GB in total for just $2 a month. An upgrade to unlimited data will cost you only a dollar more. This is a great deal if you aren't looking for a long-term subscription. Besides, the flexibility that the "Build a plan" scheme offers is a major plus that isn't seen in the offerings of other VPN providers.
If the full VPN service is not something that you need all the time, the free package may be the perfect solution for basic use as it gives you more than enough data (plus a number of ways to increase the bandwidth limit) for simple browsing. For your convenience, Windscribe offers you a variety of payment methods, such as cash, PayPal, Bitcoin and other cryptcurrencies, as well as gift cards and more.
Support
Windscribe is a great place to get answers to your questions in case that you are having some troubles with the service. There are setup guides that cover up the major operating systems and devices, including smart TVs, torrent clients, routers and more.
If you are having troubles with the browser extensions, however, you might have your questions unanswered since the help pages that provide setup guides for Chrome, Firefox, and Opera extensions link to YouTube videos of July 2016. Comments are allowed but most of the questions that people have posted are without an answer.
Fortunately, the support team can be contacted directly. You can send an email or fill in the contact form on the website to raise a ticket. The precise amount of time it would take to receive a reply is not clear, though. The company explains that with its relatively small team consisting of only 13 people which is not able to provide a 24/7 support to its millions of users, including the free accounts.
In a positive note, though, Windscribe points out that it doesn't outsource the support and does it all in-house, which guarantees that, even if you have to wait a bit longer for an answer, you are likely to get an expert solution from a team member that is actively engaged.
Final words
Windscribe is a VPN service provider that offers great value for the price. Its free and paid packages comes with a set of privacy protection extras that guarantee your online anonymity and some of the most flexible and generous offerings that you can currently find on the market. Of course, we do have some reservations related to the lack of 24/7 support and independent audit when it comes to data logging, as well as the time needed to receive a reply from the team. However, these are unlikely to have a major negative effect on the overall performance and user experience. Thus, we would suggest you to start with installing the free version of Windscribe's VPN service and give it a try.