A free mobile VPN service for non-demanding users.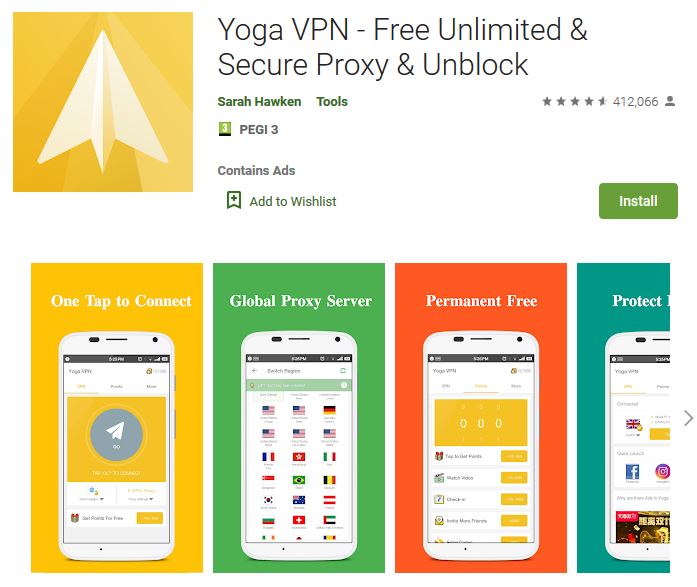 Pros:
Free of charge VPN service

No sign-up or payment details required

High ranking in Apple and Google Play store

Simple to setup and use
Cons:
Available only for mobile

Does not support streaming or torrenting

Customer support available only via email

Collects non-personal user data

Ads-display interruptions
Yoga VPN is a totally free VPN service for mobile that provides simple features and masks your online identity when surfing the Internet. As a user of Yoga VPN, you will get a basic split-tunneling tool, IPv6 network access and DNS leak protection. However, you will not be able to torrent, as the provider makes this clear in its FAQ section.
Since Yoga VPN is absolutely free, obviously, you will have to be okay with handling a certain amount of ads, limited features and lower speeds, which isn't the case with premium services.
The service says nothing about any streaming features, so it is fair to presume that it cannot unblock Netflix or a similar service. Moreover, as we know, free services share their IP addresses with millions of users, so if one IP address is blacklisted by a streaming service provider, that ensures that no user who connects to that IP address will access it.
However, the Yoga VPN application, gives its users Points that allow access to different servers, encryption levels and more advanced features. The Points can be obtained by watching advertisements, inviting friends to Yoga VPN or checking in. The iOS version of Yoga VPN offers the option to purchase Points from within the app with prices starting at $0.99 for Tiny Package (20K Points), and reaching up to $9.99 for a Large Package (300K Points).
A look on the Yoga VPN website
The main webpage of Yoga VPN includes only links to the Google Play and Apple App Store download pages, as well as some very brief privacy policy and one e-mail address as contact details.
From what is written on the website, the company behind the app is YOLO Net Technology Limited, headquartered in Hong Kong. The company advertises itself as a developer of tiny and beautiful mobile applications. The information found on the app stores lists Sarah Hawken as Google Play 's developer and LANPIPER as Apple App Store's developer, however, neither of these developers has a very impressive portfolio.
Users who decide to download the Yoga VPN app can benefit from having servers in more than 30 locations at their disposal.
Evaluation of privacy

Yoga VPN isn't packed with many features and has a very limited set of privacy tools. The app comes only with a "proxy setting" which is basically a split-tunneling tool that lets you select which applications can bypass the VPN connection. The Google Play page of the app also claims that Yoga VPN supports IPv6 network connectivity and prevents DNS leaks. However, there is no kill switch which is a major drawback.
You can find the Privacy Policy of the app on its official website (which, by the way, does not have an HTTPS certificate). In it, in a very short and simple manner the provider describes the details it collects and those that it doesn't, as well as how the collected information is used. A quick look at the Privacy Policy makes it easy to understand that Yoga VPN does not collect "personal information" that refers to your first and last name, physical address, telephone, email, fax, SSN or information stored on your device. The app, however, does collect information that is considered non-personal such as the websites that you visit, information about your device, operation system, etc. The Privacy Policy also states that when you communicate with the provider of the service or you give him some information yourself, he may collect it.
Yoga VPN promises to neither store nor reveal your personal details to anyone. It also claims that the non-personal information that it gathers will not be sold, traded or transferred to third parties. Still, in our view, the way the entire Privacy Policy is written has much to be desired in terms of clarity, and leaves us unconvinced about whether our online activities are being logged.
It must also be noted that, for reasons that are required by all relevant laws or regulations, including legal process or enforceable governmental requests, the provider "will access, use or disclose your information to other organizations or entities…". In this line, it is not very clear what "information" the provider refers to. Besides, in countries where "applicable laws" may be less than favorable when it comes to personal privacy, nothing of the above-mentioned line inspires trust in the privacy of your information.
Still, Yoga VPN will provide you with good protection for the privacy of your browsing unless you do something that could violate its policy.
Customer support and app score
The information that can be found online about Yoga VPN is rather modest and the only way to reach for customer support is through email. The app doesn't have a strong online presence but despite that, and despite its limited set of features, Yoga VPN has been downloaded and installed on over 5 million devices. In fact, the app is scored at 4.6 stars by Android users. The iOS version of the app is rated even higher with a score of 4.8. The latest update of the Android app is from June this year while the Apple version was last updated earlier in April which proves that the app's maintenance is up and running.
Yoga VPN is a mobile app only and there is no application version of it that you can install on your Mac or Windows computer. The download links for Android and iOS can be found on the official website or inside the relevant app stores.
The good thing about this app is that you don't need to sign up, subscribe or provide any financial information such as credit or debit card numbers in order to use the Yoga VPN service. This whole procedure of setting up the VPN service is quick and straightforward – you only have to download the software from its official website or the apps store page, install it, launch it, confirm access to your network and you can start using it immediately.
Evaluation of speed and user experience
Yoga VPN offers mid-range download speeds across different locations. When connected to the provider's best server (level 3) in the US, the speed reaches up to 15.6 Mbps while from a test location in Europe the speed reaches about 50-60 Mbps. When connected to a server in India, we get the same results.
What surprises us is that when we connect to a level 2 server in the US, the download speed is somewhat higher and reaches up to 29 Mbps. The level 1 server, however, expectedly doesn't perform well and gives us only 5.59 Mbps of speed.
Final words
Yoga VPN is a VPN service suitable for non-demanding mobile-only users. The app offers completely free but limited set of browsing protection features and you will have to put up with ads interruptions in between if you intend to use the VPN service. This may still seem as a fair price for a free VPN app, but the ads aren't the only compromise. You have to also be okay with the fact that Yoga VPN may monitor some of your activities and collect non-personal data from you. Besides, you should not have too many expectations about having access to streaming sites like Netflix or torrents and you will have to accept the fact that the app has only a mobile version.
In case you need assistance with something, you should better hope that someone behind the only email address that the company has provided will check their mailbox to see your query and send you a response. That being said, using the Yoga VPN service comes with certain compromises and if you are looking for a more powerful and feature-dense VPN provider, you should probably opt for a subscription alternative.