Ziggy Ransomware gang
Ziggy is getting out of the cybercrime business with apologies.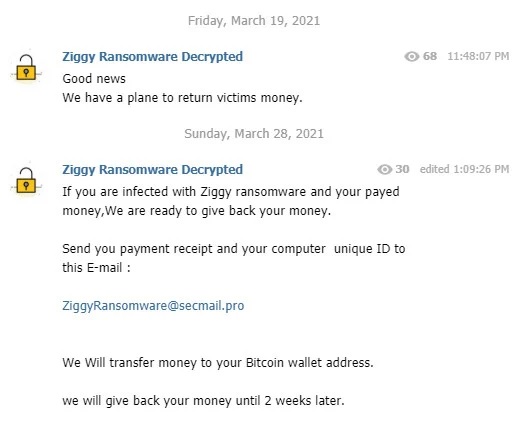 In February this year, the Ziggy ransomware gang declared it was leaving the cybercrime market. Now they claim they are willing to reimburse the money of their victims.
Those who have paid to Ziggy simply have to send them an e-mail with the computer's ID and evidence of payment in Bitcoin. According to Ziggy's administrator, the money would be refunded to the victim's bitcoin wallet in around two weeks.
It seems that this move of Ziggy is a result of the joint efforts of law enforcement that have been actively working on restricting and likely discouraging ransomware operators from continuing with their criminal business.
On February 7th, Ziggy released 922 decryption keys that would open the files of the victims when they were paired with the keys in the SQL file. Following that, a free decryption tool was also released by the ransomware expert Michael Gillespie.
What Ziggy gave as an explanation about its actions was that they were in a "third-world country", trying only to make money but it seems that the feeling of guilt has taken over and now they are selling their home to refund the victims.
Only a few days before Ziggy announced they are quitting, another ransomware-as-a-service group named Fonix, came with an announcement that they were coming on the good side determined to use their skills in a better way.
This turnout follows huge multinational law enforcement efforts to dismantle the operators of ransomware.
While decrypting victim's files and refunding them is not really adequate to minimize the damage done to the business, professionals in the cybersecurity sector are acknowledging the continuing law enforcement attempts to tackle ransomware crime.
The recent arrests may not be enough to stop major ransomware operators from performing more attacks. However, security experts are hoping that they are going to make cyber criminals think twice before they become affiliates to Ransomware.