Many web users have recently posted about a new blackmail scam that is actively spreading around the web via emails. The scam contains of a message, sent from an unknown sender, which pretends to be a hacker. The self-proclaimed hacker typically claims to have compromised the victim's computer and to have accessed their password and contacts. It also claims that, with the help of a secretly inserted malware, the attacker has captured an embarrassing video and screenshots of the victim, and threatens to send them to all the stolen contacts if a certain amount of money is not being paid.
The embarrassing videos and footage usually are related to pornography and adult dating links and are followed by a ransom demand. The hacker usually requires a payment in bitcoins and promises to delete the embarrassing content if he receives the money within the given deadline. Normally, the person behind the scam, tries to blackmail the victim by sending a series of emails, mainly to their work email address.
Here is an example of the email scam for bitcoins, which a user has posted online. You may notice that the words may be different in your case, some even may be in broken English, but they all generally follow the same script.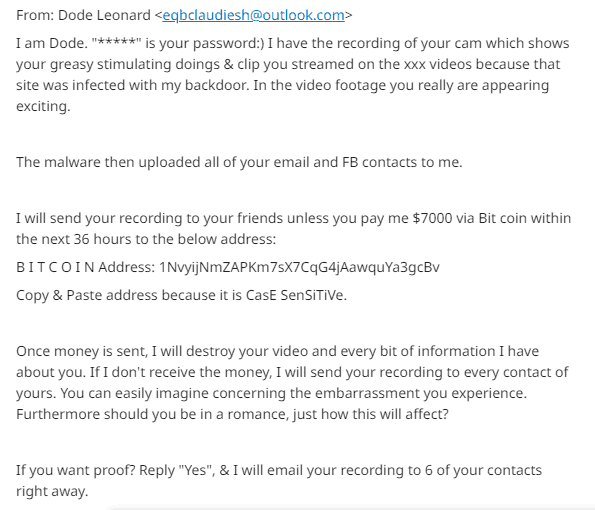 This is what users have recently shared about the blackmail email scam online:
"I have had a heap of these emails over last month."
"I received my first email last Monday about 6 hours after visiting a different adult website. It was from myself. I was able to determine that it was sent from a Mexico server. The 48 hours had passed, with nothing happening. It's scared me enough to stay off those sites going forward. I'm not sure which site they got my email address since it's my work email but they did. The idea of a recording out there spooks me. Anyway, fast forward to this morning, and I got the exact same email with a different subject line. It seems like I will be getting these emails going forward for a long time."
"This is the second I've gotten in a week. Deleted the first one but here is the most recent. Points for using "onanism "
According to security researchers, such a scam has been widely reported in Australia and has recently appeared in the United States. Leading analysts consider the email blackmail threat as an empty one, since the blackmail message normally fails to include personal information about the victim or other details that can prove what the hacker claims. However, there have been reported cases where the hackers have addressed the victim's real name and have sent them their old password, their actual phone number, as well as attached videos of them, reading the email, in order to "prove" that they have indeed hacked the machine.
In case that you have received a disturbing email message from unknown sender with a similar script and you are concerned, you should know that, so far, this is a scam campaign that has been sent to thousands of email addresses and is most probably a lie. As long as you don't have any malware on your computer and your system and accounts have not been compromised, there is absolutely no reason to get panicked over such a blackmail threatening message. You should better report it as a spam and post the text of the scam message (without your personal data) online so that Google can show it up to others, which may have been targeted with the same message. Also, for your safety, it is a good idea to avoid interaction with any spam messages, shady emails and sketchy web locations and provide your PC with reliable security software against system breaches. 
Bitcoin Blackmail Email Scam Fix
If you want to be sure that you don't have an actual virus/malware on your computer, take a look at our removal guide for a similar issue – Remove Porn Blackmail Email Scam
If the guide doesn't help, download the anti-virus program we recommended or try our free online virus scanner. Also, you can always ask us in the comments for help!