Lenovo IdeaPad Flex 5 14
We have had a look at a fair share of laptops from those specifically designed for gaming (check out our list of top picks here) to premium brands and all the way to budget-friendly versions that, for obvious reasons, tend to be more sought after.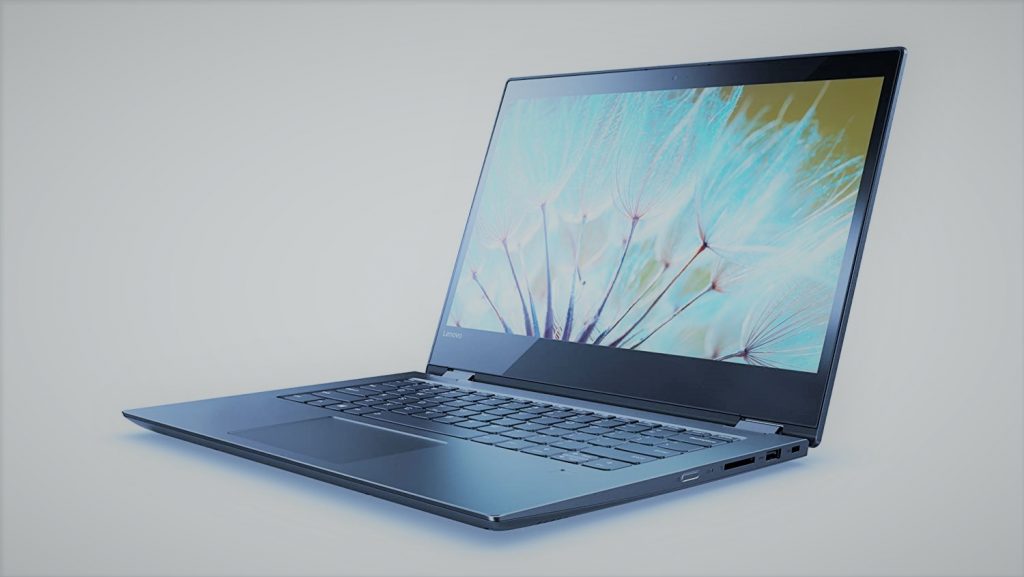 Every now and then we come across a certain jewel that deserves a little bit more of a closer look. And as far as budget options go, the Lenovo IdeaPad Flex 5 14 is about as worthy of giving a chance as they come.
Powered with an AMD Ryzen 4000 chip, this machine offers way more than you think you're actually paying for. It boats outstanding performance with technical specs that you wouldn't believe for the humble price of around $600. But more on that and the other juicy features of this IdeaPad – further on in this article. For now, here's a brief overview of what we liked about this laptop and the things could use some improvement.
PROS

:

Outstanding performance for the price

Great value

Good quality speakers

Keyboard and touchpad are very comfortable

Comes with active pen

CONS:

Boring design

Average display
Design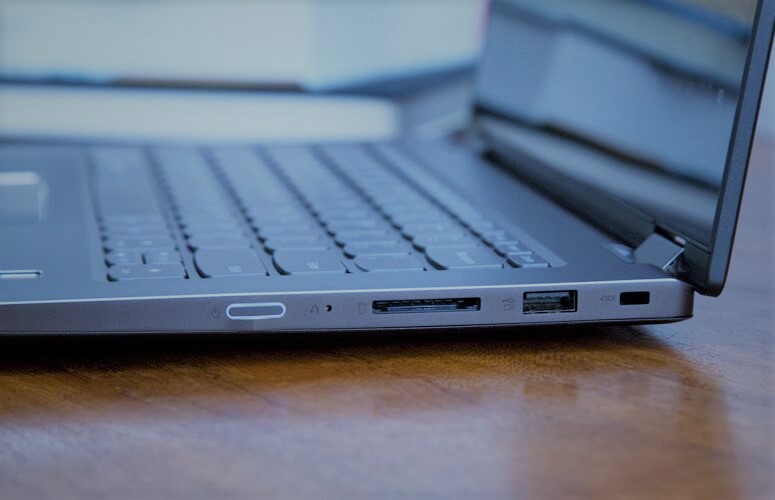 Since this was one of the things we clearly didn't like, let's start with that. Most of Lenovo's affordable laptops lately haven't been particularly keen on impressing with their looks, and the IdeaPad Flex 5 14 seems to be in line that sentiment.
It comes in a plastic casing, which the manufacturer calls "sturdy PC/ABC" at the bottom. And the top is what Lenovo calls "normal" plastic. It's a sleek and very pleasant gray color, though, uniform with the keyboard and touchpad, so that at least is relatively easy on the eyes.
And while the casing is quite sturdy, it doesn't go anywhere near models such as the Lenovo Yoga C640 in terms of robustness. There is a bit of flex as well, as the name of this laptop would suggest.
Another thing that we are not particularly fond of is this machine's build. It's quite heavy and bulky with a thickness of 0.82 inches and a weight of 3.3 pounds. If we compare to the Yoga C640 again, it is both larger and heavier. And if you think that it's to offer you more screen real-estate – think again. In fact, the screen bezel is rather wide both at the top and bottom especially.
On the bright side, the IdeaPad Flex 5 14 does have a tight hinge, which provides a smooth transition to and from the different 2-in-1 modes. In this model, they are tablet, tent, clamshell and media. Although with the 14-in display and the weight and thickness we mentioned earlier, this certainly isn't your ideal tablet and won't sit well in one hand for too long.
The only advantage that this laptop's thickness does offer, however, is its connectivity options. Yes, the IdeaPad Flex 5 14 does have plenty of those options, including a USB-C 3.1 port and two USB-A 3.1 ports. In addition, there is a 4-in-1 SD card reader and a full-size HDMI 1.4 port. No Thunderbolt 3, though. And wireless connectivity is limited to the older Wi-Fi 5 standard.
Keyboard & touchpad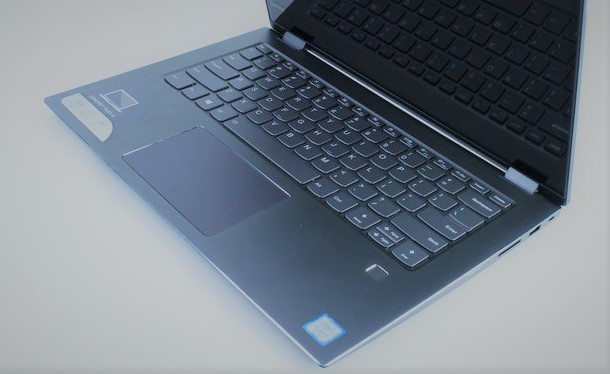 Moving on to the highlights of this machine, both the keyboard and touchpad are rather enjoyable here. In typical Lenovo style, the keyboard is pretty shallow with a very decent amount of spacing and good precision. Of course, how you like your keyboard is more of a personal preference matter, but the bottom line is that it allows you to type at a high speed and that is certainly something that most users will appreciate.
As for the touchpad, it comes at a decent size for most laptops supporting Windows 10. And being built with Windows 10 in mind, it comes with Microsoft's Precision Touchpad drivers for guaranteed smoothness and precision.
Speaking of which, users can also enjoy a touch-enabled display that works very well. And as pointed out in the beginning, there's an active pen included when you buy the Flex 5, which is rare for a budget laptop. The pen supports 4,096 levels of pressure sensitivity, so it's also very functional and useful to anyone who wants to take notes directly on the screen of the device.
On top of that, the laptop supports the Windows 10 Hello password-less login feature with its built-in fingerprint reader. It's located at the top right corner of the keyboard and is certainly an added bonus for this price point.
Display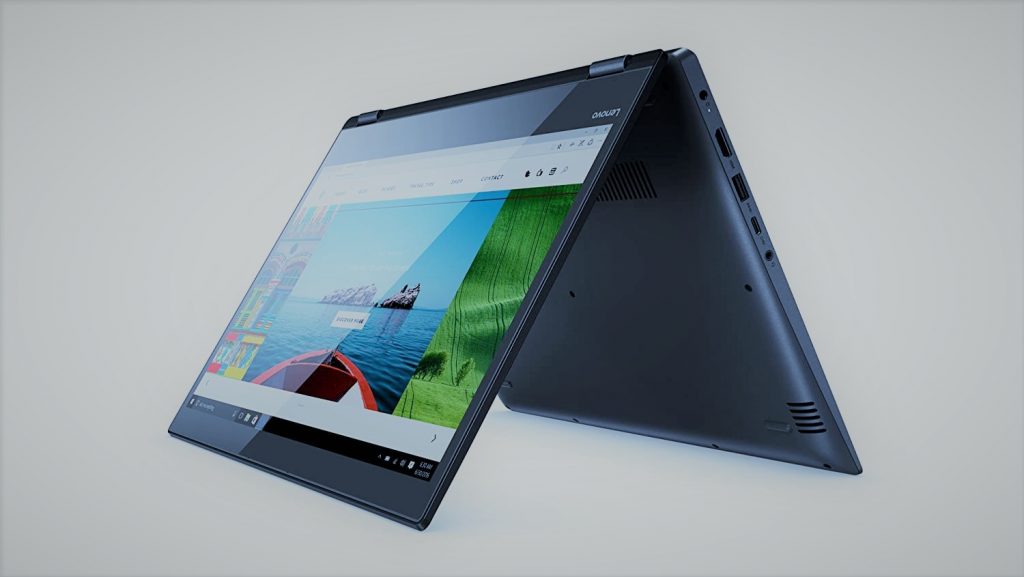 And back to the low points. The display isn't too bad, but it's outdated. It's something you would have enjoyed 5 or 6 years ago. Today, if you compare it to more modern counterparts, you will find that the colors aren't as accurate, contrast is lower, and due to it being a glossy screen, glares can become a problem.
The image quality isn't great, let's face it, so this for sure won't be the ideal choice for photo editing and similar feats. But if you are only getting this laptop with the intention of web browsing and text processing, then you won't really suffer much from what the display lacks. We still are disappointed, though.
Battery
Battery life isn't a selling point of the Lenovo Flex 5 with its 52.5 watt-hours of battery capacity. And for a 14-inch laptop, it's definitely not a battery champion. But it offers average performance and will last you about an entire work day with just a single charge. So it won't have trouble handling 8 hours straight of browsing. In fact, we found that with a relatively light load of video playing it lasted a very decent 11 hours. And when running heavy-duty applications you can expect the battery to last you about 3.5 hours.
Performance
Here is where the Flex 5 really impresses us. For being a budget laptop, it really packs a punch when it comes to performance and based on this factor alone, you would probably never guess that it's a cheap machine.
This is thanks to none other than the AMD Ryzen 5 chip that offers 6 cores and 6 threads. And as a result, it proved to be significantly faster than some of the other options available in this price range. In fact, during testing with the synthetic Geekbench 5 benchmark, it scored pretty high. In the singe-core test it hit 1,096 and 4,543 in the multi-core test. Hence, it's extremely fast for a $600 laptop.
And when performing certain tasks during further testing, the Flex 5 even beat Dell's XPS 13, which is also considered to be a very fast machine.
Lenovo's Flex 5 boasts a total of 16GB RAM, which is again very unusual for the price and it pleasantly surprised us. So it will have no problems tackling highly-demanding tasks such as photo and video editing or multitasking. And thanks to the AMD Radeon Graphics integrated in the IdeaPad Flex 5 14, you will even be able to indulge in some light gaming or enjoy that extra boost necessary for creative apps that require GPU usage.
Conclusion
The takeaway from our review of the Lenovo IdeaPad Flex 5 14 is that it is certainly a buy. Few other machines will offer you what this option has to offer for the price of $600 – that much is difficult to argue with.
Of course, it's not perfect and Lenovo did use a cheap display on this laptop which eats away at the image quality. But unless you are set on using it for creative work like editing your photographs, then it shouldn't bother you too much.
It's a fairly durable option as well, which means that it will last you about as long as you can expect from a laptop at this price. Given the necessary care, it can probably serve you well for years.
Its main selling point would have to be the use of the AMD processor. This is by and large what has contributed to making this an efficient and very fast machine, which is unlikely to be beaten by the competition. The 16GB of RAM also highly impressive and something you often come across with budget-friendly options like this. And the build, although not outstanding, certainly earns what you pay.
So to sum it all up, the Lenovo IdeaPad Flex 5 14 will be perfect if you are looking for high performance at an affordable price.
Have you tried this laptop out for yourself? Do you agree with our review? Let us know in the comments below what your experience is!