Mozilla VPN Overview
In today's software review, we will tell you about the recently released Mozilla VPN – a continuation of the Mozilla Firefox VPN browser extension that has now evolved into a standalone VPN service with versions for Windows, Android, and iOS (this one is still in beta). According to Mozilla, macOS and Linux clients are also in the works. Also, it's worth noting right off the bat that, at the moment of writing, Mozilla VPN is only available in the UK, the US, New Zealand, Malaysia, and Singapore, with plans to expand this list of countries sometime this fall.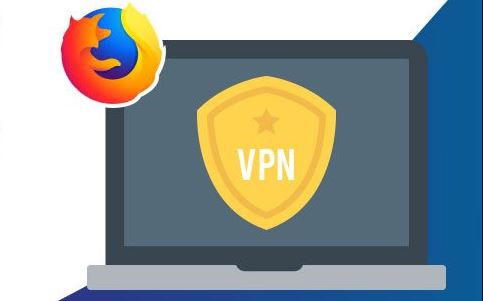 Seeing as how this is a relatively new VPN, there will certainly be aspects of it that would require improvement and polishing but we are curious to find out what Mozilla has to offer with its VPN service. At first glance, this VPN isn't as varied and as feature-heavy as most other VPNs on the market but this could actually be an attractive trait to people who are new to VPN services as a whole and don't need any overly-advanced settings and tools. However, for more experienced users and professionals, there are certainly VPN options out there that will be better suited for their needs.
The main selling points of Mozilla VPN seem to be privacy and security, which makes sense considering the overall reputation of Mozilla – a company known for its transparency and strict privacy policy. Such a focus on privacy and security in the VPN is also quite fitting due to the nature of this kind of online service. After all, the whole goal of a VPN is to give your online activities greater privacy and better protection against third-parties who may try to get their hands on information you'd rather keep to yourself. If you want to get a more detailed understanding of what exactly VPN does and how it does it, you can visit this link, where you will find relevant information.
Setting up, pricing, and interface of Mozilla VPN
At the moment of writing, the only available payment method for Mozilla VPN is through debit/credit card – there are no BitCoin or PayPal payment variants, though this might change with time. There's also only one pricing plan – $4.99 a month, billed each month. This plan provides cover for up to 5 devices but the odd thing here is that it can only be used on specific devices that have been registered and not on any device that you have lying around. Of course, you can always change the devices that you've registered to use with the VPN but, in our opinion, this is a needless complication of the process.
As far as other payment plans are concerned, there aren't any. There are currently no six-month, one-year, or two-year plans that give you discounts on the effective monthly price but, since the base price of $4.99 is quite affordable, we'd say that the lack of options is not an issue. Again, we suppose that sooner, rather than later, new pricing options would be provided, possibly when the service becomes available in more countries.
The installation of the Windows client is as simple and as straightforward as it could be and the mobile apps can be easily found and downloaded from the respective virtual store. The desktop client and mobile apps have very similar interfaces with very few differences dictated by the difference in platforms. Overall, the Mozilla VPN interface is simple and clean, there's no map or any advanced buttons and functions. There isn't even a search box, any type of locations filtering, or a "Favorites" option to allow you to find specific locations quicker, which is a bit of a bummer and we hope to see such interface features added with future updates. Again, for newer users, this simplicity will probably be a good thing, but we prefer there to be a bit more customization freedom in the interface even if the VPN service is primarily targeted towards less experienced customers.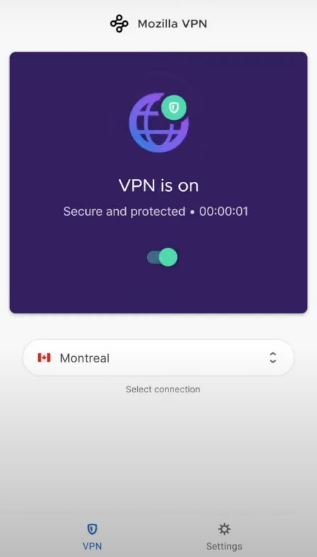 Privacy and Security
Unsurprisingly, those two characteristics are the highlights of Mozilla's VPN offering – as we said, the company, in general, is famous for its transparency and trustworthiness. To add to that, Mozilla VPN uses servers from the network MullVad VPN which is another highly-reliable and trusted VPN provider.
According to Mozilla, no personally-identifiable data would be logged by the VPN. On the official site of the VPN, Mozilla assures you that no information about IP, used bandwidth, visited sites, DNS requests, or session times will be tracked or recorded. According to Mozilla, the only data collected by the VPN is that, which is required for keeping the service "healthy and operational". This includes information about the current version of the VPN client/app that you are using, your hardware configuration, and the type and current version of your OS. It's all pretty standard for a privacy-focused VPN service but, even when talking about Mozilla, the question "Can any of this be confirmed?" needs to be asked. In this case, the answer would be a soft "no", at least for the time being. Mozilla VPN is yet to be audited by an independent third-party but this is not surprising considering the recent official release of the service. That being said, there are reports that this will soon change, as it seems that there are already plans for such an audit in the near future. We believe that the results, as far as the VPN's privacy is concerned, will confirm the claims made by the service's creators.
Network and Performance
Seeing as how Mozilla VPN is still very new and needs time to better establish its network, do not expect a huge number of servers or server locations. There are only around 280 servers that Mozilla VPN customers can use. The number of available locations is actually relatively good considering the small number of servers – there are 41 possible locations with 9 of them located in different US states and the rest are distributed across 30 other countries, most of which are in Europe but there are also some in Asia (Japan, Hong Kong, Singapore), in South America (Brazil), and there are servers in Australia and New Zealand too.
Despite the smaller number of available servers, the performance of Mozilla VPN is satisfying – the connection speed to a server located in the same country and when a 75Mbps Internet is used is around 60Mbps, which is a bit lower than the speeds of competing VPNs but is still a good enough value. A surprising aspect of this VPN is that its connection speed is relatively good even when a more distant server is used. For example, when a user from Germany connects to a server in the USA, the speed could still go up to around 60Mbps. With most other VPNs, the connection speeds drop very significantly when such faraway servers are used. Overall, although Mozilla sells its VPN more as a trustworthy, secure, and privacy-focused one rather than as a very high-speed one, so far, performance has been excellent and we can definitely recommend this VPN for people who want stable and fast connections over VPN even when more distant servers located in other countries are used.



An added bonus with Mozilla VPN's performance is that it connects to its network very quickly – it takes no more than a second or two to activate the VPN connection, whereas with some competing brands it could sometimes take up to 20 seconds.
Features
Unfortunately, if you are looking for a feature-filled VPN service that offers all the most advanced tools and functions, Mozilla VPN has little to offer in that regard. At the moment of writing, the array of bonus features that come with this VPN is quite limited. Still, the basics are there, so let's have a look at them.
Kill-switch – the purpose of the kill-switch feature in a VPN is to temporarily shut down your connection to the Internet in case the VPN goes down for some reason why you are using it. The idea is that, as soon as your online traffic stops being protected by the VPN, the connection will cease altogether and your browsing activities won't be revealed to any third-parties. In the case of Mozilla VPN, the kill-switch works as expected, shutting down your connection to the Internet if the VPN stops working. However, there's no way to disable this feature so some users may feel inconvenienced by that fact. On the plus side, the Windows version for the VPN is smartly designed to have two separate services – one for the client and one for managing the actual connection. This means that even if the client experiences an error and crashes, the VPN would continue working in the background, providing protection for your traffic, and when the client gets started back up again, it will carry on from where it left off, recognizing the active connection.
Split-tunneling – this is a useful function similar to an app-specific kill-switch that gives you the option to make some of your programs/apps not use the VPN and instead use regular connection for better connection speed when protection for your traffic isn't required.
P2P – many people are interested in using a VPN service for P2P connection and so, for them, this is one of the most important aspects of a VPN. In the case of Mozilla VPN, P2P connection is supported so if that's what interests you, Mozilla's got you covered.
Content Unblocking – another reason many people turn to VPN is geo-restricted sites and services that they want to be able to access and use. In this, Mozilla VPN is more of a mixed bag – while it does unblock US YouTube and BBC iPlayer, it fails with Amazon Prime, Disney +, and, yes, Netflix too. In other words, if you are looking for a VPN service with potent unblocking abilities, you may need to look elsewhere.

Final Notes
As a whole, Mozilla VPN is still in its infancy as a standalone product and it will take some time before it becomes a more solid and full-fledged VPN option. Still, its simplicity, focus on privacy and security, its reliable connection speed, and its inexpensive pricing make it a great option for users who aren't interested in having a highly-advanced VPN and simply want to add a much needed extra layer of privacy to their online traffic as well as access some geo-restricted services and sites (although this last one may not always work with Mozilla VPN). We would certainly recommend Mozilla VPN if you've never used a VPN service before and you are looking for an introductory option. If, however, you already have some experience with this type of service and would prefer a more polished and well-rounded product, we suggest you take a look at our other VPN reviews, where you can find some quite potent and feature-filled VPN options.