7-day Free Trial w/Credit card, no charge upfront or if you cancel up to 2 days before expiration; Subscription price varies per region w/ auto renewal unless you timely cancel; notification before you are billed; 30-day money-back guarantee; Read full terms and more information about free remover.
*Source of claim SH can remove it.
Msedge.exe
Msedge.exe is the process for the Microsoft Edge browser, and as such, it is not something harmful to the system. However, Trojan Horses and other dangerous malware programs could sometimes mimic msedge.exe (for example an executable Msedge.exe.exe) when they attack a computer in order to avoid detection.
If you've noticed this process in your Task Manager, but there aren't any unusual symptoms on your computer, then there's probably no cause for concern. Even if the msedge.exe process is using up large portions of your computer's CPU and memory, this doesn't mean that the process is malicious because it is normal for a browser to require a lot of resources. This is especially true if you have many browser tabs opened at the same time. However, if Microsoft Edge isn't currently open on your computer or if you are on a Windows 7 or Windows 8 PC (Windows 7 and 8 don't have Microsoft Edge), and yet the msedge.exe process can still be seen in the Task Manager, then you may want to investigate further the reason behind this. As we said, it is not uncommon for malicious programs such as Trojans, Spyware, and Rootkits to try to mimic legitimate processes such as msedge.exe in order to remain unnoticed on the computer for extended periods of time.
Msedge.exe.exe
Msedge.exe is the executable file for the Microsoft Edge browser, and it's normally located in C:\Program Files (x86)\Microsoft\Edge\Application\. If you notice a Msedge.exe.exe file on your computer that's in a different location, it's possible it is malware in disguise.
If you are worried that there may be a Trojan Horse or some other form of malware on your computer that is trying to disguise itself as Microsoft Edge, it would be a good idea to check if there are any Msedge files that are placed in unusual locations. To do this, go to your C: drive, type msedge.exe in the search bar (top-right), and perform the search. When all files with that name are found, see if any of them are stored in locations different from C:\Program Files (x86)\Microsoft\Edge\Application\.
If you do find that there are one or more msedge.exe files in a location that's not C:\Program Files (x86)\Microsoft\Edge\Application\, it is advisable to try to learn more about the suspicious Msedge.exe.exe file in order to determine whether it's truly some sort of malware, in which case you'd need to take the necessary measures to delete that file.
Another indication that a msedge.exe.exe file may not be a legitimate executable of the Microsoft Edge browser is if it has an unusual size. Typically, the size of the actual Microsoft Edge executable should be 2,964,368 bytes or another value close to this. If there's a file with the msedge.exe name on your computer that has a vastly different size, it's most likely an imposter that requires further investigation.
The msedge.exe virus
The msedge.exe virus is a plural name for any sort of harmful program that mimics the file and process of the Microsoft Edge browser to avoid raising suspicion. Typical symptoms of the msedge.exe virus are unusual file location and process activity when the browser isn't open.
The actual malware that may be under the guise of Microsoft Edge would most likely be some form of a Trojan Horse or a Spyware virus. If it is a Trojan, the goal of the threat cannot be determined, as Trojans are infamous for their versatile abilities and many potential harmful uses. They can corrupt the system and the user data, perform online banking thefts, use the PC's resources for cryptocurrency mining, assist other viruses to enter the targeted system, and more. Spyware viruses, on the other hand, are primarily used for extracting sensitive details from the attacked machine and sending them to their creators, who, in turn, can use the acquired information to drain the victim's banking accounts or to blackmail them.
If you think that there may be a malicious program on your PC that's mimicking the msedge.exe file and process, then you should most definitely do everything within your power to find out if that's indeed the case and to clean your computer from any malware that may currently be residing in it.
msedge.hollow.7z
msedge.hollow.7z is a potentially rogue file known for mimicking a legitimate file related to the Microsoft Edge browser. If you see msedge.hollow.7z on your computer or a process in the Task Manager with the same name it's advisable to delete it.
Though the specific goal and purpose of this file are not known at the moment, it is possible that its presence within your system could lead to security vulnerabilities and make your computer open to attacks from Trojan Horses and other malware. If there's a process in the Task Manager running under the same name, you must trace the process back to its source and delete any related data. It's also advised to check your Task Scheduler, Startup Items list, Services, and Registry for any entries related to msedge.hollow.7z in order to delete them.
Summary
*Source of claim SH can remove it.
How to remove msedge.exe virus
To remove the msedge.exe malware, you can complete the manual steps we'll show you below and/or use an anti-malware tool for automatic removal:
Uninstall anything that may be linked to the malware from the Uninstall a Program/Programs and Features list.
Check the Task Manager for fake msedge.exe processes and quit the ones that aren't from the browser.
Delete the rogue msedge.exe file/files.
Clean the system Registry, Task Scheduler, Startup items list, and Hosts file.
Note that the above-mentioned steps are for removing malware disguised as the legitimate msedge.exe file/process. The instructions aren't designed to show you how to uninstall the Microsoft Edge browser.
We strongly recommend that you familiarize yourself with the more detailed instructions for each step that you will find below before you proceed with the removal of the msedge.exe malware.
An in-depth guide on how to remove the msedge.exe virus
Step 1
Quit your connection to the Internet – this will ensure that the malware program doesn't receive new instructions and resources from its servers.
Step 2
WARNING! READ CAREFULLY BEFORE PROCEEDING!
Type Programs and Features in the search box below the Start Menu and open the first result. Then look for suspicious and potentially untrusted programs in the newly-opened list, and delete anything that you think may have caused the infection. To delete a program from that list, right-click it, click the Uninstall option, and follow the removal prompts. Be sure to use the uninstallation settings that wouldn't allow anything from the undesired program to be left in your system.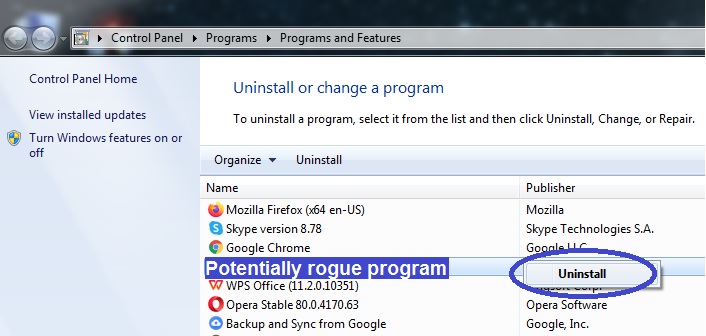 Step 3
Close Microsoft Edge (if it's currently open), press Ctrl + Shift + Esc at the same time to start the Task Manager, click on Processes, and see if there are any msedge.exe processes that are still running. If you see any processes with this or a similar name, right-click on them and select the Open File Location Option. Next, quit the process (select it and click on End Process). Now, if the location folder that opened isn't the typical msedge.exe folder (C:\Program Files (x86)\Microsoft\Edge\Application\), delete that folder if possible. If it won't get removed, then delete as many of the files stored in it as you can. Once you are done with the rest of the guide, come back to that folder and try to delete it once more.
Check for additional questionable processes – ones with strange names and very high consumption of system resources. A good way to determine if a given questionable process is harmful is to scan what's inside its file location, so we recommend doing that. The powerful malware-detection tool we've included below can help you scan the files of suspicious processes to learn if they are linked to any sort of malware.
Each file will be scanned with up to 64 antivirus programs to ensure maximum accuracy
This scanner is free and will always remain free for our website's users.
This file is not matched with any known malware in the database. You can either do a full real-time scan of the file or skip it to upload a new file. Doing a full scan with 64 antivirus programs can take up to 3-4 minutes per file.
Drag and Drop File Here To Scan

Each file will be scanned with up to 64 antivirus programs to ensure maximum accuracy
This scanner is based on VirusTotal's API. By submitting data to it, you agree to their
Terms of Service
and
Privacy Policy
, and to the sharing of your sample submission with the security community. Please do not submit files with personal information if you do not want them to be shared.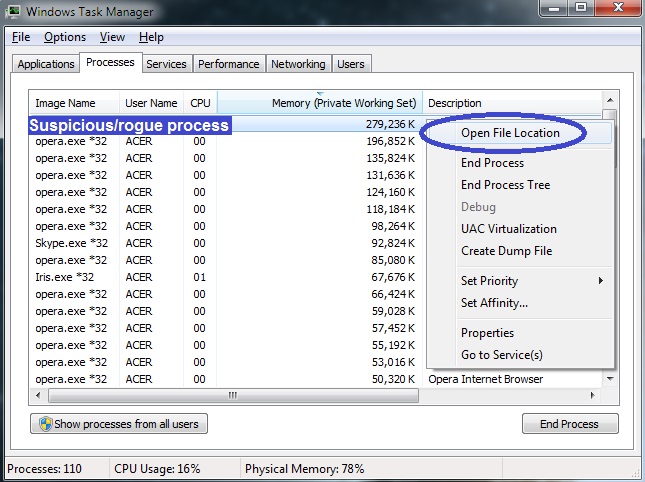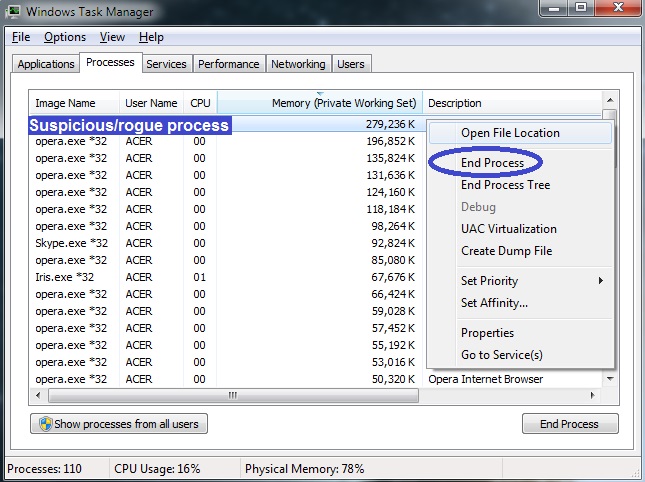 Step 4
Restart your PC and boot it into Safe Mode – this will block any attempts that the malware might make to re-launch its rogue processes.
Step 5
Now you must find all instances of fake/malicious msedge.exe files and erase them. To do that, first search for Folder Options in the Start Menu, open the Folder Options settings and click View. There, if the Show hidden files, folders, and drives option isn't enabled, enable it now and click OK.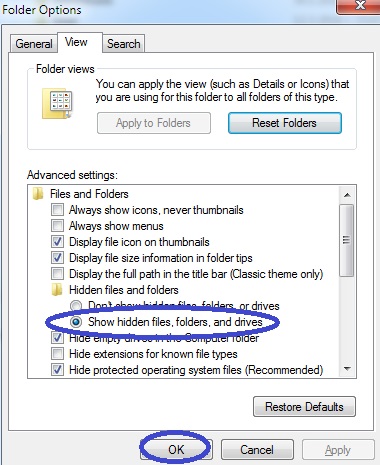 Next, open your C: drive, type msedge.exe in the search bar in the top-right, and once all instances of msedge.exe are found, delete the ones that are not located in C:\Program Files (x86)\Microsoft\Edge\Application\.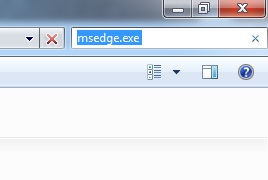 After this, go to the C:\Program Files (x86)\Microsoft\Edge\Application\ folder and see if there are any files with a name close to but not the same as msedge.exe, and delete any such files that you may find.
Here is the point to remind you about the typical size of the legitimate msedge.exe file, which is 2,964,368 bytes or close to that. If you come across any msedge.exe files that have vastly different sizes, be sure to delete them regardless of their location.
Step 6
In this final step, you will need to clean the settings of your system. To do this, use the Start Menu to find each of the items shown below, open those items, and complete the instructions we've provided for them.
Msconfig – In the System Configuration window that opens on your screen, you must click the Startup tab, and then, if you are on Windows 10, also click Open Task Manager. When you see a list of startup items, search through them for anything unusual or unfamiliar and uncheck it. If you see msedge.exe there, uncheck that too, and then click OK.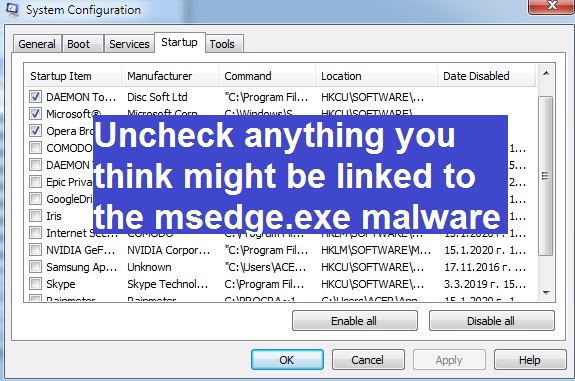 notepad %windir%/system32/Drivers/etc/hosts – Check the end of the text in the file that opens for IP addresses and if you see any (right under Localhost), be sure to send them to us in the comments and then wait for our reply – we will tell you if those IPs you've sent us are problematic and if you need to get rid of them.


Task Scheduler – Open the Task Scheduler Library folder that you will see in the top left, and then look for anything untrusted or unfamiliar in the list of scheduled tasks. If you think that a certain task must be deleted, right-click it and select Delete.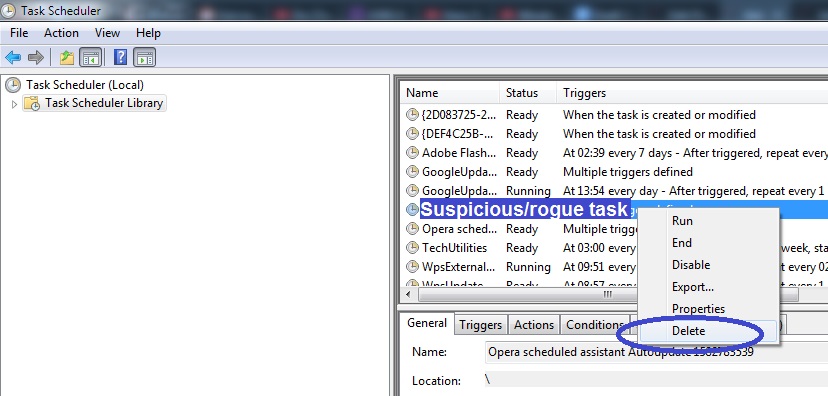 Regedit.exe – Click on Yes when your Admin permission is required to open the Registry Editor and then go to Edit > Find. Type the name of the program you may have tried to delete in Step 1 in the search field and click Find Next. If the search finds anything, delete the found item and search for more relevant items to delete them too.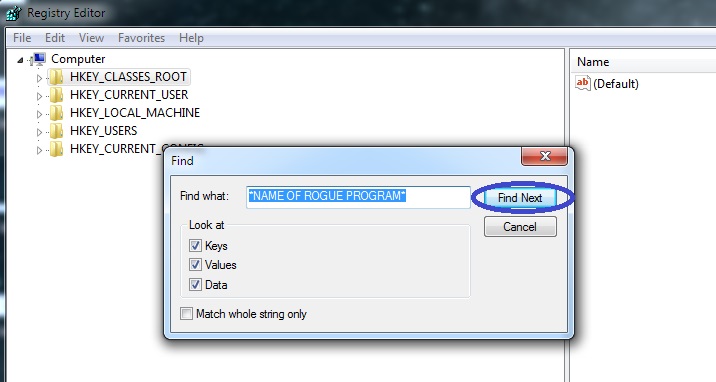 Once you've made sure that there are no more items for that search phrase, go to the next Registry locations in the left panel of the Editor and check each of them for strangely-named sub-folders/keys. By strangely named, we mean anything that has a name composed of random characters, such as this "t490r309t09ur209u3t0923ei09t39023ei390". If you find anything that has a similar name, let us know in the comments and wait for our reply.
HKEY_CURRENT_USER/Software
HKEY_CURRENT_USER/Software/Microsoft/Windows/CurrentVersion/Run
HKEY_CURRENT_USER/Software/Microsoft/Internet Explorer/Main
If you are still struggling with the removal of the msedge.exe virus
If you still think that your PC is infected by a malicious program that disguises itself as msedge.exe, then the course of action that we'd recommend is to use a reliable and tested anti-malware program to clean the computer. You can find such a program on this page, and with its help, you would be able to quickly and securely eliminate any malware that may still be on your computer. Furthermore, the tool will protect your computer from potential future virus attacks so that you won't have to deal with threats like the msedge.exe virus in the future.
What is msedge.exe?

Msedge.exe is the name of the Microsoft Edge process and executable file, both of which are safe and harmless. However, some Trojan Horse viruses and Spyware threats are known to disguise their processes as msedge.exe, thus remaining unnoticed for long periods of time.
If you have noticed any strange behavior on your computer that you can link to the msedge.exe process or if there is a file with this name that isn't located in C:\Program Files (x86)\Microsoft\Edge\Application\, we recommend performing every step from the guide that we will provide you with down below in order to get rid of any potentially unwanted and/or dangerous programs that may be mimicking the actual msedge.exe file/process.
Msedge.exe application error – what is it?

The msedge.exe application error is a Microsoft Edge error that's usually caused by installation problems with Windows 10 or by a corrupted Registry. In some cases, it's also possible that the msedge.exe error could be due to an ongoing malware infection.
If you are frequently encountering this error, our suggestion is to try to fix it by repairing and resetting the Edge browser. If this doesn't work, then you can use the removal guide shown below in order to clean your computer from any malware potentially hidden in the system that may be the cause of this error.
To reset and repair Edge, open your Start Menu, go to Settings > Apps and Features > Microsoft Edge > Advanced Options and select the Reset and Repair option. After the process completes, restart the computer.
Msedge.exe is trying to access your login?

Msedge.exe is trying to access your login is another typical Microsoft Edge error that is usually caused by a bug in the browser. Another possible cause for the Msedge.exe is trying to access your login error is malware hiding in the system.
The easiest and most effective way of troubleshooting this error is the same as the fix for the Msedge.exe application error – simply reset and repair Microsoft Edge and see if this fixes the issue. If performing this command doesn't yield any results, and you are still seeing this error show in the Edge browser, we recommend completing the guide we will show you next to ensure that there isn't any malware program on your PC that may be the cause of the problem.