Ptrz File
The Ptrz file is a dangerous threat from the ransomware family, which requires a swift response. One of the most obvious signs of being infected with this malware is the sudden encryption of your files, which results in unfamiliar file extensions. Once the ransomware is done, it typically leaves a ransom note on your desktop, demanding payment for decryption. If you find that your files or applications have become inaccessible, displaying error messages about corruption or loss of access, it's a significant indication of the Ptrz file attack. Additionally, you can detect a slowdown in your computer's performance or unusual spikes in CPU usage. Recognizing these signs promptly is crucial for minimizing the impact of the ransomware attack.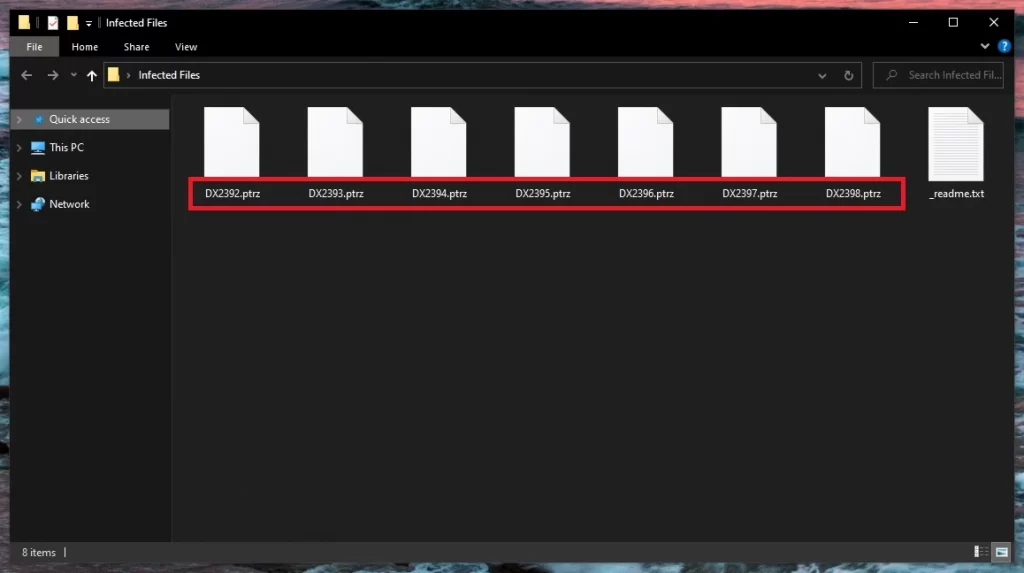 How to decrypt Ptrz ransomware files?

To decrypt Ptrz ransomware files is not easy, but there are methods available in specific cases. Cybersecurity experts work day and night to find weaknesses or vulnerabilities in the ransomware's encryption algorithms in order to develop decryption tools that can unlock files encrypted by certain ransomware variants. However, it's important to note that not all ransomware strains have known decryption methods, and the effectiveness of the developed tools can vary from case to case. Therefore, the best approach is prevention through regular backups, robust cybersecurity practices, and staying informed about the latest ransomware threats.

How to remove Ptrz ransomware virus and restore the files?

If you want to remove the Ptrz ransomware from your personal computer and restore the encrypted files you should first isolate the infected computer from the network to prevent further damage. It's essential not to pay the ransom, as this action only supports the criminal and doesn't guarantee file recovery. Consult with cybersecurity experts who may possess decryption tools for your specific ransomware strain or seek self-help resources online in order to find solutions for decrypting your files. For ransomware removal, rely on reputable antivirus and anti-malware software to scan and eliminate the malware.
Ptrz Virus
Personal computers are vulnerable to the Ptrz virus through several common entry points, including phishing emails. These deceptive emails may contain malicious links or attachments that, when clicked, can initiate the installation of the Ptrz virus without any indication. Additionally, downloading software or files from untrusted websites and peer-to-peer networks is another risky practice that can lead to ransomware infections. If you are using outdated operating systems and software with unpatched vulnerabilities, this also leaves your computer exposed to attack. Furthermore, weak passwords or those easily guessed provide cybercriminals with an opportunity to gain unauthorized access, potentially allowing ransomware to infiltrate your system.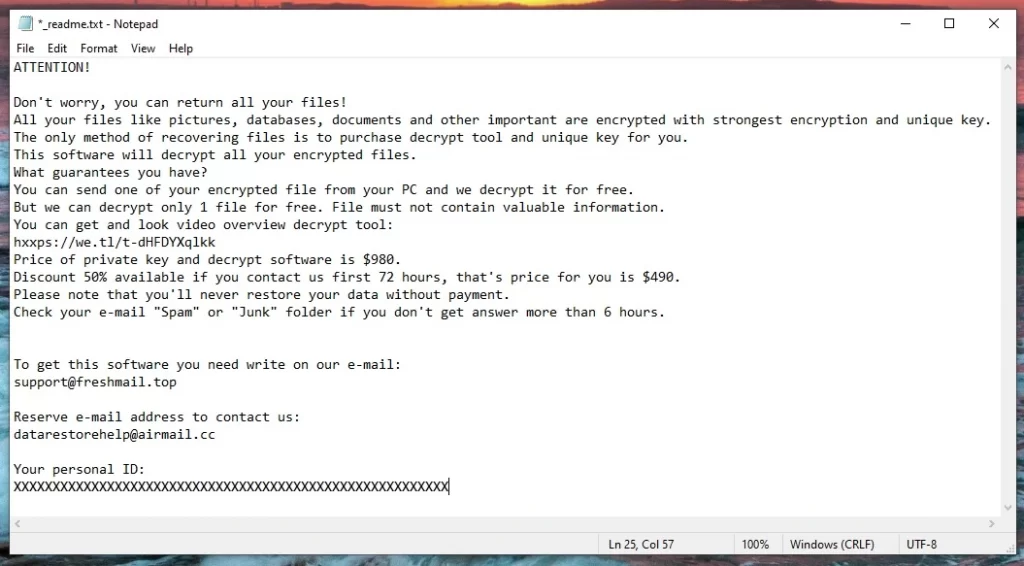 Ptrz
In the event that your personal files are encrypted by Ptrz, Ptqw or Pthh it's essential to resist the temptation to pay the ransom, as there is no guarantee that you will get the decryption key that you pay for. Promptly reporting the incident to law enforcement agencies, however, may assist in tracing the cybercriminals involved. Another thing you could do is seek expert assistance from cybersecurity professionals or self-help resources and guides specialized in ransomware recovery. Having clean backup copies of your data on a safe store is the best way to recover the encrypted files and minimize the data loss. But before you connect your backup sources, you need to install reliable antivirus software, and scan the computer carefully to remove Ptrz and any leftover traces.
.Ptrz
If you are thinking of paying the ransom to recover your .Ptrz files, you should know that this is generally not advisable due to various risks. Firstly, there's no guarantee that the cybercriminals will provide a functional decryption key, leaving you empty-handed after paying. Secondly, paying the ransom directly funds criminal activities, encouraging attackers to continue their nefarious operations and target more victims. Additionally, paying the ransom may not remove you from the attacker's list; they could see you as a repeat target in future .Ptrz attacks. Instead of succumbing to the demand, consider focusing on proactive measures like maintaining secure backups, strengthening your cybersecurity practices, and educating yourself on ransomware prevention to safeguard your data.
Ptrz Extension
To prevent ransomware infections, such as the Ptrz extension on your home computer, it's crucial to adopt a set of best practices. This is not new, but you need to keep your operating system and software updated regularly, as updates often include vital security patches. Also, it is important to maintain frequent backups of your important files to an offline or external storage medium, as this ensures that you can recover your data in case of an attack. Of course, you should also exercise caution when dealing with email attachments, random pop-ups, ads and links. And lastly, install and regularly update reliable antivirus and anti-malware software to provide an additional layer of defense against Ptrz and other threats.
Ptrz Ransomware
The Ptrz ransomware attack on your personal computer is undoubtedly unpleasant, but it can evolve into much more unpleasant consequences such as permanent data loss and other cybercrimes. In most cases, the Ptrz ransomware serves as an entry point, enabling cybercriminals to gain access to your personal data. Once inside your system, they can steal sensitive information, including your financial details and personal documents, which can be exploited for identity theft and other fraudulent activities. Paying a ransom to the cybercriminals can exacerbate the situation by perpetuating their criminal endeavors. There's no guarantee that they'll provide a functional decryption key, and you might find yourself on a list of individuals willing to pay, increasing the likelihood of future attacks.
What is Ptrz File?
An Ptrz file is a file that has been locked or scrambled by malicious software known as the Ptrz ransomware. When this ransomware infects your computer, it encrypts your files using complex algorithms, making them inaccessible without a decryption key. These files often have unfamiliar extensions or filenames and cannot be opened or used until you pay a ransom to the cybercriminals who hold the decryption key. The Ptrz files are indeed dangerous as they can result in data loss, disrupt your daily activities, and even jeopardize personal and sensitive information. Paying the ransom is not advisable, as it doesn't guarantee file recovery and further incentivizes criminal activities.
SUMMARY:
Ptrz Ransomware Removal
---

Ransomware threats like Ptrz may infect various system locations and inject malicious code in them without any visible sign. That's why if you want to completely remove Ptrz, you will need to manually go to several system locations where dangerous entries might be found and restart the system as necessary.
For your convenience, we recommend that you bookmark the page with these removal instructions so you can easily get back to them or simply open the guide on another device and follow the instructions from there.
After you ensure that you can refer back to this page, it is necessary that you reboot the system in Safe Mode. This will restrict the number of running processes and apps only to the most essential ones and will eventually make it faster for you to spot the ransomware-related activity and the dangerous files and processes associated to it.

WARNING! READ CAREFULLY BEFORE PROCEEDING!
As we said in the beginning, there could be one or more malicious processes that may be operating in the background of your computer in order to support the ransomware threat. That's why, your next task after you restart the computer in Safe Mode, is to open the Task Manager (in the Start menu search field, type Task Manager and press Enter) and click the Processes Tab from the top. In this tab, you can easily see all the processes that are currently running on your system.
Keep in mind that Ptrz may use a random name or the name of a real process in order to deceive you. So, if you don't know which processes are harmful, you'll need to search for additional red flags (such excessive CPU and Memory use), or you can right-click on the suspicious process, choose Open File Location, and then scan the files located there with the powerful free virus scanner that you will find below: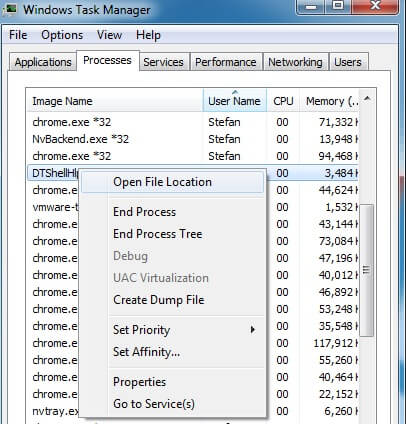 Each file will be scanned with up to 64 antivirus programs to ensure maximum accuracy
This scanner is free and will always remain free for our website's users.
This file is not matched with any known malware in the database. You can either do a full real-time scan of the file or skip it to upload a new file. Doing a full scan with 64 antivirus programs can take up to 3-4 minutes per file.
Drag and Drop File Here To Scan

Each file will be scanned with up to 64 antivirus programs to ensure maximum accuracy
This scanner is based on VirusTotal's API. By submitting data to it, you agree to their
Terms of Service
and
Privacy Policy
, and to the sharing of your sample submission with the security community. Please do not submit files with personal information if you do not want them to be shared.
---
Wait for the scan to finish, and if any harmful files are detected, don't hesitate to immediately end the process related to them and remove the dangerous files from their File Location folder.
If you're concerned that there are more potentially harmful processes that are running in the Task Manager, you may use the scanner provided here to scan all of them.

Check your hosts file and your list of startup items for entries linked to Ptrz in the following step.
First, click on the Start menu button in the bottom left corner of the screen, and then type the following line in the search box:
notepad %windir%/system32/Drivers/etc/hosts
Then, hit Enter, and your computer's Hosts file will open.
You should find Localhost in the file by scrolling down and look at the IP addresses listed under it. Let us know if you see any IPs that look out of place, such as the ones shown in the sample picture below, by commenting in the end of this guide.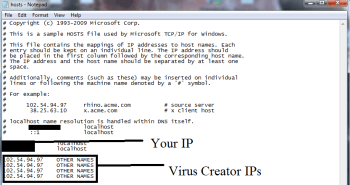 Next, search for "msconfig" by typing it into the Start Menu search field and pressing Enter: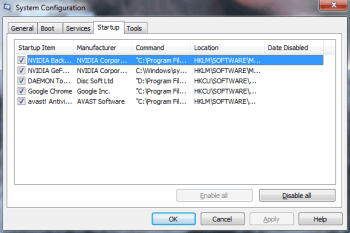 Select the Startup tab to see the list of apps that are set to start when your computer starts. It's a good idea to check online any startup items that you think don't belong to any of your usual applications, or if they have an "Unknown" Manufacturer or a strange name, and uncheck their checkbox if you find out they are harmful.

Viruses and other malware often add their dangerous files in the registry, which is a critical system location. Therefore, in order to fully eliminate Ptrz from your computer, the registry must be searched for ransomware-related items that need to be deleted.
Attention! Inexperienced users should avoid making registry modifications or removing data stored there. We suggest that you use the professional removal program listed on this page to prevent any incorrect deletions and alterations that may damage the OS and the applications installed on it.
If you still prefer to go the manual way, here is what you need to do:
Enter Regedit in the Start menu search field and press Enter from the keyboard.
Next, use the CTRL and F key combination to open a Find window inside the Registry Editor. Enter the ransomware's name in the search field and press the Find Next button. Carefully delete the entries that you are sure represent a danger. Please, do not remove files and folders that are not connected to the ransomware.
Next, exit the Registry Editor and type each of the following lines in the Start menu search field one by one, and then press Enter to open it:
%AppData%
%LocalAppData%
%ProgramData%
%WinDir%
%Temp%
Delete any files or folders that you suspect are connected to Ptrz or were added around the time of the infection. At the end, select everything in Temp and then delete it.
Please write to us in the comments if you have any issues, and we'll try our best to assist you.

How to Decrypt .Ptrz files
To decrypt Ptrz files, we recommend using a free decryptor program that can reverse-engineer the decryption code, so that you won't have to pay a ransom. To decrypt Ptrz files using the decryptor tool, you will need pairs of encrypted and original files.
Before you go any further, however, we need to remind you to make sure that the Ransomware threat is truly gone from your system, or else all your efforts towards recovering your files through this method could be in vain because the virus may encrypt them again and this time the decryptor tool may not be able to help you.
Once you've cleaned your computer and are certain that it is malware-free, you will need to find at least one (but preferably more than one) pair of files, in which one of the files is encrypted and the other is an original and accessible version of that same file. Try searching for the original versions in other devices, on external hard drives, flash memory sticks, cloud storages, and even in your email accounts. The only requirement is for the files to be larger than 150 KB. Once you've found such a pair or (better yet) pairs of files, it is time to begin:
Visit this webpage, select the first of the Choose File buttons, navigate to an encrypted file for which you have access to its original and unencrypted version, select it, and click Open.
Next, using the second Choose File button, find the original/accessible file from that same pair, select it, and click Open.

Now click on Submit to begin searching for a decryption code and wait patiently. If the tool fails to find the code, use another pair of files and try again.
If a key is found for your files, open this link and from it download the decryptor tool for Ptrz.
Right-click on the icon of the downloaded tool and select the Run as Administrator button from the context menu.

Click Yes when you are asked for your Admin permission to run the program.
Next, Agree to the terms of use to be allowed to use the tool and click OK in the next window.
In the decryptor window, select a disk or navigate to a specific folder with encrypted files stored in it and click on the Decrypt button to start the process in unlocking the encrypted files. In case any of the files get skipped during the decryption process, that would indicate that the code required to unlock them is different. In such cases, you can try again with another pair of files, but it's also possible that the needed code is simply unknown to the decryptor program.