Did you suddenly start seeing Razor Web Ads pop ups? We can help you remove Razor Web Ads immediately.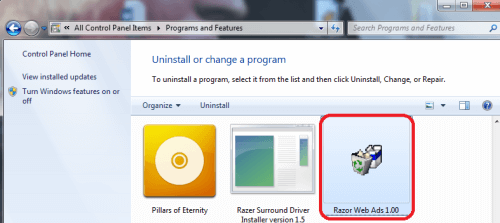 WARNING! READERS, BEGIN HERE, PLEASE! Razor Web Ads is a malware application of the adware class – a class that is well-known for employing trickery in the hopes that you will install more of its kind. For obvious reasons you do not want that, so here we will list the top ways it can attempt to manipulate you. The most important thing to remember is that in every instance you are the one who has to accept something – an offer, an update and so on. If you just ignore everything you see you should be fine for the time being. The most prominent tricks are as follows:
Updates for programs like Java or Flash Player. These are disguised like the real deal, and not necessarily only on web pages. They can appear on your windows tray as well.
Another variety of the preceding point is an overlayed pop-up on top of videos. It can prompts you to update flash player of whatever the video runs on. It's completely fake, but on some pages it's plain impossible to get rid of, so you may have to remove Razor Web Ads before watching anything. I know it's annoying but it is what it is.
Banners displayed around header and footer sections that supposedly inform you of missing plugins.
If an anti-virus program suddenly appears out of nowhere and decides it wants to scan, trust me – it's part of the virus.
Newer adware have managed to gain the ability to read the list of programs you have installed. They have been given some thumbnails to try and imitate all popular programs so you may start running in pop-ups that claim to be such a program. The list is too long, but as always – just ignore everything. Windows updates can be imitated too.
Aside from all of these things there are several known side effects stemming from all adware, not only Razor Web Ads. These are in no particular order:
Freezes and crashes; the infamous blue screen; overall slowing down of the system. The big problem here is that the ads are not a part of the pages' design, so they are generated and simulated by your PC, which takes a big hit in terms of loading time.
You may be redirected whenever you click on links of any kind, not just the ads. If you happen to land on a website you shouldn't land on, exit it immediately, or another virus can potentially slither its way in your PC.
Razor Web Ads is on of the known malware to collect cookies and browser history, accounts and passwords. This information is sent to whoever created it about a week after the infection starts, so be sure to move quickly, remove Razor Web Ads, and change all your passwords after. Your credit cards may be exposed if you own any online banking methods.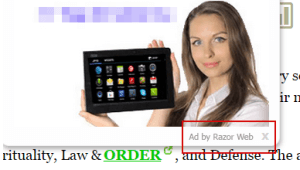 How did I get infected by Razor Web Ads?
We know of at least 3 different ways this could have occurred., and all of them involve the user somehow. Contrary to popular belief, a trojan or a hacker can not bring this virus to your PC. On the other hand, spam email definitely can – this is the first path. Most users become confused when they see that a seemingly legitimate company or institution contacts them "by mistake" and sends attachments with documents. Except these aren't documents at all, but .exe files slated to install adware. If you are not careful here, something similar to what you are fighting will be installed, and you'll have to remove it as well.
Another way to do things is through so-called "shell" programs. These are completely fake programs that pose as downloaders that will supposedly speed the process so you can connect and get something you are searching for. They can only work in the cases when you don't expect them. Put plainly they are named after popular search terms (e.g. Harry Potter) and show up in search results. Once you land on a page, they say something in the vein of "click here to download the tool needed to get Harry Potter" – and if you interact with said button you end up with a virus.
The third and most lucrative way is via real, often useful programs that serve as promotional platforms for adware. The people who create free software need to somehow monetize to feed themselves – unfortunately the way they do it is by getting paid to include adware in their bundles. The only good thing here is that they are quite easy to spot if you know where to look. This can help quite a lot in avoiding a situation where you have to, yet again, remove Razor Web Ads or another adware. Somewhere along the installation steps of the free program you will encounter something like this: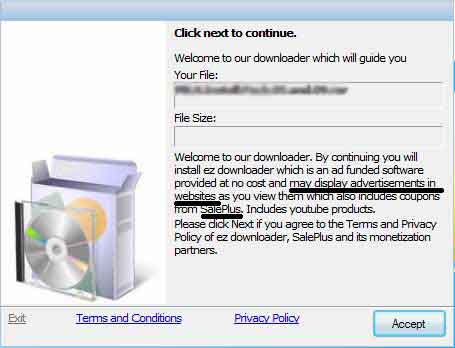 When that happens uncheck any marks if you can refuse the "extra content." If you can not exit the setup and search for another utility.
Remove Razor Web Ads
Search Marquis is a high-profile hijacker – you might want to see if you're not infected with it as well.
You can find the removal guide here.
Optimization
And that's it. Well done for removing Razor Web Ads. We've prepared a short and sweet optimization guide, specifically designed for users who just removed a virus. It is completely free, you do not need to download anything, and it's not very time consuming. If you are interested, you can check it out here.