(YAC) Yet Another Cleaner "Virus" is pretending to be an anti-malware solution with an unregistered (free) and registered (paid) functionality involving scanning, virus removal and PC optimization. In reality it is recognized as Potentially Unwanted Program (PUP) by all reputable anti-malware companies on the market for reasons detailed below. It is not a "virus" per se, although it exhibits some of the traits users commonly relate to one.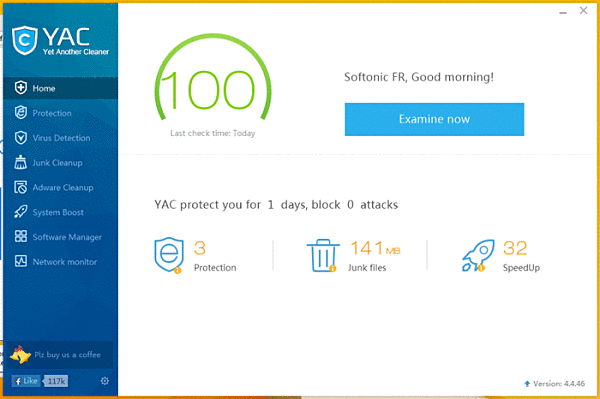 (YAC) Yet Another Cleaner "Virus" actually possesses a full array of nasty surprises
This PUP operates by using a mixture of underhanded tactics involving installing on the user's computer without their permission, starting HDD scans without authorization and showing fake results to scare the user into buying the registered version.
The first time you see (YAC) Yet Another Cleaner "Virus" it will have installed a free trial on your computer and it will automatically begin an unauthorized scan of your machine. Even if your computer is presently clear of any viruses or freshly out of full format the scan will immediately locate several threats that will need to be urgently removed. Of course that can only happen if you pay for the full version. As you can see (YAC) Yet Another Cleaner "Virus" doesn't really scan for viruses – it creates fake positives in order to make you pay.
Another nasty features of this PUP is its ability to hijack your browser. It can mess up your homepage and change it to a page associated with (YAC) Yet Another Cleaner "Virus". It can do the same to your default search engine – it will be replaced with search.yac.mx. Both of these changes can be undone, but they will revert back to default values set by (YAC) Yet Another Cleaner "Virus" whenever you restart your browser. In addition to these (YAC) Yet Another Cleaner "Virus" can also display unwanted Ads on pages you browse – much like an Adware program.
Methods of installation
(YAC) Yet Another Cleaner "Virus"is not unique – there are actually many other similar programs that try to scan money out of unsuspecting customers and are always a headache to get rid of. Use the information below to spot these in advanced and never install them on your computer – they are nothing but headache.
The most common tricks (YAC) Yet Another Cleaner "Virus" could have used to install on your computer involve infected executable files obtained from unsafe sources, misleading advertisements or program bundles. In order to avoid the first two types of infection patterns try to avoid obtaining executable files from potentially dangerous sources such as forum links, blogs, torrents and online storage sites. An anti-virus program to scan any such executable could be an extremely valuable asset as well. This advice also applies towards Ads attached to such suspicious sites – in fact these Ads are often nastier in their own right. Some storage sites can display multiple download buttons and only one of them is real and functional. The rest will download an Adware application much like (YAC) Yet Another Cleaner "Virus."
Program bundles are installers for programs that install additional applications when the default installation option is used. These are very popular with shareware and freeware programs and are basically haven for virus distribution. In order to minimize the risks you should always select the Advanced installation option and deny access to any shady programs you don't really need. Remember that you'll always get the main program regardless of how the text might try to mislead you.
SUMMARY:
Remove (YAC) Yet Another Cleaner Virus
You are dealing with a malware infection that can restore itself unless you remove its core files. We are sending you to another page with a removal guide that gets regularly updated. It covers in-depth instructions on how to:
1. Locate and scan malicious processes in your task manager.
2. Identify in your Control panel any programs installed with the malware, and how to remove them. Search Marquis is a high-profile hijacker that gets installed with a lot of malware.
3. How to clean up and reset your browser to its original settings without the malware returning.
You can find the removal guide here.
For mobile devices refer to these guides instead: Android, iPhone