Recently, AdGuard, a company that provides ad-blocking solutions, has reported that a big number of Google Chrome extensions have been detected to hijack the Google and Bing search engines and to inject ads into them. Initially, AdGuard was investigating some fake ad-blockers that, instead of doing their job of keeping ads away from users' browsers, were themselves used for advertising purposes. During this investigation, AdGuard happened upon a large cluster of different types of malicious Chrome extensions that were primarily used to put ads inside users' search results on Google and Bing. For the most part, the detected apps are simple and have the function of adding a custom background to Chrome's new-tab page. However, some of the other extensions are weather forecast browser widgets and fake ad-blocker add-ons.

According to AdGuard's report, all of the apps that make up the detected browser-hijacking cluster use the fly-analytics.com from where they load their malicious ad-injecting code.
Up until earlier today, all of the reported extensions were still available on the Chrome Web Store. Soon after the report and a tweet from AdGuard addressing the issue, some of the apps started to get removed from the Web Store.
Bad practices
In a blog post by AdGuard, where they describe the issue in more detail, the ad-blocking provider also addresses some other bad practices, commonly encountered on the Google Web Store. One example of such a practice is the appearance and re-appearance of low-quality imitator apps that try to look as close to the original as possible in order to capitalize on the original's popularity and get more downloads. Oftentimes, such imitator apps are filled with malicious code that leads to similar ad-generating and browser-hijacking problems. Unfortunately, the moderators of the Google Web Store don't seem to have taken any serious measures to prevent this from happening over and over again which, in turn, leads to lots of users mistakenly installing low-quality or outright malicious extensions on their Chrome browsers that could lead to a wide variety of unpleasant security and privacy issues.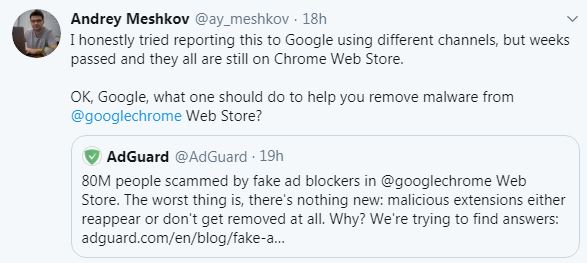 One thing you ought to remember if you think you may have one or more of the malicious extensions is that, once Google removes it from its Web Store, the problematic extension would get disabled on your browser and Chrome will flag it as malware in its extensions management menu. However, it will not get uninstalled automatically, so you will have to remove the bad extension on your own.
Here is a list of some of the malicious extensions detected by AdGuard:
season 6 Fortnite HD Wallpapers NewTab

3D Wallpaper HD Custom New Tab

Super Junior Wallpapers Eunhyuk

Bangtan Boys Wallpaper HD Custom New Tab

GTA 5 Grand Theft Auto

Christmas Tree Lights NewTab Emoji

CS GO Themes NewTab

Naruto Wallpaper HD Custom New Tab

Planet Earth Nature Space Art Wallpaper Tab

Beagle Wallpapers New Tab

Danganronpa Wallpapers

Ferrari Wallpaper HD Custom New Tab

Zombies Wallpaper HD Custom New Tab

Chicago Cubs Wallpapers Cubs World

Pink Wallpaper HD Custom New Tab

Nba Youngboy Wallpaper HD Custom New Tab

Star Wars Wallpaper HD Custom New Tab

Dragon Ball Z Wallpaper HD Custom New Tab

Roblox Wallpaper HD Custom New Tab

Motivational Quotes Wallpaper HD New Tab

Fortnite Omega Wallpaper HD Custom New Tab

Minecraft Wallpaper HD Custom New Tab

Pokemon Wallpaper HD Custom New Tab

Logan (Wolverine) Wallpaper HD Custom New Tab

Pokemon Go Wallpaper HD Custom New Tab