Panda Adaptive Defense 360 is an endpoint security solution designed to offer protection for the networks of small and medium businesses. Panda Adaptive Defense 360 keeps all devices in the network protected against malware and also offers extensive monitoring and management features.
If you are the owner of a small or medium business, you probably want to be able to provide reliable protection to all computers and other digital devices that are used in your business and that form your private business network. One option to do that is by separately installing antiviruses on each device, but this can take lots of time, cost you an unnecessarily big amount of money and it also won't give you the ability to closely monitor and control the security status of your endpoints (the devices that form your business network). This is why there is a special category of software known as endpoint security solutions that many security vendors offer. Here, we will review one such solution, called Panda Adaptive Defense 360, which is developed by the established antivirus company known as Panda Security.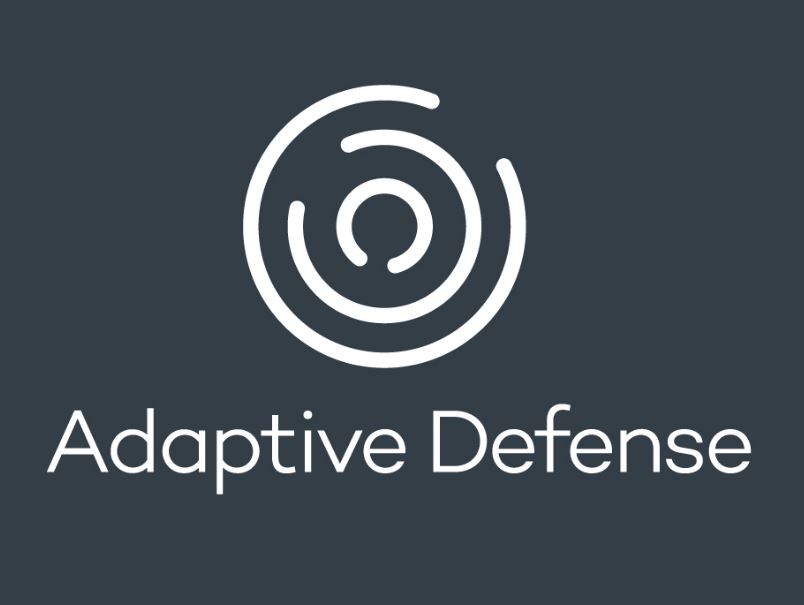 Panda Adaptive Defense 360 Overview
Panda Adaptive Defense 360 is the highest-tier product offered by Panda Security and it is designed to provide network endpoint protection and management features to its customers. Panda Adaptive Defense 360 will secure not only Windows and macOS workstations, but it also offers protection for Android devices and is one of the few endpoint security solutions that cover Linux machines. Like its competitors, this suite focuses on tries to do most of the security and management work for you, so that you don't waste any time on manually setting up the protection policies for your endpoints. Of course, you are still given the option to do that with a number of settings that will allow you to fine-tune the way each device is being protected. Overall, Panda Adaptive Defense 360 will greatly boost the security of your network and will give you the opportunity to remotely manage each endpoint device, but the same can be said about pretty much every other decent endpoint security software so it is important to take a closer look at the specifics of Panda Adaptive Defense 360 in order to see what distinguishes it from other similar products.
Interface and usability
Like the majority of endpoint protection packages, Panda Adaptive Defense 360 offers an easy-to-use cloud interface to its customers. This means that you can access the dashboard of the endpoint solution directly from your main browsing app on any of the devices you use. The need for such an interface is obvious, as business owners who care about the security of their network's endpoints must be able to quickly access the control hub of the endpoint security service if the need to deal with a particular issue on any of the devices arises.
The specific layout of the interface is quite intuitive and gives you just the right amount of information and options without overwhelming you right off the bat with the more advanced settings of the service, which should be appreciated by customers who are first-time users of an endpoint protection and management service.
On the Security dashboard, you will see a couple of helpful widgets that provide helpful and important information about the status of your network. The information presented in them is technically not in real-time but it is very close to that with a delay of just several seconds, so you can rest assured that you are going to be almost instantly notified if a given situation arises.
The first time you log into your Panda Adaptive Defense 360 account and open the cloud service, you should make sure to deploy endpoint clients to all devices in your network so that you can put them under the security "umbrella" of Panda Adaptive Defense 360. Deploying endpoints is not difficult and can happen in a couple of different ways. Firstly, you can manually install clients on each endpoint device. This, however, won't be very efficient if the number of devices is big and/ or if they are in different places. This is why Panda Adaptive Defense 360 also gives you the option to send out emails with instructions and download links to each endpoint Administrator. From then on, it will be your employees' job to follow the instructions and download and install the endpoint client on their workstations. Something worth noting here is that, as soon as the first endpoint is deployed, the client will automatically find other workstations connected to the same network, which will allow you to remotely install the clients on the other detected computers directly from the cloud administration interface.
A nice thing about the endpoint clients is that they are super lightweight and are very unlikely to have any noticeable footprint on the performance of the computers they are installed on, so don't worry even if the workstations your employees use aren't new or particularly powerful.
The next step, after the endpoints have been deployed is to set security policies for them. This step is optional because Panda Adaptive Defense 360 sets a default policy for each endpoint and, in most cases, this policy will be the best one to use as it balances between providing strong security and avoiding unnecessary disruptions of the workflow. Still, for users who prefer to fine-tune things themselves, there's always the option to set a different policy for each individual endpoint as well as to change that policy at any time.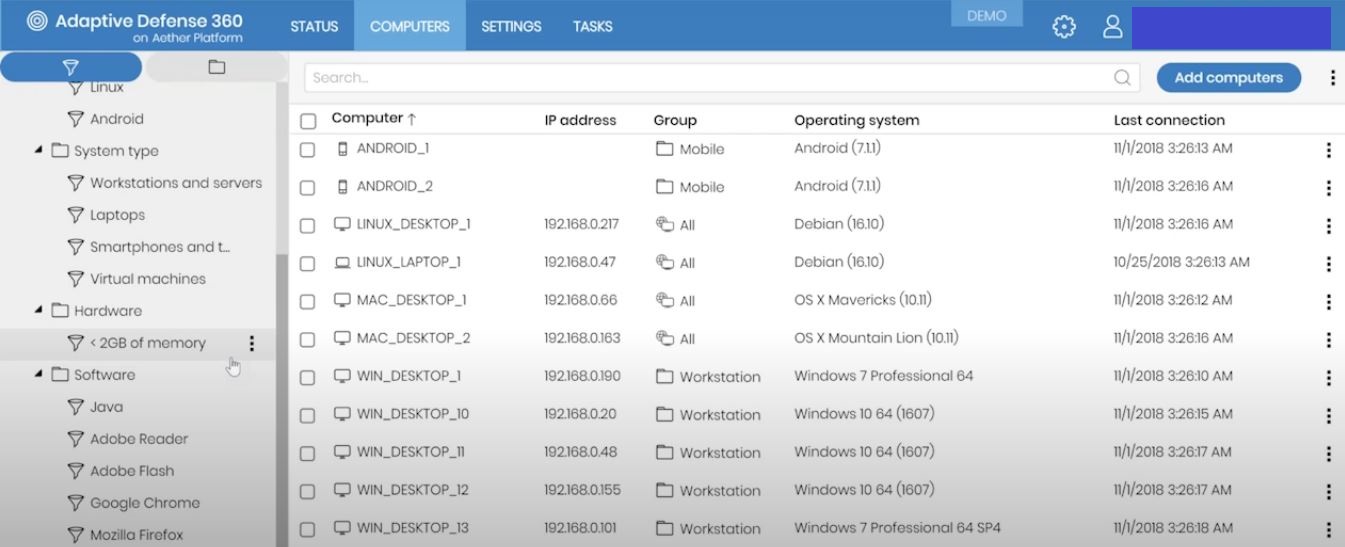 The main component of the endpoints' security policy is its operation mode. This refers to the antivirus component of Panda Adaptive Defense 360 and it controls how aggressive the service's malware detection and prevention would be. There are three options here: Audit, Hardening, and Lock. Audit is the least aggressive mode and it is generally not recommended as it might potentially allow some forms of well-disguised malware to pass by it. Hardening is the medium setting – it is the recommended one and the one that Panda Adaptive Defense 360 sets by default. In most cases, this operation mode will not lead to workflow disruptions due to false positives but will still stop pretty much all malware that might try to enter an endpoint device. Lastly, the Lock mode is the most aggressive and restrictive of the three and, though it provides the highest amount of protection, if it is enabled, the chances of false positives and blocked content and files that are needed in the employee's work are increased as well.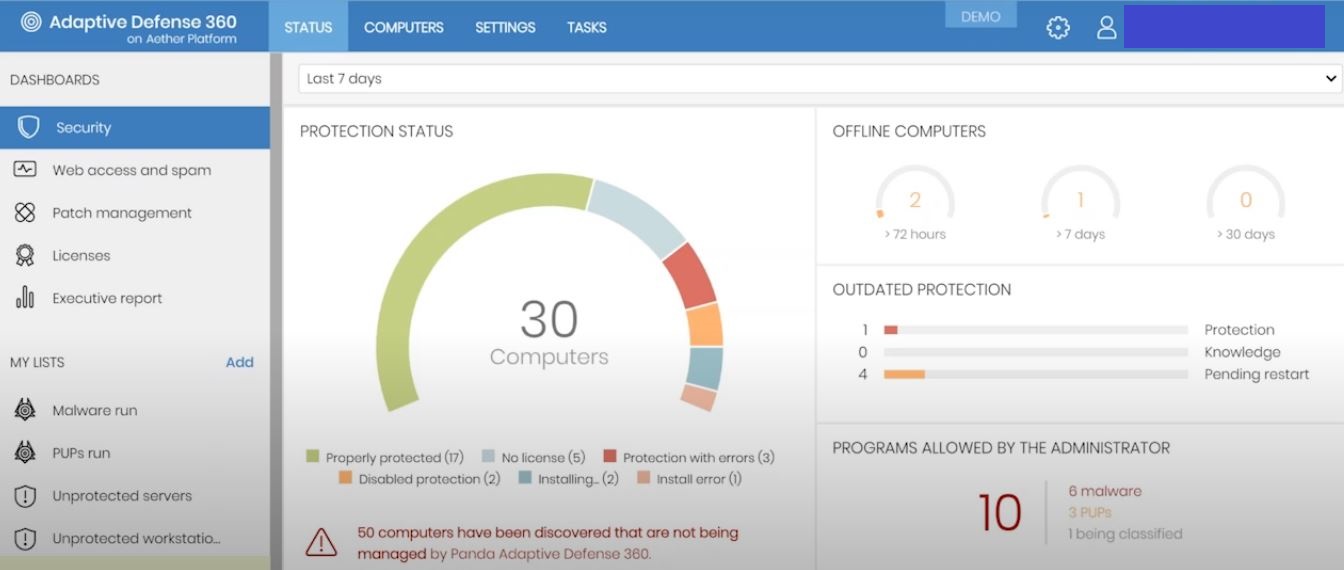 Features
Panda Adaptive Defense 360 comes with a plethora of useful features that, for the most part, work automatically to keep your endpoints safe from all kinds of virtual threats.
Panda Adaptive Defense 360's Endpoint Detection and Response function constantly monitors all endpoints for suspicious events and gathers data from them for further investigation, detection, analysis, and, in case of a detected threat, it alerts the network owner.
Panda Adaptive Defense 360 also offers its customers a Patch Management tool that will look for outdated software across all endpoint devices, notify you about any missing patches, and help allow you to automatically and remotely install said patches to ensure that there are no known security vulnerabilities inside your network. Note, however, that this feature is optional and if you choose to add it to the package, it would make the end price higher.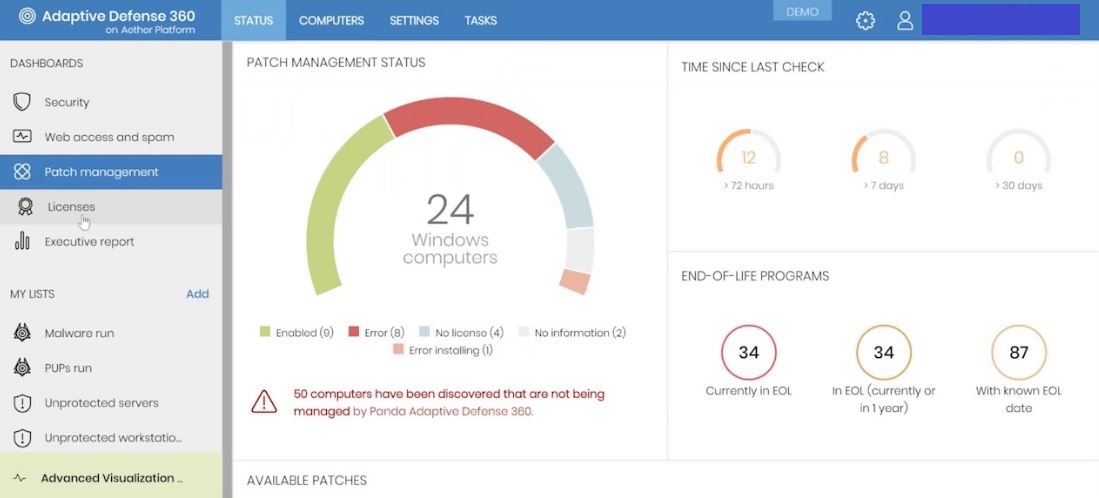 A highlight of the package is the 100% attestation service, which evaluates apps, programs, and other executables based on 10, 000 different characteristics and concludes whether the specific software is safe to run. If the app/program doesn't meet the requirements for the 100% attestation certificate, the feature doesn't allow it to be run on the computer.
Threat Hunting is another security feature focused on stopping attacks that don't have signatures typical for most malware. According to Panda Security, this feature could even intercept malicious actions that are being performed by insiders.
Of course, the base antivirus engine of this endpoint security solution needs to be mentioned too. It offers protection against a wide variety of cyber threats, including Trojans, Spyware, and Ransomware. The behavior monitoring of the engine also has the potential to spot incoming Zero-Day attacks that are otherwise unknown to the antivirus' database. Panda Adaptive Defense 360 can also thwart attacks from fileless malware, phishing viruses, PUPs, and in-memory exploits. Though it is usually best to allow the antivirus to do its job without user interference, if you want, you can whitelist different items that are considered as threats if you are certain that they are not hazardous to the computer that is exposed to them. That said, the idea of the antivirus is to work automatically, without any need for you to micro-manage it. In most cases, the only time you'd have to do something related to the security status of any of your endpoints would be when a threat is detected and the antivirus requires you to take a certain action to neutralize it instead of doing this automatically.
Unfortunately, as filled with features the Panda Adaptive Defense 360 suite might be, it still falls behind some of its competitors in terms offered extra perks. For instance, there is no VPN that comes with Panda Adaptive Defense 360, which we would have liked to see considering the relatively high price of the product. For comparison, Avast Business Antivirus Pro Plus, which is a bit less expensive, does come with its own VPN service.


Pricing
As we mentioned above, the price of Panda Adaptive Defense 360 seems to be a bit higher than that of its competitors. There is only one pricing option, which would cost you €68 (around $80) a year per device. For comparison, the per-device price for Trend Micro Worry-Free Services, another popular endpoint security solution, is $59.87, and the price for the aforementioned Avast Business Antivirus Pro Plus is only $56.99 per device. Of course, getting a license for a bigger number of devices or for more years will get you a discount. Note, however, that, to get the discount for a higher number of devices, you'd need to get a license for more than 50 devices. With most of Panda Adaptive Defense 360's competitors, the discount starts to apply when the license is for more than 10 or 20 devices, so this is yet another downside of the pricing of Panda Adaptive Defense 360. The discount for getting the license for more years is also quite mediocre compared to other endpoint security options on the market.
Final Notes
Panda Adaptive Defense 360 is a great service for keeping all endpoints in your business network away from harm with very little need to do things manually. Still, if you prefer a more hands-on approach, you'd have plenty of opportunity to micro-manage every aspect of the security policy of each device that makes up your network. The user-friendly interface, the robust protection offered by the powerful antivirus engine, and the satisfying number of added extra security and management features seem to make this product worth recommending. However, it must be mentioned that it is not a perfect solution as it does lack some advanced tools such as a VPN that other similar products offer. Also, potentially, the biggest problem with Panda Adaptive Defense 360 is that its pricing is unexpectedly high and the discounts offered for a higher number of protected devices or for additional years are not particularly impressive if we compare them to other options on the market.
To sum up, if it weren't for the pricing of Panda Adaptive Defense 360, we'd say it is one of the top endpoint security solutions, but due to its higher cost )that doesn't reflect a significantly greater number of features), we consider it to be a little bit behind the very best endpoint security products that are available at the moment.