PC Accelerate
PC Accelerate is a potentially unwanted program (PUP for short) that is promoted by its creators as a PC optimization tool. The main issue with PC Accelerate is that it continuously prompts the user to buy its paid (Premium) version by showing false positives.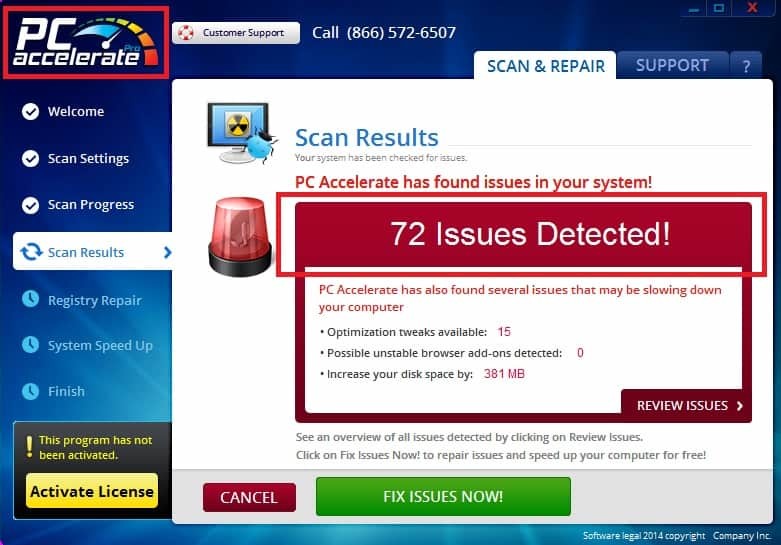 PC Accelerate is not a harmful program but it's also not a particularly useful one. It may claim to be able to clean your Windows 10 computer from redundant files, software errors, invalid system entries, and more in order to make your PC's performance smoother and faster but in most cases, the difference in the performance would be barely noticeable.
The PC Accelerate Virus
The PC Accelerate virus is not a real virus but a potentially unwanted program that has the tendency to spam the user with obstructive purchase prompts. Additionally, PC Accelerate is also known for using false positives to convince the user to purchase the full product.
Everybody wants to get their computers to be faster and perform better but in the end, it mostly comes down to how much RAM the machine has and how powerful its CPU is. Sure, the performance might improve after freeing up HDD space and uninstalling some unneeded programs but those are things you could do on your own without the need for specialized software such as PC Accelerate.
This, however, is not the main problem with this program. The real issue stems from the fact that the version of PC Accelerate that most people encounter on their computers is the free one. What's important to note about the free version is that it only scans the computer for redundant files, system entries, settings, and other optimization problems but it doesn't clear those. To get PC Accelerate to fix the detected issues, you'd need to get its paid ("Premium") version and what's worse is that the program would keep nagging you to do so in order to resolve the detected problems.
Furthermore, another thing worth noting about PC Accelerate Free is that it is likely to blow out of promotion the problems it detects in the computer by telling you that there are way more things that need to be resolved than there actually are. The goal of this is obvious – to manipulate you into deciding to purchase the paid version. Such aggressive and underhanded "marketing tricks" are not uncommon and many similar apps use them to get more users to pay for their "premium" services. However, as we already mentioned, getting the full version of PC Accelerate, while not totally pointless, may not be all that necessary or needed.
Note: Since there seems to be a close relation between PC Accelerate Pro and some other potentially unwanted programs for Windows 10, if you have this PUP on your computer, you may also have any of the following ones too:
Volatile Speedup

MBSilverSpeedUp

SilverSpeedup

Logic iPcap

YixSpeedup Soft

Ac Accelerate

Wspeedup
If any of those other unwanted programs are installed on your Windows 10 PC in addition to PC Accelerate, then you should make sure to remove them too. We have articles about some of those PUPs so follow their respective links if you have that specific PUP and you will be taken to an article about it that has a removal guide that will help you uninstall the undesirable software.
What is PC Accelerate?
PC Accelerate is a type of system optimization software that security researchers deem unwanted due to its aggressive marketing behavior. PC Accelerate uses underhanded marketing techniques such as showing false positives to get more people to pay for its premium version even when it's unneeded.
Despite not being harmful on its own, the fact that this program tries to use deception and aggressive marketing to persuade you into paying for its premium variant should be enough of a reason for you to not want it on your computer. In addition, it's worth noting that it may be somewhat difficult to fully delete it from the computer due to certain changes it may make in the Registry of the computer as well as in other system settings. Many users have complained that they've had difficulties deleting PC Accelerate which has actually led to a lot of them referring to this program as the PC Accelerate virus. Even though it's not really a virus, it should be obvious by now why one might want to have it uninstalled.
Last but not least, we should also mention that this program has been reported to get distributed by being hidden behind the Advanced setup settings of file bundles and through misleading ads and download prompts. This is another characteristic trait of the programs that fall under the PUP category, further proving that it might be best if you delete PC Accelerate.
Now, if you need aid with the removal, please refer to the instructions below and follow them to get rid of this unpleasant software.
SUMMARY:
How to Uninstall PC Accelerate
To Uninstall PC Accelerate, you can find the program entry in your Control Panel and try to delete it from there:
Start with pressing Winkey + R and type appwiz.cpl in the search field.
Select OK and when a list of programs opens, find in it the entry for PC Accelerate and click on it.
Click on the Uninstall option from the top and follow the uninstallation wizard steps.

Once the uninstallation completes, check for other suspicious programs and uninstall them too.

This quick removal method could help you get rid of the unwanted program but it's also possible that this won't be enough to fully remove PC Accelerate. If that's your case and the PUP is still present in the system, please, proceed to the more advanced steps shown below and complete all of them to delete all system entries and files that the unwanted program may have left behind.
How to Remove PC Accelerate from Windows 10
To Remove PC Accelerate from Windows 10, you must find and quit the PUP process and delete its files. Also, to make sure that PC Accelerate Pro is fully removed from your Windows 10 computer, you should delete the Registry entries for the unwanted program.

The first thing you should do is try to find the processes for this app and quit them from the Task Manager:
Start the Task Manager (you can do that by pressing Ctrl + Shift + Esc or by searching for "task manager" in the Start Menu and clicking on the first item).
Select Processes, and try to find a process named PC Accelerate/PC Accelerate Pro (or something similar). If you can't find this, look for other questionable processes with unfamiliar names and high use of system resources (RAM memory and CPU).
If you find a process named PC Accelerate or something close to that, right-click on it, select Open File Location, select the process again with the right-click of the mouse and this time opt for End Process Tree.

Next, delete the File Location folder that you got sent to.
If you didn't find a process with that name but have found another one that looks potentially unwanted, look up its name on the Internet and see what info comes up – if it seems the process is run by a legitimate program or by the Windows OS, leave it be and look for another suspicious one.
If there's anything in your online search that suggests the process may be linked to PC Accelerate or to another unwanted program, go to the process' File Location and this time use the following free online scanner to test all files stored in that folder for malicious code:
Each file will be scanned with up to 64 antivirus programs to ensure maximum accuracy
This scanner is free and will always remain free for our website's users.
This file is not matched with any known malware in the database. You can either do a full real-time scan of the file or skip it to upload a new file. Doing a full scan with 64 antivirus programs can take up to 3-4 minutes per file.
Drag and Drop File Here To Scan

Each file will be scanned with up to 64 antivirus programs to ensure maximum accuracy
This scanner is based on VirusTotal's API. By submitting data to it, you agree to their
Terms of Service
and
Privacy Policy
, and to the sharing of your sample submission with the security community. Please do not submit files with personal information if you do not want them to be shared.
In case any of the files are flagged as hazardous by our scanner, you must End the process tree of the suspicious process from the Task Manager and after that delete the entire location folder where the files for that process are stored.


Now you must boot your PC into Safe Mode so that any unwanted processes you missed during the previous step won't interrupt you throughout the rest of this guide since, while in Safe Mode, your computer's system won't allow suspicious third-party processes to run automatically. If you don't know how to access Safe Mode, follow the link we've provided to a guide with detailed instructions on the matter.
---

You should also check the Startup items of your computer and disable the unwanted ones:
Press the Windows key and R key again and this time type msconfig and hit Enter.
Open Startup in the window that appears on your screen and see if there is an item in the list of Startup items named PC Accelerate.

If there is one, disable it by removing the tick from its checkbox.

If there isn't such an item, look for other ones that look like they shouldn't be allowed to start automatically when Windows loads – those could be items with unfamiliar names or ones with unknown manufacturers – disable anything that doesn't seem trustworthy.
Once you disable all questionable entries, click on OK to exit the System Configuration settings and then proceed to the next step.


The Hosts file oftentimes gets hijacked by unwanted third-party apps and malware programs so it's worth checking that too:
Type (paste) this in your Start Menu and hit Enter: notepad %windir%/system32/Drivers/etc/hosts.
Check the bottom of the text, right where it says LocaHost. If you see lines of text below that, this means that the Hosts file has been manipulated by third-party software.

Copy everything that's after Localhost and paste it in the comments – we will have a look at it and tell you if it's from PC Accelerate.

If we tell you that the text you've sent us is from the PUP, you will have to delete that text from your Hosts file and then save the changes made you've made to it.

Important!: To complete this final step, you must make certain changes in the computer's Registry by deleting any items that may be related to the unwanted program. If you end up deleting something that you shouldn't, you could damage your system so it is critical that you only delete Registry items if you are certain that they must be removed. In case of uncertainty, make sure to request our aid through the comments section below.
The last thing you must do to make sure that there's nothing left from PC Accelerate on your PC is to clean the Registry entries it has added in your system's Registry.
Start by opening the Start Menu, typing regedit, and clicking on the regedit.exe file.
Your OS will demand Admin permission to start the Registry Editor so click on Yes to confirm this.
When you are in the Registry Editor, press together the Ctrl and F keys from your keyboard and type PC Accelerate in the search box.
Press Enter to initiate the search and then if a result is found, delete that item.

Repeat the search to find the next related item and delete that one too – keep doing this for as long as there are items in the Registry related to PC Accelerate.

Once the search stops yielding results, expand the folders from the sidebar to the left to navigate to the following three locations:

HKEY_CURRENT_USER > Software > *Folder with an unusual name*
HKEY_CURRENT_USER > Software > Microsoft > Windows > CurrentVersion > Run > *Folder with an unusual name*
HKEY_CURRENT_USER > Software > Microsoft > Internet Explorer > Main > *Folder with an unusual name*

Once you get to those locations, see if there are folders in them that seem out of place – such would be ones with unusually long names and/or with names that consist of randomized characters.

Delete any questionable folders that you may find in those Registry locations. If you are unsure if a specific item(s) is related to PC Accelerate and you don't know whether to delete it, ask us in the comments first and proceed with the deletion only if we confirm that the item(s) should be removed.
Final Notes
This guide should help most of our readers to eliminate the unwanted program without any trouble. However, in rare cases, it is possible that PC Accelerate manages to remain in the system even after one completes all of the instructions we've posted here. If this happens to you, remember that you can always try the removal tool present on this page. It will quickly find whatever's left of the PUP on your PC and delete it for you. It will also keep your system safe and protected from other unwanted programs as well as from all types of harmful malware.