Segurazo
Segurazo is a security tool that's not harmful but is still generally seen as potentially unwanted due to its methods of distribution and questionable marketing techniques. The main is that Segurazo often shows false positive malware detections to get you to buy its full version.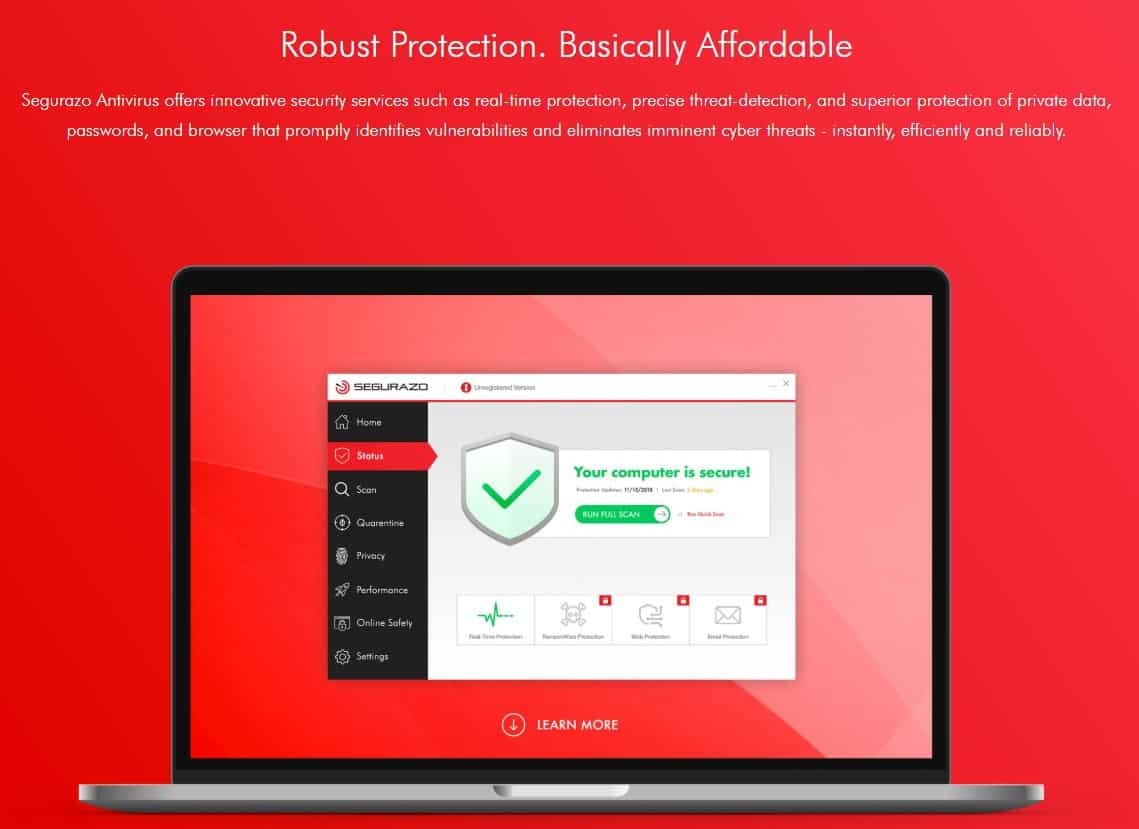 This is not an uncommon technique that less popular security tools employ in order to persuade more users into purchasing their premium versions. While this doesn't directly put your computer at risk and shouldn't be a major issue, it can still be quite unpleasant and annoying and could also lead you to purchase something you don't really need.
The Segurazo Antivirus
The Segurazo Antivirus is legitimate security software that is categorized as a PUP (potentially unwanted program) because it could try to mislead you into purchasing its paid version. Another problem users have with Segurazo is how difficult it can be to uninstall it.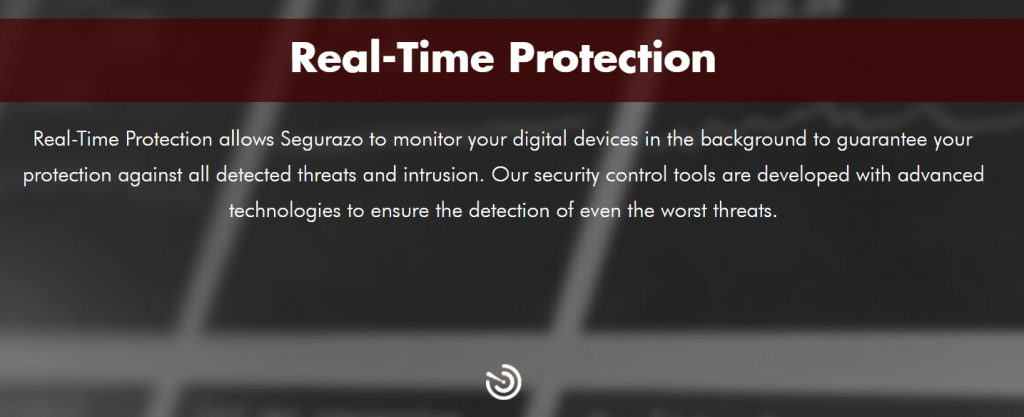 Once installed on the computer, this program (especially its newer versions) can be quite difficult to delete. One would expect that simply running its uninstaller .exe file or uninstalling it from the Control Panel should be enough to remove this program, but as it turns out, even after it gets seemingly removed, there are still files and modified settings that are left from it in the system. Those files and changed settings could eventually allow Segurazo or another unwanted program to get installed on your PC again without your informed approval.
Furthermore, the method used to distribute Segurazo, too, is seen as underhanded. We are talking about the well-known file-bundling technique that is typically associated with the distribution of less desirable and mostly useless programs. Now, we are not saying that the paid version of Segurazo – the one that actually has malware-removal functions – is useless, but the version that most people get (the free one) has, for the most part, the function of simply promoting its paid counterpart without actually benefiting the user in any conceivable way. At best, it will just take up space without doing anything useful and, at worst, it would nag you and, potentially, panic you with obstructive and overwhelming warnings about malware in your computer, which warnings are typically fake or greatly exaggerated. This could, in turn, lead you to buy the full version without actually needing it as well as install other unwanted software.
Is Segurazo a virus?
Segurazo is not a virus, but security experts agree that it's a potentially unwanted program, so it's best to remove it if you see it on your computer. Segurazo is actually an antivirus program, but one that uses underhanded methods to market its full version.
In addition to the problems concerning Segurazo that we talked about above, we should also mention that, since this program is usually distributed via file-bundling, it's very possible that it may have been installed on your computer together with other undesirable apps, including browser hijackers, adware, other PUPs, and more. This is why, in addition to showing you how to delete Segurazo from your system, we will also dedicate the final step from the guide to cleaning your browsers from any unwanted settings changes, add-ons, or data.
Last but not least, note that Segurazo is closely related to another similar program known as SAntivirus. In fact, if during the next guide you see any SAntivirus items, you should delete them as well. Also, if during the guide you use "Segurazo" as a search word and don't find anything, try searching for SAntivirus instead.
The Segurazo Uninstall
The Segurazo Uninstall process comprises the following steps:
First, you need to run the program's uninstaller and delete what you can with its help.
Next, you must clean the Registry of your PC from Segurazo entries.
Thirdly, you must return to the Segurazo folder and delete whatever files may be left in it and then delete the folder.
Finally, you must check your browsers for unauthorized and unwanted changes and restore them to their normal states.

SUMMARY:
How to uninstall Segurazo?
To uninstall Segurazo, you should first try to uninstall it in a conventional way, through the Control Panel.
Type appwiz.cpl in the Start Menu and hit the Enter key.
Search for Segurazo and other questionable and potentially unwanted items in the list of programs that shows up.
If you find Segurazo and/or anything else that looks unwanted, right-click it, and click Uninstall.
Follow whatever steps appear on your screen to uninstall the unwanted software.
In some cases, this may be enough to delete the unwanted program from your computer. However, it's more likely that Segurazo has made different changes in your system that allow it to stay on the computer despite running its uninstaller. If you still see any traces of Segurazo, then it's recommended to complete the rest of the instructions shown below, as they will help you fully clean your PC from any leftover data and settings related to the unwanted program.
Segurazo uninstall instructions for Windows
Our detailed Segurazo uninstall instructions for Windows will show you how to find and eliminate any remaining files and settings that this program may have left behind. If you follow our detailed Segurazo uninstall instructions for Windows, you'll be able to fully remove this program.
Note: Before you begin completing the guide, we recommend turning off the Internet connection of your computer – doing this will ensure that Segurazo can't download data from the Internet that may help it stay on your computer despite your attempts to delete it. On a related note, it's also a good idea to open this page on another device so that you'd have live access to it while the Internet connection on your PC is disabled.
Step 1: Safe Mode
Go into Safe Mode to ensure that Segurazo is unable to automatically run any of its processes.
Step 2: Using the Segurazo uninstaller
Open the Segurazo folder – it should be located in C:/Program Files (x86)/Segurazo.
Check the files in that folder with the free scanner provided below and delete any of them that it flags as malicious.


Each file will be scanned with up to 64 antivirus programs to ensure maximum accuracy

This scanner is free and will always remain free for our website's users.

This file is not matched with any known malware in the database. You can either do a full real-time scan of the file or skip it to upload a new file. Doing a full scan with 64 antivirus programs can take up to 3-4 minutes per file.

Drag and Drop File Here To Scan

Each file will be scanned with up to 64 antivirus programs to ensure maximum accuracy

This scanner is based on VirusTotal's API. By submitting data to it, you agree to their

Terms of Service

and

Privacy Policy

, and to the sharing of your sample submission with the security community. Please do not submit files with personal information if you do not want them to be shared.

Open the SegurazoUninstaler.exe executable that should be in the folder.
Click the Remove Protection option when the uninstaller opens.

When asked if you'd like to restart your PC now, click the Restart Later option.

Close every program and folder that's currently open, except the Segurazo uninstaller.
Check both the Antivirus Protection and the Configuration Files options so that both of them would be removed during the uninstallation.
Click Uninstall and after the process completes, if the uninstaller once again asks you if you'd want to restart your PC now, click No.
By the end of the uninstallation, there will likely still be left a couple of files (normally two) in the Segurazo folder. You can try to delete them now, but will probably not be able to do that. For this reason, you must first delete all Segurazo items added to your system's Registry and then use the Command Prompt app to delete those files. We will now show you how to do this.
Step 3: Cleaning the System Registry
Note: Before you begin completing this step, note that it involves deleting items from the System's Registry. Since important system settings are stored there, you need to be really careful so as to only delete items related to Segurazo and nothing else. If you are in doubt while completing this step, it's strongly advised to contact us through the comments and ask us there about whatever you are uncertain about, rather than directly deleting something that may be important and therefore shouldn't be removed.
Type regedit.exe in the search field of the Start Menu, right-click the first item, and select Run as Administrator.
Click on Yes if Windows still requires your Admin permission to run this app.

Press Ctrl + F when the Registry Editor app opens, then type Segurazo, and hit Enter.
The first found item should be located in HKEY_CURRENT_USER\Software\Microsoft\Windows NT\CurrentVersion\AppCompatFlags\Compatibility Assistant\Store. When you get taken to this Registry directory, look in the right panel, find the item named C:\Program Files (x86)\Segurazo\SegurazoUninstaller.exe, and delete it (if you need to, drag to the right the Name column so that you could see the full names of the items).
Search again – the next directory should be HKEY_LOCAL_MACHINE\SOFTWARE\Microsoft\Tracing\SegurazoUninstaller_RASMANCS. Expand this directory in the left panel and delete the following items that should be listed below it:

segurazoclient_RASAPI32
segurazoclient_RASMANCS
SegurazoService_RASAPI32
SegurazoService_RASMANCS
SegurazoUninstaller_RASAPI32
SegurazoUninstaller_RASMANCS


Repeat the search, and the directory that appears next should be HKEY_LOCAL_MACHINE\SOFTWARE\Microsoft\Windows\Segurazo. You must delete that directory.
Perform another Segurazo search and if this is the directory you get taken to: HKEY_LOCAL_MACHINE\SOFTWARE\WOW6432Node\Microsoft\Windows\Segurazo, delete it.
After another search, the folder should be HKEY_LOCAL_MACHINE\SYSTEM\ControlSet001\Control\Session Manager – select it, have a look at the items to the right, find the one named PendingFileRenameOperations, and delete it.
You must search for Segurazo again and this time delete the \Device\HarddiskVolume5\Program Files (x86)\Segurazo\SegurazoClient.exe folder.
Repeat the Segurazo search and if the next directory is HKEY_LOCAL_MACHINE\SYSTEM\ControlSet001\Services\EventLog\Application, click it, and delete the SegurazoSvc item from the right panel.
The last remaining directory should be \Device\HarddiskVolume5\Program Files (x86)\Segurazo\SegurazoUninstaller.exe – delete it in the left panel.
Finally, in the left panel, scroll back to the top, click the Computer icon, press Ctrl + F again, and perform one final search for Segurazo to make sure there are no items left related to this program. If you find anything, delete it.
Step 4: Deleting the remaining Segurazo files
Now that the Registry has been cleaned, you should be able to remove what's left in the Segurazo folder.
Return to the Segurazo folder, click in the folder's address bar, and copy the folder address.

Write down on a piece of paper the exact names of files that have remained in the Segurazo folder together with their extensions. If you don't see the extensions, right-click each file, go to Properties, and there you will see what its extension is.
Press together Ctrl + Shift + Esc and go to Processes in the Task Manager window that opens.
Find and select the process named File Explorer, then click the End Process button, and confirm that you want to quit that process.
Click the Start Menu, type cmd in it, right-click the cmd.exe app, click Run as Administrator, and click Yes if you are asked whether you are sure you want to do that.
In the Command Prompt/cmd.exe window, type del /f, press space once, then right-click the title bar, click Edit, and then click Paste to paste the folder address you copied earlier.

Next, press space once more, and type one of the file names you wrote down earlier. Here are two examples of what the full command should look like (it's written with file names of the two most common files that get left in the Segurazo folder):

del /f C:\Program Files (x86)\Segurazo\SegurazoShell64_v1069.dll
del /f C:\Program Files (x86)\Segurazo\SegurazoKD.sys


Once the command is written in full, press Enter to execute it, and then type it again and execute it with the file names of any other files that are left in the Segurazo folder.
Finally, go back to the directory where the Segurazo folder is located (should be C:/Program Files (x86)) and delete that folder.
Step 5: Cleaning your browsers
If Segurazo has affected one or more of your browsers by installing unwanted new extensions in them and/or changing some of their settings, it would be a good idea to clean your browsers and restore them to their regular states. Here is how you can do this:
Right-click the icon of your main browser, go to Properties > Shortcut, and delete anything that may be written after ".exe" in the Target field.
Start the browser, click its menu icon (it should be in the top-left or top-right depending on the specific browser), and click Extensions/Add-ons.

If your browser is Chrome, first click the More Tools option in its menu to see the Extensions button.

On the extensions page/section, carefully look through what items are listed there, and if there are ones you aren't familiar with and/or think they might be rogue, Disable them, and after that click their Uninstall/Remove button to delete them.

Now go to Settings/Options in the browser menu, click Advanced (if there's such an option), and then find and select Privacy and Security

Next, find and click the Clear data/Clear browsing data/Choose what to clear.
If there's an Advanced tab in the window that shows up, click that tab, then check every type of data except Passwords, and Clear the browsing data.

Go back to the Settings page, type Search Engine in its search bar, and find the setting that determines what your default search engine would be. If that search engine isn't the one you prefer, change it to whichever search engine you want to be your browser's default one.
Type Homepage or Starting page in the Settings page search box, and if a relevant setting that determines your browser's homepage/starting page shows up and the address shown there is one you don't recognize or trust, change it to a trusted site address.
If Segurazo is still present in the system
If our detailed removal guide wasn't enough to get Segurazo deleted from your PC, it's possible/likely that there's more leftover data from the unwanted program that you didn't manage to erase. In such cases, it's best to use a specialized removal program that can help you locate and delete anything left from Segurazo. The removal tool linked above is perfect for this job because it has the ability to detect unwanted data that's technically not malware – something that a lot of conventional antivirus programs are not particularly good at. Therefore, we recommend using the linked tool to fully clean your computer in case you are still struggling with the removal of Segurazo.
What is Segurazo?

Segurazo is an antivirus program that most researchers and users categorize as potentially unwanted because it tends to get installed without permission. Once in the system, Segurazo begins aggressively prompting the user to pay for the full version of the program by using scare tactics.
Most users get this software added to their computer without realizing it because Segurazo tends to get distributed via other software, by being bundled with it. For instance, if you download some free app that has Segurazo added to its installer, and you install that app without checking the Advanced/Custom setup settings, you are likely to get Segurazo added to the system automatically. Most bundled software gets installed by default and in order to leave it out of the installation, you'd first have to uncheck it from the setup wizard.
The fact that Segurazo may use this somewhat sneaky method in order to get installed on more computers doesn't necessarily make the program problematic but when you combine this with the other unpleasant traits that Segurazo has, it becomes apparent why most users would prefer to have it deleted from their systems.
One thing that we must mention about Segurazo is that this program is very closely related to another similar potentially unwanted software known as SAntivirus so if you have the latter on your PC, know that the information and instructions on this page may help you deal with it as well. Additionally, we have a separate article written for SAntivirus so click on the link we've provided to go to it if you are interested.

Is Segurazo Antivirus Safe?

The Segurazo Antivirus is a legitimate security tool but due to the aggressive way it promotes its paid version and due to its sneaky distribution techniques, most people deem it unwanted. Another problem with the Segurazo Antivirus is that it's rather difficult to uninstall.
One of the major problems that people have with this program is its constant intrusive attempts to get users to purchase its paid version. You see, the Segurazo version that people get from file bundles is the one that's distributed for free. This version of the program is not particularly useful as all it can do is scan your computer for threats and notify you if anything gets detected without actually helping you with the removal.
On paper, this shouldn't make the program unwanted, but the issue is that the results from its scans may not always be accurate. Sometimes, Segurazo will exaggerate these results, telling you that there is a big number of threats and problems detected in the computer that needs to be resolved immediately while at the same time urging you to immediately purchase its paid version which could clean the system and resolve the detected problems. However, since many (if not all) of the detected threats and system issues may be non-existent, purchasing the full antivirus program may be unnecessary, especially if you already have a reliable security tool on the computer.
Needless to say, for as long as Segurazo free stays in the system, it will keep nagging you to buy the full version of the program using its scare tactics and fake warnings and this is the primary reason most users who have this software on their PCs seek ways to get it removed.
Is Segurazo a virus?

Segurazo is not a virus program although sometimes its behavior may make it seem like one. Segurazo is a legitimate security program but due to its difficult removal, questionable distribution techniques, and intrusive behavior, it is better to not keep it installed on your system.
If you have Segurazo on your PC and have made an attempt to delete it, you may have found out that the program simply won't go away no matter how many times you run its uninstaller. The reason you might be unable to uninstall Segurazo is because of different changes that it makes in the system's Registry in order to gain persistence and stay in the system for longer. Simply running the program's uninstaller will more often than not fail to resolve the issue because there will still be Segurazo files and settings left in the system that will eventually allow the program to automatically return to your computer or that would simply prevent you from deleting it in the first place.
Of course, trying to uninstall this unwanted software the normal way is the first thing we suggest you do as it is the easiest and simplest removal method. If, however, that doesn't work, we've prepared some more advanced steps and explained them in detail within our removal guide for Segurazo that you can find down this page.
How to uninstall Segurazo?

These Segurazo uninstall instructions show a quick method that you can try to delete the program:

1. Select the Start menu and click on the Control Panel icon.
2. Find a button in the Control Panel labeled Uninstall a Program and click it.
3. Look for Segurazo or for any other item that may be related to it in the list of programs and apps.
4. If you find the unwanted program there, click on it, select Uninstall from the top and follow the prompts to complete the Segurazo uninstall.