VyprVPN is a well-rounded VPN, owned by the Swiss company known as Golden Frog, and it has a nice set of features, good unblocking abilities, and reliable security and privacy. If you are looking for the perfect VPN service for you and still haven't decided on any particular one, we recommend that you have a look at the following article, where we will take a closer look at the characteristics of VyprVPN and tell you our honest thoughts on how good of a service it really is. If you are not particularly familiar with VPN services as a whole, we also suggest that you first go through this article, where you will receive more information about the purpose and functions of a VPN as well as what are the most important characteristics of these services. Now, without further ado, let us get down to reviewing VyprVPN.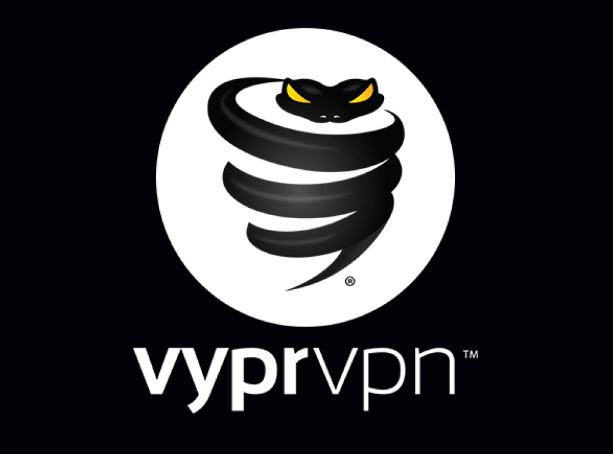 Setting up and Interface
There's nothing difficult about setting up VyprVPN – its official site makes everything clear and understandable for everyone. There, you can find useful guides and tips on how to set up each of the different VPN programs and apps. Speaking of VyprVPN programs and apps, there are versions for Windows, macOS, Android, and iOS and you can even find instructions on the VPN's site on how to set up the VPN on Linux machines and Chromebooks or how to add it to your router. Additionally, you can find useful information for each VyprVPN app that tells you about the supported protocols, operating system requirements, and changes brought by the different updates. Few other VPNs go the extra mile to offer their customers this information so we highly appreciate the effort.
Once the desktop client or the mobile app for the VPN is installed and you open it, you are asked to provide your username and password that you've set up when purchasing the VPN and you are ready to begin. The desktop clients and the mobile apps look and feel quite similar, with a few minor differences dictated by the difference in the platform. The interface of VyprVPN is always simple and minimalistic across the different platforms – there is no map and, instead, you are given a helpful and potent location picker, under the Servers button, that shows you the available locations, informs you about their ping, and gives you the option to add locations to a Favorites list.
The button labeled Customize will send you to the settings menu of the VPN, where you are given quite a lot of customization freedom without being overwhelmed by any overly-technical options and settings. We will talk more about the different things you can change from the Customize menu when we get to the Features section.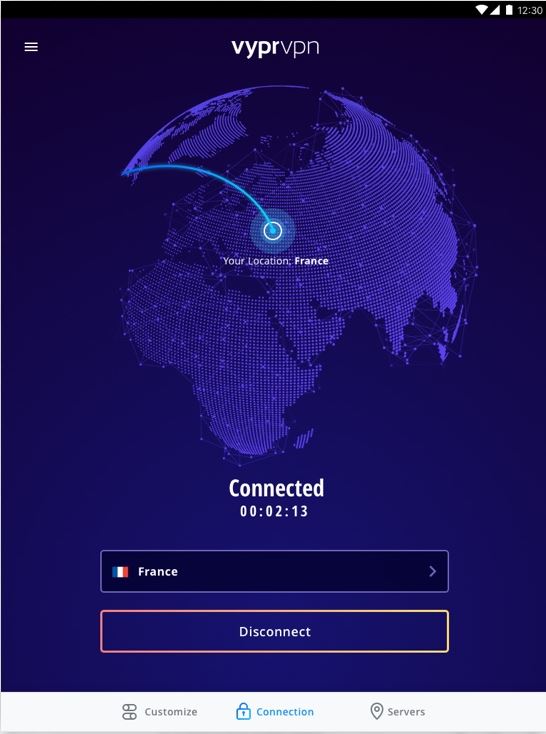 Security and Privacy
VyprVPN is one of the VPN services that take things such as connection security and user privacy seriously and do not seem to cut corners in this regard.
In terms of security, the VPN supports solid forms of encryption such as SHA384, HMAC, AES-256, and even TLS-ECDHE-RSA-2048. This last one can ensure that each connection instance is secured by a different key so that even in the event that a trespassing third-party manages to get hold of the private key, they will only be able to monitor this specific connection but will still not have a key for your next connections. A system-wide kill-switch also helps keep your connections secure in case the VPN goes down but we will talk more about this in a bit. We understand that this could be needlessly technical for lots of users so, to sum up, the security of VyprVPN is on point and you won't go wrong with it if connection security is your main priority.
But what about privacy? Your data might be protected from third parties with VyprVPN but is it protected from the owners of the VPN? Well, this is a good question and a big problem with VPNs, in general, is that it's oftentimes unclear how much of the user's online data gets logged by the owners of the VPN one is using. There is a way, however, to know how transparent a VPN provider is willing to be with its customers and that way is through the third-party evaluation of the product by impartial auditors. Not many VPNs are willing to go through the trouble of bringing in an outsider to examine their product, which is why the ones who do that are to be commended. VyprVPN is indeed one of those VPNs that has gone through a third-party audit and the results were mostly positive, confirming VyprVPN's statements about its no-logging policy. In other words, this VPN tracks and stores no data about your IP address, browsing, the sites you visit, the searches you make online, your DNS requests, or session times. The audit has detected some small inconsistencies but by the end it the evaluation of the VPN was over, those have been resolved by Vypr. One thing worth noting here, however, is that the audit we speak of was performed back in 2018, so there has been around a year and a half since the last time this VPN has been tested. While this doesn't mean that much has changed (especially for the worse) with the security or privacy of VyprVPN, we'd like to see another audit to confirm that the service is indeed still strict with its standards. Some other VPNs, such as TunnelBear, make sure to get their services audited each year to ensure users that they can be trusted and relied upon. Nevertheless, we'd still say that VyprVPN can be regarded as a highly-secure and privacy-oriented VPN, which is a very important trait.

Network and Performance
VyprVPN doesn't have the biggest network, with a number of servers around 700, but this doesn't tell the whole story, because those 700+ servers are nicely distributed across over 70 locations (64 countries). What's even better is that those locations aren't limited to only Europe and North America but there are also quite a few of them in different parts of Asia, in Central and South America, Africa, the Middle East, and Oceania. This locations' distribution is something we liked quite a lot as it means that even people who do not live in a country where the VPN has servers, the likelihood of having a server located in a relatively near country is quite high. The proximity of the server you use directly affects the sped of your connection so it's important to be able to connect to a nearby server to get the best speed. Another nice thing about VyprVPN is that its network is it's own. Unlike some other VPNs that use servers from a network that isn't owned by them, all of the servers in VyprVPN's network are owned by the VPN's creators. This, combined with the fact that Golden Frog, the company behind VyprVPN, is situated in Switzerland (a country known for its strict privacy laws), gives users quite the reassurance that their browsing activities will stay private and will not fall under the jurisdiction of a country that may not have such strong laws on privacy.
Of course, a VPN also needs to have good connection speeds, or else, no matter how secure and safe it is, it won't really matter if it takes ages to reach the sites you want. In the case of VyprVPN, connection speed is decent if you are using a server within the same country. When tested on a regular 75Mbps Internet, the connection speed varies between 60 and 70Mbps, which isn't amazing but is still quite adequate. However, if you try to connect to a more distant server, this number quickly changes and drops quite significantly. For example, if you are in France and try to connect to the nearest US server, you are unlikely to get speeds higher than 35Mbps. This is a bit disappointing considering that many lower-tier VPNs could give you significantly higher speeds when put through the same test. This is where the fact that VyprVPN has servers all over the globe becomes quite important, because, as we said, it means that it is less likely that there won't be a server that is relatively near to your location.

Unblocking and P2P
If the main reason you are looking for a VPN is to be able to access certain geo-restricted sites or web services, then VyprVPN is quite a good pick for your future VPN. Many (most) VPN products do come with some unblocking abilities but their success rates tend to vary, and many of them fail to provide access to some of the most popular location-restricted content, including Netflix, Disney+, Amazon Prime, etc. When it comes to VyprVPN, we can say that its potency for unblocking such sites is excellent – it has no problems bypassing the geo-restrictions of US Netflix, US Youtube, BBC iPlayer, Amazon Prime, and other similar sites/services. The only one it seems to struggle with a little bit is Disney+, where streaming is still possible but you'd need to have a direct link to the video you'd like to stream as trying to visit the login page of the service using VyprVPN doesn't work at the moment of writing this. Overall, as far as its unblocking potential goes, VyprVPN is a very good choice for a VPN.
If, on the other hand, you are looking for a P2P-supporting VPN, though you will probably not find it mentioned on the official site of VyprVPN, P2P is indeed supported by the service so it can be used for that as well.
Features
The features that come with VyprVPN vary depending on which desktop client or mobile app you are using. The VPN version with the most perks, customization options, and features is the Windows client, followed by the Android app. The iOS and macOS versions are a bit more stripped down of any additional functions.
With the Windows client, you get the system-wide kill-switch we already mentioned. This feature will stop your access to the Internet if the connection to the VPN is interrupted so as to prevent your traffic from getting exposed. You are also given the option to choose between three different VPN encryption protocols – OpenVPN, IKEv2, and VyprVPN's own protocol – Chameleon – which, according to the VPN's creators, can help you access sites that block the use of VPN.
You can also choose whether the VPN should automatically activate whenever you connect to a public Wi-Fi – a simple, but useful feature, that we don't see all that often with other VPNs.
Another option you are given with the Windows client is to set the VPN to automatically reconnect to the Internet after the kill-switch has been activated once the VPN comes back online.
There are also some other more basic options, such as making the VPN activate on startup, but those are available with the majority of VPN services on the market so there' s no need to go over them here.

On the Android app, there is an added URL-filtering feature that, when enabled, will keep you from visiting sites that could potentially be compromised. The feature doesn't altogether stop you from visiting the potentially unsafe address and, instead, it warns you but still gives you the option to proceed to the site.
There's also a Connection Per App option that is basically split-tunneling – it gives you the option to choose which apps on your phone will connect to the Internet through the VPN and which will connect regularly for better connection speed in case you don't need their traffic to be protected by VyprVPN.
However, with the Android app, the available protocols are only two: OpenVPN and Chameleon (no IKEv2).
The iOS mobile app is even more limited in terms of added features. It doesn't have the URL blocking of its Android counterpart and it even lacks a kill-switch feature. It is a rather simple app that needs some polishing and so it is definitely not the highlight of the VyprVPN package.

Pricing
Initially, the pricing of VyprVPN might seem a bit expensive, at $12.95 a month if you decide to go for the one-month plan. However, if you pick either one of the other two available plans, for one for two years, the effective monthly price drops quite significantly. For the one-year plan, the price per month becomes $3.75 ($45.00 for the whole year) and for the two-year plan, it drops down to only $2.50 a month ($60 for the whole 2-year period). These discounts are quite serious and it really makes sense to at least go for the two-year plan. All of the plans provide VPN cover for up to 5 devices.
There is a way to test the VPN before you commit to the payment. There is no free version but you are given a 3-days grace period after you purchase the VPN, during which period you won't be billed. If before the end of these 3 days you decide you don't like the product, you can cancel your purchase and you won't be billed. Additionally, there is a 30-day testing period after the initial 3-day trial, during which, if you notice any problems with the VPN you can refund it and get your money back. Notice, however, that this option only applies if there are indeed actual problems with the service – you can't refund it if you simply don't like it but there aren't any real issues with it.

Final notes
VyprVPN is a solid choice for a VPN service that will satisfy both regular users who want to gain access to certain blocked sites and services as well as for experts and professionals who want to ensure that their traffic is hidden from all third-parties. We cannot say it is a perfect VPN offering, and there's certainly a significant difference in functionality between its versions for different platforms but if your main goal is to use the VPN on your Windows PC and/or Android phone, we can confidently say that we recommend VyprVPN as a potent, secure, and functional VPN service, with solid privacy policy.