Proton VPN
This current review will be focused on ProtonVPN – a potent and reliable VPN service with a number of interesting perks that many of our readers are likely to appreciate.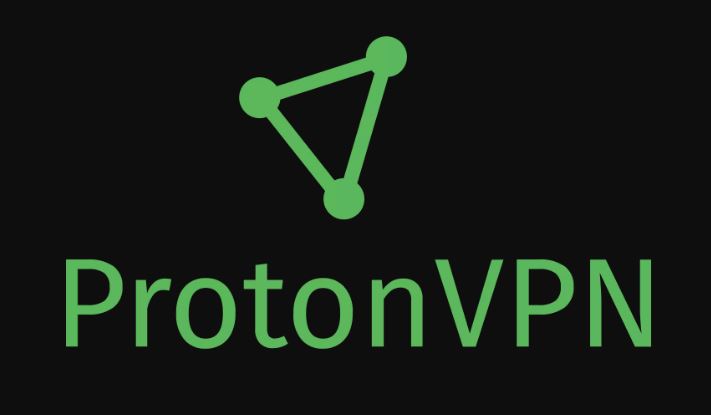 In today's day and age, our online privacy is no longer a given – online advertisers, governments, scammers, hackers, and other players are constantly trying to learn what we do online and to gain information about our virtual habits for various reasons. Sometimes, this lack of virtual privacy can even prevent us from reaching certain online resources simply because of our geographical location. Naturally, this has lead to the rise in popularity of the now well-known and widespread VPN services. A VPN is basically a network of servers that reroutes users' traffic, effectively disguising their IP and thus preventing third parties from keeping tabs on one's browsing activities. There are several serious benefits of using a VPN. For example, a VPN service could allow you to reach geo-restricted sites and services and as well as keep your browsing private and, in turn, make the data you transfer over the Internet significantly more secure. This is a very brief overview of what a VPN is most commonly used for but if you want to get a more detailed explanation of what this type of service is all about, you can check out this article.
ProtonVPN Overview
Considering the specific function of VPNs and the sensitive nature of the data they are supposed to keep secure, it is highly important that you choose a reliable VPN service that won't betray your trust. Our job in this article and in our series of VPN reviews is to help you with this by telling you our impressions and experience with some of the most popular VPNs out there. As we pointed out above, the VPN we will be specifically focusing on in this post is ProtonVPN. This VPN service comes from a Swiss company called Proton Technologies – those are the same people who've created the renowned ProtonMail encrypted end-to-end email service.
Our initial impression of ProtonVPN is that it is a highly-secure, privacy-oriented VPN service that provides its customers with all the fundamental features that a VPN should have while also adding into the mix a number of more advanced functions that are likely to be appreciated by experts and power users. ProtonVPN has native apps for both desktop (Windows, macOS) and mobile (Android, iOS) and it even comes with a free version with unlimited bandwidth!
At first glance, there's quite a lot to be liked in ProtonVPN but there is no way to truly gain an objective idea of how good the service really is unless we take a closer look at its different aspects. Therefore, without further ado, let us find out together whether ProtonVPN is a service worth using.
Interface and ease-of-use
For the most part, the Windows client for ProtonVPN is easy to set up and it even offers the option to pay in BitCoin. However, if you are a new user (you don't have the free plan) and try to do that, then you may need to contact ProtonVPN's support team for instructions on how to use the BitCoin payment option. Other than that, there shouldn't be any complications or difficulties when setting up ProtonVPN's Windows client and it's the same with the macOS client and the two mobile apps.
Once the client installs and you start the VPN, you are greeted by a nice-looking mapped interface and, to our pleasant surprise, the map this time works as it should – you can zoom in and out using the mouse wheel and you can drag the map left and right to change the part of the globe you're viewing at the moment. Of course, if you are not a fan of using the map function, you can always choose your preferred server location from a list of all available locations available in the left panel. You can even collapse the map and only leave the list of locations displayed on the client's screen.
A nice thing about the interface is that it provides lots of feedback on your activities while using the VPN. In addition to your IP address, the client also gives you information about how long you've been using the VPN, how much data you've downloaded and uploaded, the current download and upload speed, as well as the current workload of the server you are using. This could, for instance, allow you to see if the server you are currently connected to is preoccupied and change to a different one that has a lower load at the moment.
A Profiles menu available in the client will lead you to a screen with a variety of customization settings for your ProtonVPN profiles. You can set up different settings profiles for specific situations so that you can simply switch to a given preset profile instead of having to manually change your settings depending on your current situation. We quite liked the Profiles menu – it is not something we see often in VPN clients and more experienced users are sure to really enjoy it.
In the Settings menu, you have all of your general VPN settings separated into three tabs: General, Connection, and Advanced. Again, ProtonVPN gives users with more experience an opportunity to play around with more advanced settings without becoming less user-friendly towards people who are new to VPNs in general. We will get more into the different features and settings that ProtonVPN gives you in a bit.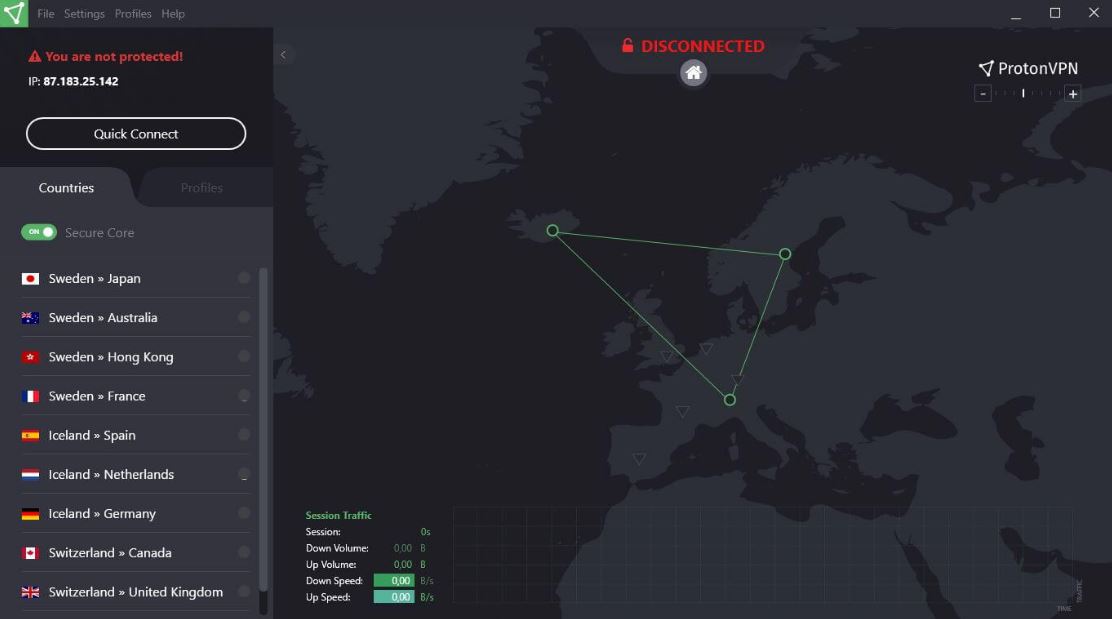 Privacy
At the start of this post, we mentioned that it is important to be able to trust your VPN provider with your information because, after all, the whole idea of using such a service is keeping your data secure. Many VPNs claim that they are the best in terms of security and that they have the best privacy policy out there but, unless there's an impartial outside evaluation of the given VPN, there's no way for users to tell whether or not such claims are true. This is where the importance of having outsider auditors test the VPN comes into play. There are very few VPNs that go through the trouble of having auditors evaluate their service but ProtonVPN is one of those VPNs. The latest audit of ProtonVPN was January this year, and the results confirm that the privacy statements made by service's developers indeed reflect their privacy policy. In other words, Proton keeps no logs of user data – the user's online activity isn't recorded or tracked, their IP remains hidden from the developers of the VPN, and the only session info collected is when was the last time you used the service. On top of that, all of the ProtonVPN apps are open source meaning that their code is freely available to the public and users are free to have a look at it in order to confirm for themselves that there's nothing questionable about the way ProtonVPN handles personal data.
This year's audit of the service also reports that there has been a total of 11 vulnerabilities detected within the desktop clients and the mobile apps of the VPN. This might seem like a lot but bear in mind that these audits are as thorough and as exhaustive as possible and they are supposed to find each and every weakness in the audited product. From this standpoint, 11 vulnerabilities is actually a good result and, besides, they have probably already been addressed and fixed by the VPN's developers.
Another highlight of ProtonVPNs privacy is that it is based in Switzerland – the privacy laws there are particularly strict and neither the US nor the EU have any jurisdiction there.
To sum up, ProtonVPN offers impressive levels of security and privacy to its customers that few other VPNs can provide and this is all confirmed by impartial outsider auditors.
Network and Performance
Now that it has been confirmed that ProtonVPN is a reliable VPN service that you can trust, it's time to find out how well it performs in practice.
The first thing we need to look at here is its network. One of the strengths of this VPN is that, unlike other popular VPNs such as BullGuard VPN, its network is made up of its own private servers. This further adds to the privacy and security of the VPN. The network itself isn't huge, however – there are 897 servers spread across 50 countries, most of which are located in North America and Europe. Still, there are some servers in other continents such as Australia, Southern America (Brazil), Eastern Asia (Japan, Hong Kong, South Korea), and Africa (South Africa). The variety of countries, in our opinion, mostly makes up for the more average number of servers. This is a better option compared to having a huge number of countries clumped together in just a couple of countries. Besides, the network of ProtonVPN seems to be growing rather rapidly, with new servers and locations getting added every now and then, so by the time you read this, those numbers might have changed.
In terms of connection speed, if you are in a country where ProtonVPN has servers and you are connected to those servers, you should have good connection speeds. Tests show that on 75Mbps Internet, the average speed while using the VPN is around 66Mbps. However, connecting to a more distant location significantly drops that speed and it usually doesn't matter how fast your Internet is, the connection speed with the VPN enabled would consistently be low. This could be a problem for users who live in countries where ProtonVPN has no servers so make sure to take this factor into consideration before getting a paid plan for this VPN. Still, if there is a nearby server you can connect to, we'd say that the VPN's connection speed is more than adequate and we can recommend it.





Unblocking
One of the core reasons people tend to resort to using a VPN service is oftentimes certain sites and services that have geo-restrictions in place that prevent the user from accessing something on the Internet from his or her country. A VPN can be the perfect tool to bypass such restrictions provided that the specific service has good unblocking abilities. Note that using a VPN certainly doesn't guarantee that you will be able to unblock any site. There are many VPN options, even good and reliable ones like TunnelBear VPN, that are simply not that good at unblocking content.
So, how well does ProtonVPN fare when it comes to bypassing geo-restrictions. Well, this VPN does have some unblocking potential – it can give you access to BBC iPlayer and it can circumvent the geo-restrictions on Netflix US and Disney +. However, there's a place for improvement with regard to the last two sites because accessing them with the VPN's help typically takes quite a while and sometimes even leads to timed out sessions. On the plus side, the VPN manages to unblock Amazon Prime Video without any such issues so there's that.
Features
The next thing we'd like to take a look at is the set of features that ProtonVPN has to offer its customers. Many VPNs out there focus only on the fundamentals, leaving out anything more advanced which makes them a bit less attractive to experienced users who want more options to play around with. ProtonVPN, while not having the biggest array of extra perks, certainly does offer a satisfying amount of added functionality.
We already mentioned the Profiles feature and how it allows you to create specific profiles of preset settings that you can use in different situations – the customization options you are given there allow you to choose the fastest available server for you, connect to a random server to make tracking you more difficult, opt for the server that's best optimized for the Tor browser or for P2P connections, and to switch between TCP and UDP Internet protocols for better speed (UDP) or for more stable connections (TCP)
Speaking of P2P and Tor, yes, there is P2P and Tor support with ProtonVPN but note that this applies only to a small number of servers. Only 5 servers support P2P and only 3 support Tor.
Other features that come with ProtonVPN are a system-wide kill-switch that will block your Internet if the VPN stops working in order to keep your browsing and IP hidden but there isn't an app-specific one that some other VPNs (such as BullGuard VPN) have.
ProtonVPN also has split-tunneling which allows you to choose specific apps and IPs that will connect to the Internet without the VPN, which fills a similar function to an app-specific kill-switch.
Lastly, there's DNS leak protection that will add more security to your browsing by making it less likely for "eavesdroppers" to see what websites you are visiting. A VPN that has no DNS leak protection feature may not always prevent third parties from getting information about your browsing in case there's a DNS leak.

Pricing Plans
As we mentioned earlier, one of the highlights of this VPN service is that there's a free plan that comes with unlimited bandwidth. Of course, there are still a number of limitations there, such as that you will only have access to three server locations (Netherlands, US, and Japan). There's no limitation on the speeds of these servers so, as long live in or near these countries, you should get adequate connection speeds. We really like the free option for two reasons – first, it gives you the option to freely test the VPN and get a good idea of its functionality and performance as long as you don't live too far away from any of the three mentioned locations. The second reason is that even people who don't want to pay for a VPN can still benefit from a reliable VPN service without having any bandwidth limitations. Many other VPNs do have some kind of free plans but those plans oftentimes have severe bandwidth limitations or limit the connection speeds of their servers for customers that use the free version.
Now, if you are interested in getting any of the paid variants of ProtonVPN, you have three options: there is a one-month plan at the price of 10€, a one-year one that costs 96 € (8€/month), and a two-year option priced at 159 € (6.63€). To be fair, compared to many of its competitors, the ProtonVPN might be seen as a bit expensive, especially once you consider the fact that most of what it offers is available with other VPNs that cost less. On the plus side, the number of devices that you can use the VPN on is 10, whereas most other VPNs out there would only give you a 5-device license with their paid plans so once we take this into account, the pricing of ProtonVPN begins to seem a bit more fair.
In our opinion, in terms of price, there are other VPN options that offer more value for their cost if you are a user who needs to use a VPN on one or a couple of devices. If, however, you are looking to cover a bigger number of computers and mobile devices with a single VPN plan, then we do recommend giving ProtonVPN a go.

Final Notes
Despite its occasional connection speed issues and its somewhat uneven pricing, ProtonVPN is a pretty solid option for a reliable VPN service that you can trust with your browsing privacy. It is still not quite there at the top with the best VPNs out there but it certainly has a lot to offer to its customers and its remarkably transparent and security-oriented policy makes it all the more appealing.