Goose VPN
Goose VPN is a VPN service from the Netherlands that offers good connection speeds, decent pricing, and some unblocking functionality. Goose VPN is compatible with all of the most popular platforms, including Windows, macOS, Linux, iOS, and Android and it also comes with a Chrome extension.
It also places no limits on the number of devices you can use it with across all pricing plans, which is a rarity among the other VPNs. However, despite its positive traits, there are also some problems with Goose VPN and, in order to offer you an objective review of this product, we would need to cover both its strengths and weaknesses in more detail, which is what we are going to do through the rest of this write-up.
The importance of ensuring that you can browse the Internet in privacy has never been more important. Seeing as how nowadays everybody – advertisers, hackers, scammers, governments, and other third-parties – wants to learn more about your private virtual life, it can be quite difficult to retain at least some of your privacy while you are browsing the world wide web. This, in turn, has led to the exponentially increasing popularity of the type of service known as VPN. A VPN can help you prevent unnecessary exposure of your online activities to third parties and thus preserve your virtual privacy. There are also some other useful functions of VPNs (such as site-unblocking) that can also be appealing to a big number of users. However, as with any product, not all VPNs are of equal quality and offer the same value-to-price ratio. This is where our reviews can help you by giving you a more in-depth look into the good and bad sides of each VPN service that we cover. That said, if you are not too sure about the purpose of a VPN or the most important characteristics you should be looking at, we advise you to first visit this article to get a better overall understanding of this type of service as a whole. If, on the other hand, you are already familiar with VPN services, let's get right into reviewing Goose VPN.
Overview
Goose VPN is not at the top of the list of the most popular VPNs. It is certainly overshadowed by other, bigger names, such as ExpressVPN, NordVPN, TunnelBear VPN, and so on. One of the things that are immediately noticeable is that it doesn't offer quite the same array of customization settings and bonus features when compared to its more well-rounded competitors. However, this might actually make this VPN a rather good fit for people who have never used a VPN before and would rather stick to a more simple option that doesn't bother you with a bunch of advanced tools that you will probably not need for the moment. With these things in mind, right off the bat, we'd say that, if this is the first time you are getting a VPN, Goose VPN could be a good option for you. Still, don't go right ahead and purchase it before you've gone through the whole review.
Setting up, Interface, and ease-of-use
Very few VPNs have any specifics during their setup and Goose VPN is not an exception here. Whether you want to install either of its desktop clients or mobile apps, Goose VPN is easy to set up and you should face no difficulties. A nice thing worth noting here is that you won't get charged during the first month of use despite having provided your banking details, which gives you the option to cancel your subscription without paying anything during this 30-day period. This is a nice form of a free trial and it allows you to freely test the service before deciding you want to commit to it.
Once you install the desktop client and start the VPN, you will notice that its interface doesn't overwhelm you with any intimidating settings and options. You are just given a list of locations and a map to visualize them. You can pick a location using either of those tools. However, there isn't a Favorites system, meaning that you'd have to manually find your preferred location each time. A plus here is that the locations which support P2P are shown as such.
Once you go to the settings' section, you will see that there isn't too much going on there. You have the option to choose between four different protocol types (IKEv2, L2TP/IPSec, PPtP, and OpenVPN) or set Goose VPN to automatically choose the best one for the occasion. The other options in the Settings section are for enabling/disabling the extra features of the VPN, but there are not that many such features to begin with so there aren't too many settings to play around with.
The mobile apps are even more stripped down – they do have the same dashboard with the map and the servers list but most of the settings you get with the desktop client aren't there. In fact, the only thing you can configure here is whether to allow the app to automatically connect to the best server for you or to manually choose the server you want to connect to.
All in all, users who are newcomers to the VPN-type of service should be relieved that there aren't any overly-complex options in the desktop clients or mobile apps of Goose VPN. However, more experienced and demanding users will probably be a bit underwhelmed by the lack of variety and customization freedom and might lean more towards more advanced VPN products.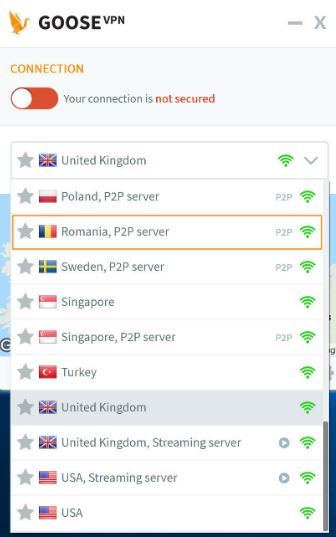 Privacy and Security
Since VPNs are all about keeping your browsing private and boosting your online security, these aspects of each individual VPN service are essential to the overall reliability of the product. This is why you must never overlook the details regarding the privacy policy and security levels of a given VPN you may consider purchasing. It's also important to remember that, even if a certain VPN does a good job at preventing third parties from monitoring your browsing, this doesn't mean that the owners of the VPN themselves do not keep tabs on what you are doing online and use the acquired info for their benefit.
When it comes to Goose VPN, after going through what's written on its official site with regard to these aspects, we can say that, on paper, the service can be deemed reliable. According to the privacy policy of Goose VPN, the user's Internet activity doesn't get tracked or recorded. This includes data such as visited sites, DNS requests, incoming and outgoing emails, usernames and passwords, IP addresses, and any other personally-identifiable data. The VPN also doesn't log data about which servers of its network you use. The only information that gets recorded is how much bandwidth you've used, which is perfectly understandable.
In terms of security, a good thing about Goose VPN is that the people behind it own and themselves manage the servers from the VPN network. This is great news as it tightens the control that the creators of the VPN have over their network which, in turn, boosts security.
One theoretical security-related issue with Goose VPN, however, is its OpenVPN configuration. The issue here is that server certificate authentication isn't used with this protocol, which might potentially allow attackers to disguise themselves as Goose VPN servers and intercept your traffic. Again, this is a theoretical problem that is unlikely to transfer into real life but it is still there and it is still worth mentioning and keeping in mind, especially since most other VPNs out there don't have this issue.
Another note we must make here is that Goose VPN is yet to be audited by an impartial outsider. To be fair, very few VPNs have gone through an outsider audit but this is an important step to confirm the privacy and security claims made by the VPNs owners. Until this is done, there's no way for regular users to be sure that anything said by the VPN company about the data collection or security measures of their product is a hundred percent true. Of course, these audits are costly which is also a possible reason why a lot of VPNs have not gone through them, but the fact that Goose VPN hasn't been audited is still something you must bear in mind.
Network and Performance
The network of Goose VPN is rather modest, with only 25 countries where its servers can be found. Most of those countries are located in Europe and there are also some servers in Asia, North America, and Australia but no South America or Africa. Overall, the size of the network isn't particularly impressive and users from out of Europe, Australia, or North America are very likely to have no server near them.
On the plus side, if there is a nearby server you can connect to, you can expect good connection speeds of around 66-67Mbps if you are on a standard 75Mbps Internet. Connections from Europe that use USA servers also yield satisfying speeds between 40 and 60Mbps so even if you are using a more distant server, you can still get some decent performance.
One interesting thing is that, if a single user ends up consuming more than 1% of the entire bandwidth of the VPN network, they will be approached by the company and asked to decrease their bandwidth usage or to make bigger payments. This is disclosed on the official site of the VPN and we like the addition of this measure as it ensures that no one will be able to abuse the network at the expense of other users' connection speeds.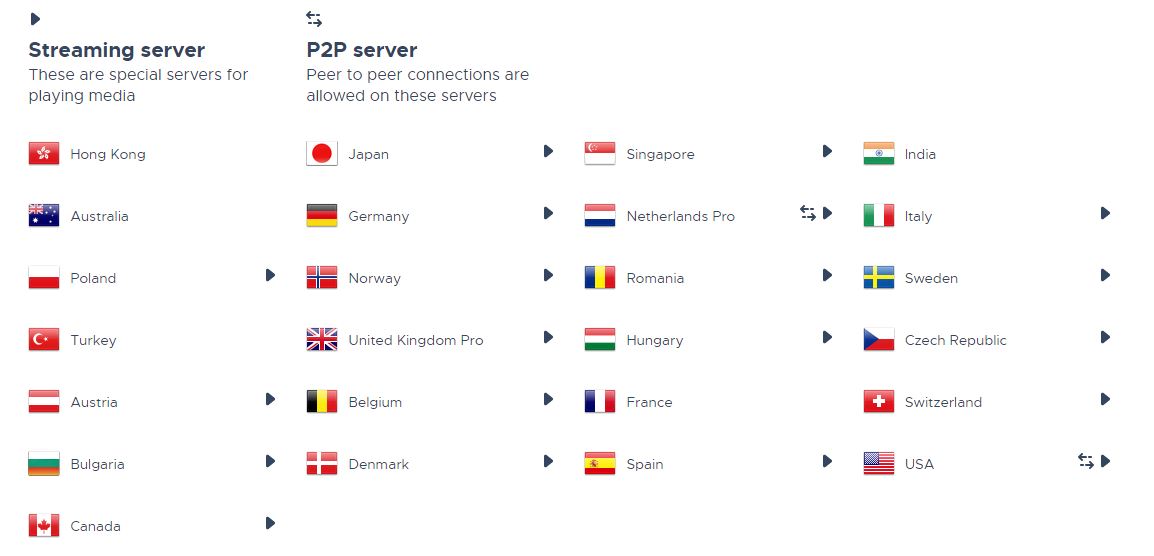 Features
We already established that Goose VPN is not a particularly feature-rich service as it really doesn't offer any impressive or advanced tools to its customers. Still, most of the basics are here, so let's take a look at them.
The kill-switch – this is a very important tool for every VPN as its purpose is to cut your Internet connection if the VPN server you are using goes down or if the whole service itself malfunctions. Stopping the Internet connection whenever this happens helps keep your traffic private by not allowing it to continue after it is no longer being hidden by the VPN. For the most part, Goose VPN's kill-switch works well but you might sometimes experience a problem where the client crashes and won't start to connect again until you restart the computer. This isn't a huge deal and the fix to it is easy but could still be irritating at times.
DNS leak prevention – this feature keeps your DNS from getting leaked while you are using the VPN. DNS leaks could lead to third-parties snooping on your traffic even while you have your VPN service enabled, so it's a good idea to keep this feature enabled at all times.
Smart server list – when enabled, this feature will automatically connect you to the best server available in the location you've chosen. If it is disabled, you will be able to pick from a list of all the servers in said location.
Unblocking – in terms of unblocking capabilities, Goose VPN is something of a mixed bag. While it does unblock US Netflix – one of the most challenging services for a VPN to unblock – it fails at providing access to Amazon Prime Video, Disney +, or BBC iPlayer. If you are looking for a VPN that unblocks everything, you may need to look elsewhere. If, however, you want to gain access to US Netflix from another country, Goose has got you covered, and its high connection speeds will allow you to stream video content from Netflix without any interruptions.
P2P – P2P is supported by this VPN but, as noted above, the servers in only two of the available locations (the USA and the Netherlands) offer this and so if you live far away from those countries, connection speeds may be too low for you to use it effectively.
There are pretty much no other additional features that come with Goose VPN – there's no VPN-hiding feature or a split-tunneling one, so more demanding users will likely not be amazed by what Goose VPN has to offer them.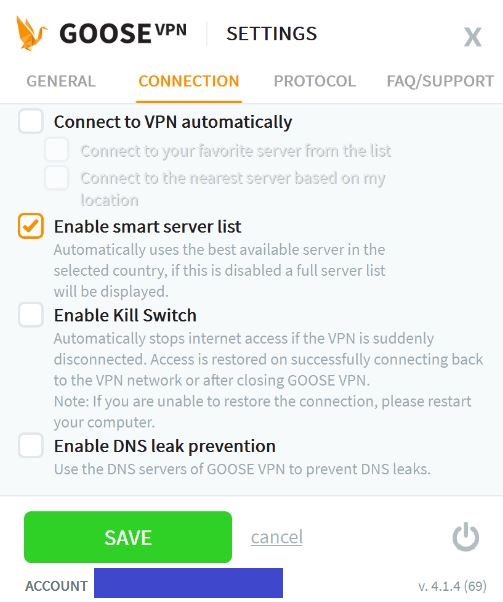 Pricing
Considering the lack of any advanced bonus features and some other complaints we had with this product, the $12,99 per-month price seems to be a bit high. For comparison, VyprVPN, which offers a very wide array of extra features and tools, has a similar monthly price of $12,95. Of course, if you pay for a one-year or two-year subscription with Goose VPN, the monthly price would drop significantly. For instance, the one-year plan costs $59,88, which equals $4,99 a month, and the two-year plan further discounts the default price to $2,99 a month or $71,76 for the whole two-year period. Again, however, the aforementioned Vypr VPN has a better offering for its one- and two-year plans, which are priced at $45 and $60 respectively. Similarly, other competing VPNs also seem to have better pricing plans that are less expensive and offer more features. A final pricing plan from Goose VPN is its "Lifetime" offering, which gives you a permanent license for the service and costs $139 (at the moment of writing). Depending on how long you may end up using Goose VPN, the Lifetime plan might give you the most value. However, considering that this VPN isn't the most feature-rich one and you may eventually end up transitioning to another, more advanced VPN, we are not sure whether we'd recommend going for it. If, on the other hand you'd like to explore more VPN options, you can find more VPN reviews we've written right here.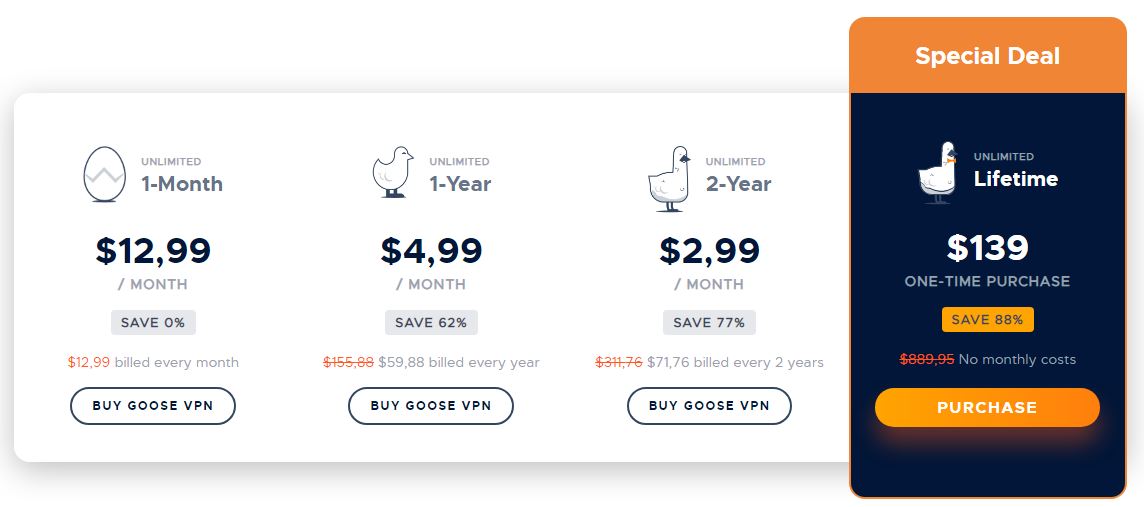 Final Notes
For newcomers to VPN in general, Goose VPN might be a good option due to its simple interface, ease of use, and its reliable connection speed. Also, if you are a user who needs to use a VPN on a big number of devices, this could also be a particularly good choice as there's no limit on the number of devices you can cover with this VPN. This fact alone could potentially make this service a rather good choice for business owners who need a VPN that extends to all of their workstations.
Despite these strengths of the service, however, we cannot overlook the negatives we found when reviewing it. The small network, the absence of a third-party audit, the inability to unblock popular services and sites, as well as the unexpectedly high pricing all contribute to this VPN being a mixed bag. Not that it isn't worth trying out, especially since there is a 30-day free trial, but you must keep in mind the downsides of the service before you decide to commit to it. If you are fine with the mentioned cons and don't need a particularly feature-filled VPN service, it won't do any harm trying Goose VPN out and seeing if it does the job for you.